7 Bath Bomb Gift Sets For The Self-Care Fanatic In Your Life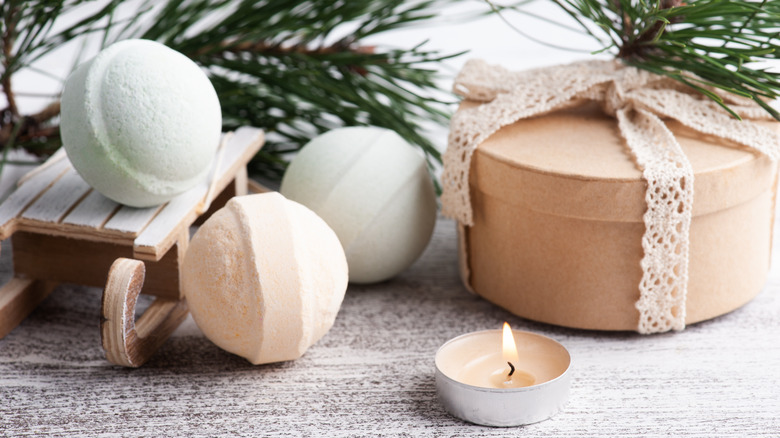 Irinabort/Getty Images
We may receive a commission on purchases made from links.
Nothing quite tops a soothing, candle-lit bath to nourish the body, mind, and soul. While classic bubbles obviously make for a decadent ritual, having a few lush, revitalizing, and fizzy bath bombs on hand as well is key for any self-care fanatic. The palm-size spheres are typically blends of essential oils, salts, and dyes that enhance the bathing experience in a fun, novel way (via LiveScience). And with the holidays right around the corner, a bath bomb gift set is the clear choice for those who love an indulgent, luxurious bath.
When choosing a bath bomb gift set, you'll want to consider ingredients, scent, price point, and, of course, aesthetic. There are a lot of bath bombs out there to choose from, and when selecting a gift set for a loved one, you'll want to weigh your options. For instance, would something fun and novel elicit the excitement you're after? Or perhaps a stress-relief remedy would be the more thoughtful move. Ultimately, self-care comes in many forms, and encouraging a relaxing, opulent bathtime ritual with a bath bomb gift set is sure to be appreciated this holiday season.
How we selected products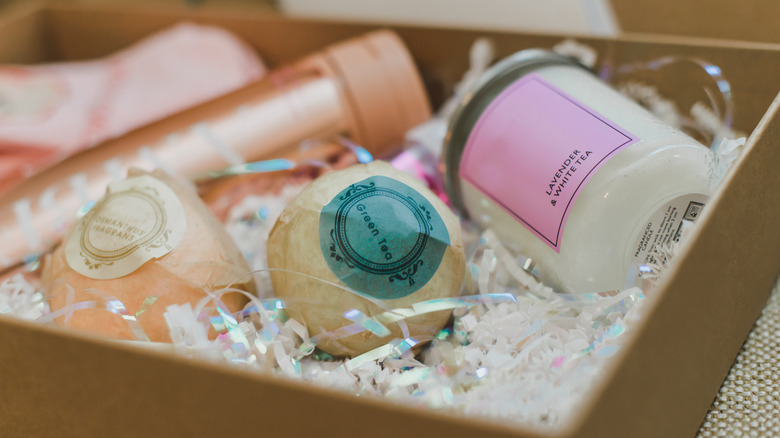 Freddy Napoleoni/Getty Images
Bath bombs can be hit or miss. The coloring can leave a residue on the walls of your bathtub, the bath bomb could cause irritation to the skin, or the scent could be a bit of a let-down, which are all experiences any self-care fanatic would certainly rather do without. But once you find the right formula, aroma, and style, you can give the gift of self-care and revitalization much more confidently.
To select the best bath bomb gift sets, we sifted through sites based on customer reviews, popularity, product descriptions, and ratings. Furthermore, we examined the purity of the products' ingredients, as well as their aesthetic appeal, packaging, and aroma. Ultimately, we narrowed down the massive array of bath bomb gift sets out there to bring you our top choices in luxury and relaxation, and we've found that there's truly something for everyone when it comes to a good bath. Essentially, we think our roundup will allow for smooth sailing when it comes to gift-giving this holiday season.
Best overall bath bomb gift set: Lush's The Art of Bathing set
When you think about bath bombs, you likely think about Lush. After all, the company is perhaps best known for its unique and exquisite bath products, which are made by hand with few preservatives and little packaging, according to the brand's website. When it comes to the best overall bath bomb gift set, Lush takes the cake with its artful gift box that features eight beautiful bath bombs, like the Intergalactic Bath Bomb and the Butterball Bath Bomb, in addition to seven other bathtime products for extra fun. The gift set has five stars on the brand's site, so what better product is there to turn to than one from a beloved bath product company that also has a perfect rating?
Purchase the Art of Bathing set at Lush for $150.
Best all-natural bath bomb gift set: Naga Living Bath Bombs Gift Set
The natural product lover in your life will adore this bath bomb gift set from Naga Living that features 50 bath bombs infused with lavender, rose, geranium, and lemon essential oils. The set arrives in a pretty package, and reviewers report that the bath bombs smell divine, though you may want to use two at a time since they're on the smaller side. The soft, natural hues of the bath bombs — and, in turn, the bath water — appear sweet and pleasant. 
"These are super super pretty!! They smell wonderful too, you can really smell the oil immediately upon opening the package. They are also packaged with love and care which I really appreciated!" one pleased reviewer wrote.
Purchase the Naga Living Bath Bombs Gift Set on Amazon for $45.99.
Best relaxation bath bomb gift set: Cosset Sleep Aid Bedtime Therapy Bomb 6-Pack
For the deepest sense of ease and solace, we found the ultimate relaxing bath bomb gift set. After all, a soothing bath is the perfect prep for a night of deep, replenishing sleep. Cosser's Sleep Aid Bedtime Therapy features six lavender oil-infused bath bombs in an elegant, rich purple hue. Lavender can improve one's sleep quality, as shown in 2015 research published in the Journal of Alternative and Complementary Medicine, so this set is ideal for anyone in need of some serious slumber. Cossett recommends soaking in the tub with the lavender tranquility for 30 minutes to reap its full benefits. "My go to item whenever o have sore muscles or am sick," one reviewer wrote on Amazon.
Purchase the Cosset Sleep Aid Bedtime Therapy Bomb 6-Pack on Amazon for $42.
Best budget-friendly bath bomb gift set: Love, Beauty, and Planet Bath Bombs Gift Set
If you're on the hunt for a budget-friendly bathtime gift set this holiday season, look no further than the Love, Beauty, and Planet Bath Bombs Gift Set. Featuring lavender, mimosa flower, and rose fragrance, these bath bombs smell delicious in addition to being vegan and cruelty-free. Furthermore, because of its low price, this set is a great option if you need to buy gift sets for several people. 
"I bought these just because they were a great deal, and I needed another Christmas gift for someone who's hard to buy for. I recognized the brand name and knew it was a good one, and it turns out that it's one of her favorite brands. Win-win!" one happy customer wrote. 
Purchase the Love, Beauty, and Planet Bath Bombs Gift Set on Amazon for $6.11.
Best stocking-stuffer bath bomb gift set: Fsoezso Christmas Bath Bomb 4 Pieces
The perfect set of four, this Christmas bath bomb gift set — which features bath bombs shaped like a snowflake, a star, a Christmas tree, and a stocking — is classic, simple, and ideal as a stocking stuffer. (How delightfully meta is a stocking-shaped stocking stuffer?) The festive packaging and cute designs are hits; however, some customers feel the price is a bit steep for the count. 
"These are super cute. They dissolve easily and are boxed neatly. They are a bit expensive for my taste per bath bomb but they would still make a good holiday giftbox," said one reviewer on Amazon. With sweet aromas like grape and blueberry, the set is fun for all ages, and if you can afford the price for the quantity, it might be worth a shot.
Purchase the Fsoezso Christmas Bath Bomb 4 Pieces on Amazon for $9.99. 
Best novelty bath bomb gift set: Nectar Life Donut Delights Bath Bomb Box
When giving the gift of bathtime luxury to the self-care fanatic in your life, this fresh, novel, and charming bath bomb set is sure to elicit an awe of appreciation. These donut-shaped bath bombs from Nectar Life check that box perfectly. Six beautifully decadent donut bath bombs make up this set, and each looks tempting enough to devour. With scents like Vanilla Sprinkle, Peachy Lemon, and Blueberry Whip, tempting might actually be an understatement!
"Such a great way to try out different scents! Plus they are so cute to have out in a jar waiting to be used! I love nectar bath bombs!" one reviewer wrote on the brand's site.
Purchase the Donut Delights Bath Bomb Box at Nectar Life for $72.
Best moisturizing bath bomb gift set: Sprig Bath Bomb Essentials Pack
If you're on the hunt for a bath bomb gift set for a loved one who prioritizes self-care –- or needs a little extra help doing so -– finding a product that's not only fun and soothing but also nourishing and moisturizing is key. With Sprig's gift set, you get to try each of the brand's six signature bath bomb scents, and each one is suited to encourage a specific mood — namely recharging, focusing, breathing, sleeping, relaxing, and shielding, per the set's label.
"I'm so happy with my decision to try these bath bombs out. They smell absolutely amazing (but not too overpowering) and leave my skin feeling soft. My 4 year old loves these too! I also like that they don't leave a reside on my bath tub. I would recommend giving these a try!" one customer wrote on the brand's site.
Purchase the Bath Bomb Essentials Pack at Sprig for $48.