Fascinating Fringe Is Trending For 2024 - Our Best Styling Tips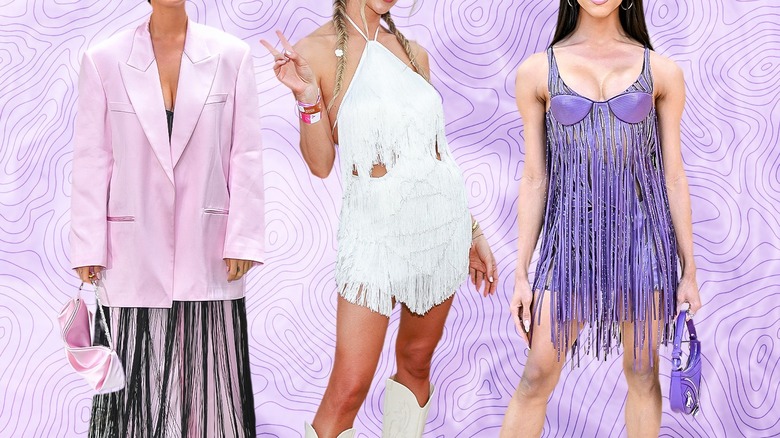 Static Media / Shutterstock / Getty
Ready to revamp your wardrobe? Tassels and fringe were style essentials in 2023, and designers are eagerly reinventing this fad for 2024, bringing exciting new perspectives to the fringe phenomenon. Spring/summer runway shows have been displaying fringe in all its versatile glory, with fashion goliaths from Armani to Dior putting their own take on the trend. These aren't your mama's retro, bohemian styles — we're seeing fringe looks that stand at the crossroads of elegance and edge.
On Instagram, iconic fashion house Alexander McQueen shows off the tasseled look in its Spring/Summer 2024 collection, debuting pieces like a fringe-lined white and silver overcoat and a gauzy nude dress with vivid, blood-red embroidery and fringe. Meanwhile, Givenchy's Instagram reveals bejeweled cascades of fringe on slinky, captivating gowns of silver and black.  
In short, new life is being breathed into the fringe fad. So how can you incorporate these on-trend fringe fashions into your own rotation? First of all, forget about run-of-the-mill looks. Instead, take your outfits to the next level with chic and contemporary fringe styles for 2024.
Experiment with thick fringe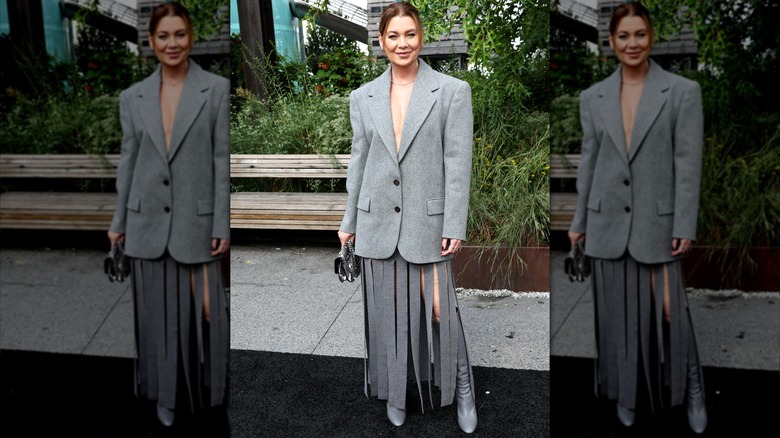 Jamie Mccarthy/Getty Images
Modern fringe looks are redefining how to employ this fabric technique — even down to the cut and scale of each tassel. To put a current spin on classic fringe, why not experiment with thicker, bolder styles? Thick-cut fringe still delivers all the hypnotic movement and peekaboo quality we love in a waterfall of thin tassels, but its distinct lines add an intriguingly architectural element to the look. Try wearing thick fringe with highly structured garments like sharp blazers, vests, or corset tops.
Reimagine staples like fringe jackets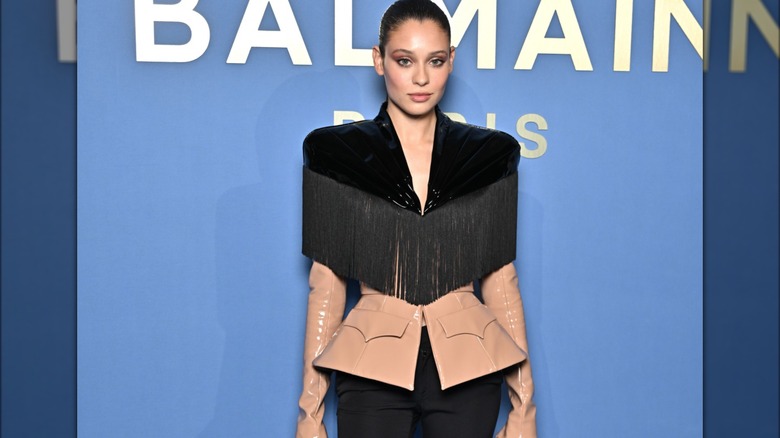 Stephane Cardinale - Corbis/Getty Images
Certain fringe pieces are so iconic that it's difficult to envision other ways to style them. Take a fringe jacket, for instance — you probably picture the fringed sleeves of stereotypical western wear or an old biker jacket, but there are so many other ways to utilize fringe! Don't be afraid to seek out designers who are using fringe in cutting-edge ways — or, if you're crafty, add your own fringe to a garment to create an avant-garde silhouette. These unique pieces will stand out from the crowd and fit into your aesthetic more authentically.
Add glamour with short fringe accents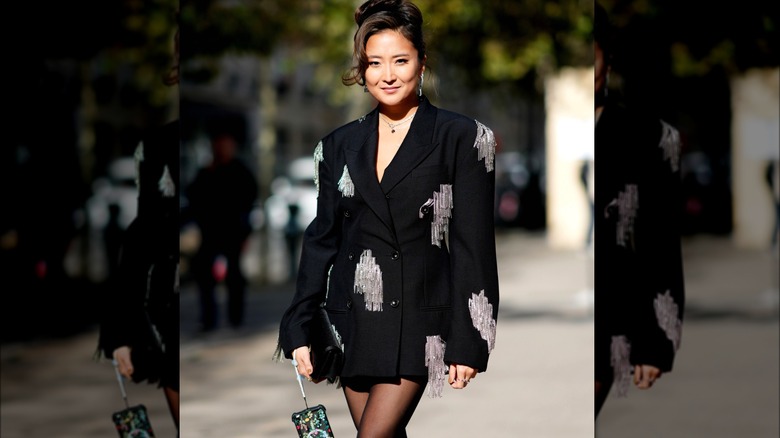 Edward Berthelot/Getty Images
Lengthy, dangling fringe can make a really splashy statement along sleeves or hems, but this embellishment doesn't always have to be long. Go for subtle accents of short fringe to add just a hint of glitz and motion to your outfit. Using truncated fringe to create patterns and focal points draws the eye without screaming for attention, resulting in a more sophisticated vibe. Consider the strategic placement of short fringe patches or trim on classic pieces like blazers, trenchcoats, and cocktail dresses.
Make it geometric with cutout fringe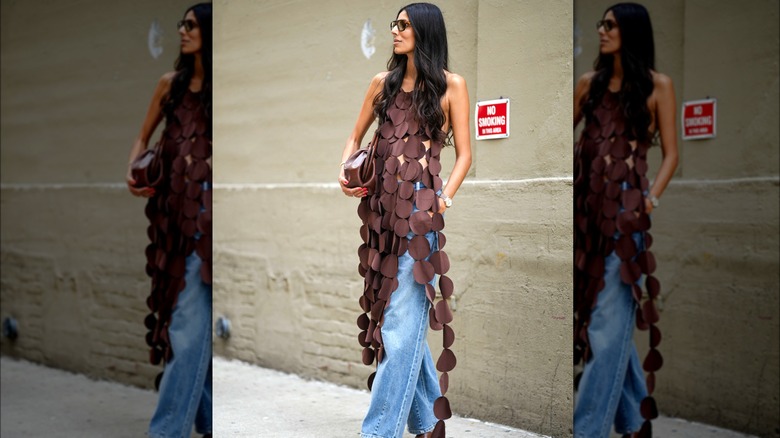 Edward Berthelot/Getty Images
Want to take a fresh, unusual approach to the fringe trend? Skip the usual strings and tassels for long tails of geometric cutouts. The fluttering of this unique fringe is super evocative, bringing to mind twining ivy vines, ropes of floaty seaweed, and celebratory lengths of bunting. Color and shape will dictate the vibe you're serving, so choose your fringe thoughtfully. Opt for organic shapes and earthy tones like green and brown for a more natural effect, or sharp shapes and bright hues like yellow and pink to double down on a festive feel.
Add cool, casual movement with long beaded fringe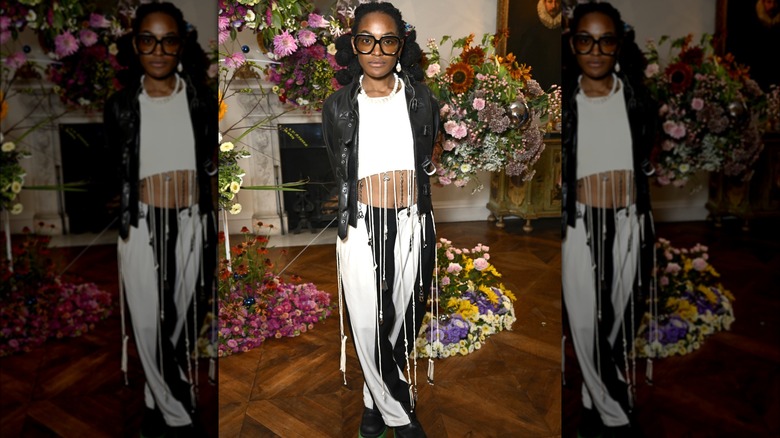 Jack Hall/Getty Images
Fringe can be feminine, glamorous, or even artsy. But with the simple use of knotting and beads, the soft sway of this fabric finish can also add effortless cool to your outfit. While '90s and '00s styles may have seen recent popularity, rather than defaulting to these decades' short, thick, and brightly-colored beaded fringe, you can modernize the technique. Play with extra-long tassels, spacious placement, and understated beading in neutrals or metallics. Wear this fringe style with casual ensembles like streetwear and athleisure to impart cool confidence into the look.
Embody mystery with airy, shapeless fringe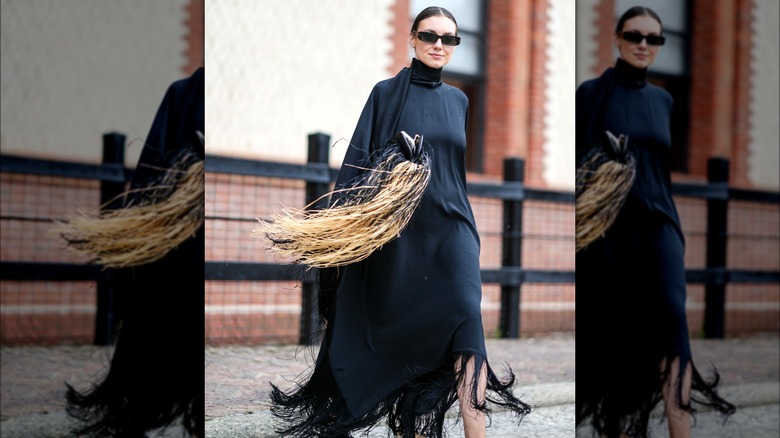 Edward Berthelot/Getty Images
Often, fringe is used to add motion to a garment that's naturally fitted or stiff. But you can take fringe to its breezy peak by instead wearing it on loose, amorphous clothing that already wants to move with the wind. Think about the enticing flutter of fringe on a drifty kimono, a voluminous kaftan, or a diaphanous maxi dress. The cut of these clothes will hide your figure, but their fluidity — further emphasized with fringe — will hint at the shapes underneath, creating an alluring sense of mystery.
Add interest to any top with a fringe collar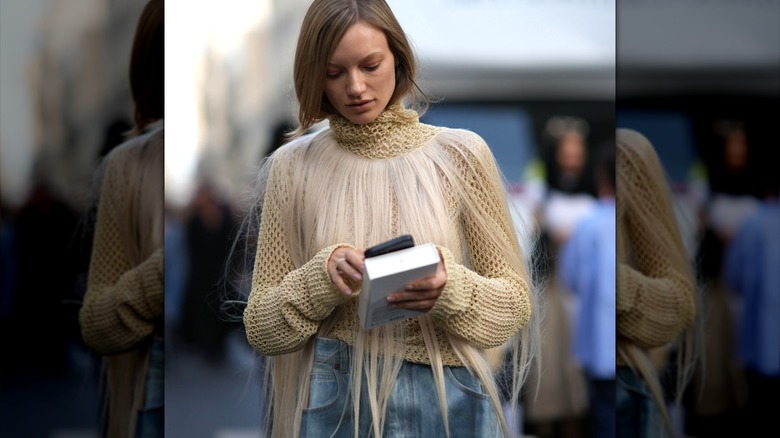 Edward Berthelot/Getty Images
Elevate your sweaters or blouses from everyday looks to total show-stoppers with the complement of a fringe collar. From silky, hair-like strands to a ruff of glittering tinsel, fringe collars add contrasting shapes and textures that instantly instill interest. If you want to give your fringe accents the utmost mileage and versatility, think about a removable fringe collar that can be mixed and matched with various tops in your collection.
Embrace bold, fringe-worthy accessories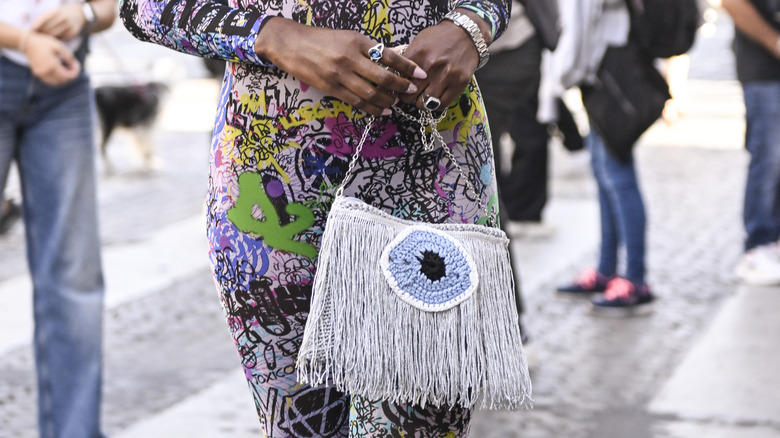 Daniel Zuchnik/Getty Images
A tasseled handbag or fringe-lined leather purse isn't a shocking new trend, but you can put a modern spin on fringe accessories by opting for more unusual designs. Look for fringe bags that incorporate vibrant hues, daring shapes, or a mix of finishes, such as this literally eye-catching combination of fringe and crochet. Don't be afraid to play with proportion — we're here for all the oversized handbags covered in swaying tassels and purses trailing dramatically long waves of fringe.