The Easy Hack That'll Protect Your Favorite Costume Jewelry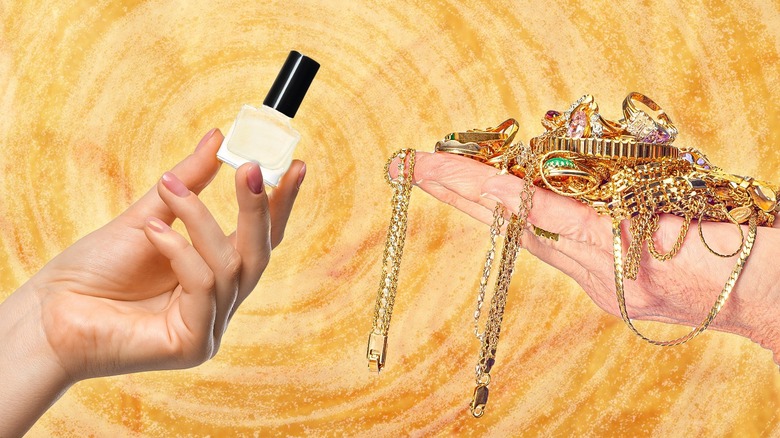 Static Media / Shutterstock
Sparkly studs, gold rings, silver chain necklaces — jewelry is a quick way to elevate any look, and you don't have to have a big budget to pull it off. Costume jewelry (a.k.a. fashion jewelry) makes it easy to experiment without spending a fortune, thanks to its inexpensive materials. The downside, however, is that it often doesn't last as long as fine pieces made of real gold, silver, and other precious metals. You might notice tarnishing, chipping, and the dreaded green skin effect after wearing cheap jewelry.
Advertisement
Thankfully, one easy hack can reduce the wear and tear often associated with costume jewelry. All you have to do is grab some clear nail polish and brush it on your favorite pieces. The hack works exceptionally well for rings, though you can try it on just about any costume jewelry you have in your collection. TikToker @anisasaneah suggests swiping a coat of polish on metal necklaces, while @yupnaomy showed a green spot on her nose after she wore a cheap nose ring without applying nail polish beforehand.
If you're primarily concerned with skin discoloration, try the hack only on the backs of the jewelry to create a thin barrier. If you're worried about chipping and tarnishing, brush the polish on all sides, including the fronts, for protection against the elements. Repeat the hack monthly, as the nail polish will likely break down over time.
Advertisement
How the hack works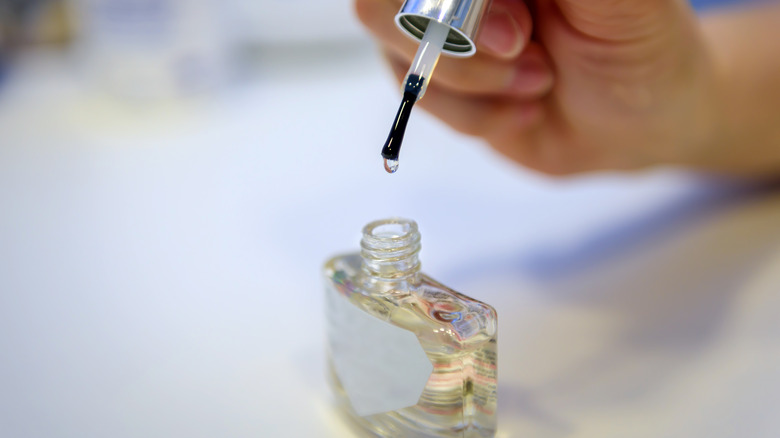 exebiche/Shutterstock
To understand how clear nail polish can protect costume jewelry, it helps to learn why jewelry wears down. First, costume jewelry isn't made of pure precious metals, which makes it more likely to tarnish over time. "Tarnish is a product of chemical reaction that is caused by the other metals that are mixed with silver reacting to moisture and sulfur in the air," Zoë Richardson, jewelry designer and owner of Australia's Zoë Alexandria Jewellery told Better Homes & Gardens. Richardson noted that pollution and chemicals, such as perfume, can also cause jewelry to tarnish. Applying clear nail polish to jewelry limits exposure to the air and humidity, slowing down damage and discoloration.
Advertisement
A similar process causes green skin, too. Dermatologist Dr. Jennifer Adams explained to Nebraska Medicine, "The green color is from a chemical reaction called oxidation between the copper metal and things like water or chemicals ... Some jewelry is made of copper, with silver or gold on top. What happens is, the copper in the jewelry reacts with our sweat or lotion or other products. But it can also happen with a lot of other metals, too, it's just less frequent with those." A bit of clear polish stops the metal from reacting to moisture and other substances, preventing unwanted green spots on your skin.
Pair with other best practices to make costume jewelry last longer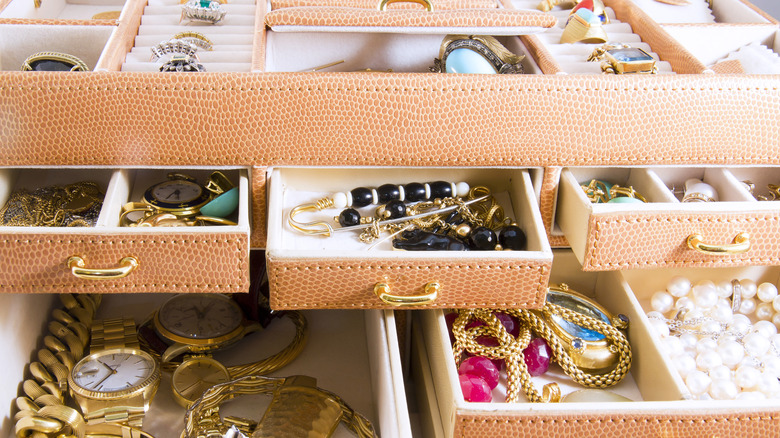 lapas77/Shutterstock
Clear nail polish is one way to strengthen your rings, baubles, and chains, but a few other tips can make your jewelry last even longer. First, if your piece is susceptible to tarnishing, keep it away from water and moisture as much as possible. That means taking off your earrings before showering and stashing those bracelets before heading to the beach. It's also a good idea to remove jewelry before working up a sweat. "I advise clients to avoid wearing jewelry when exercising," Sarah Gittoes, co-designer of jewelry brand Sarah & Sebastian, shared with Well+Good. "The last thing you want to focus on is potentially damaging your jewelry during a workout."
Advertisement
Removing your pieces isn't always enough, though — you must store them properly if you want them to last. Rather than leaving your rings and necklaces on the bathroom sink, place them in a protective sleeve or box where they won't be exposed to moisture or direct sunlight. If your room gets humid, consider sticking a moisture absorber pack in your jewelry drawer.
Finally, clean your costume jewelry to keep it looking good as new. Jordana Oslac, founder of jewelry brand Jordan Road, told Real Simple, "Avoid harsh chemicals, bleach, oil, or jewelry cleaners as this can affect the finish." Instead, Oslac suggests using a dry, soft cloth to polish costume jewelry gently. For tough grime and dirt, a little dish soap and a toothbrush should do the trick.
Advertisement