Times Kate Middleton Went Makeup Free And Looked Flawless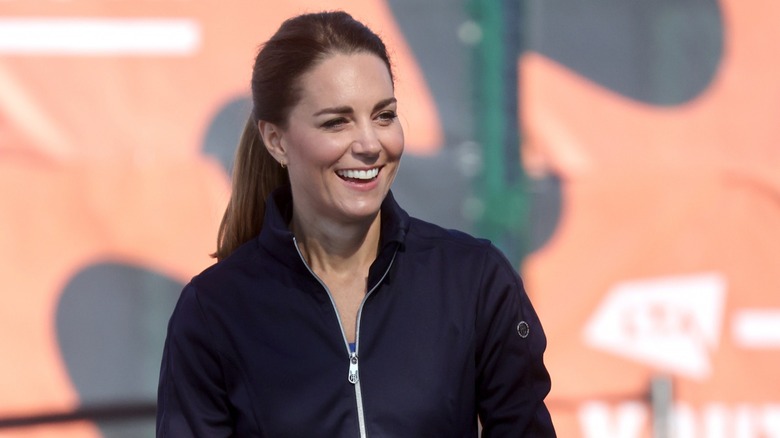 Chris Jackson/Getty Images
Along with her many philanthropic causes, Kate Middleton also has time to be a certified trendsetter. The media often credits Middleton with causing items to sell out immediately after being spotted in them. Nicknamed "The Kate Effect," this phenomenon occurs both in the United Kingdom and the United States. And while we often see this with clothing, Middleton has also made her mark on beauty. 
These days, it's rare to see Middleton donning a bare face, but she usually does have a natural "no-makeup" makeup look that millions seek to emulate. When she does opt for a real no-makeup day, her natural beauty is evident, and frankly, she doesn't look too different from when she is wearing makeup. Although many of Middleton's bare-faced looks come from the days before her royal engagement, they shed light on how well the royal has managed to keep her skin in check. Sources report that the future Queen of England regularly uses skincare staples such as rosehip oil and moisturizing day cream to keep her skin radiant (via Kate's Closet). With very little drastic change over the years, Middleton's no-makeup looks highlight the importance of maintaining a proper skincare routine. 
Pre-graduation 'fit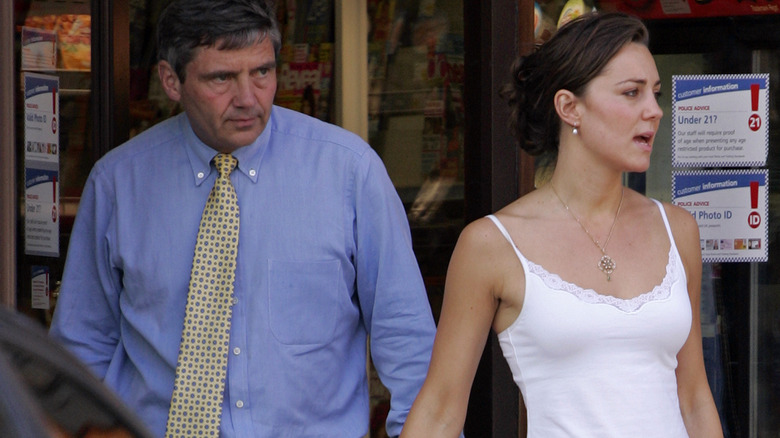 Max Mumby/indigo/Getty Images
In 2005, Kate Middleton was embarking on her first milestone in an extraordinary journey: graduation. While spotted alongside her father, Middleton wore an ensemble fit for the early aughts. With a basic tank top and low-rise jeans, the future royal also rocked a no-makeup look that fully showed her youthful appearance. Tossing her hair into a messy updo, Middleton looked casual and laid-back. Without the need for makeup, there was no denying that her natural beauty and confidence would be a talking point for the years to come.
Pre-royal sports days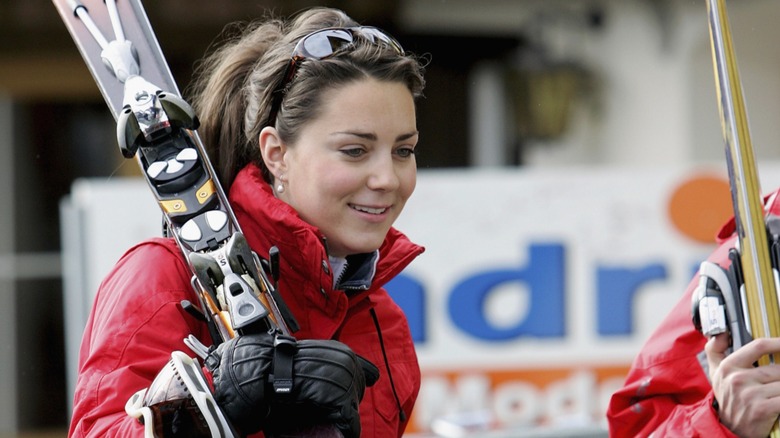 Tim Graham/Getty Images
As we've seen throughout the years and via her numerous charities and organizations, Kate Middleton is no stranger to extreme sports. The royal has often been spotted without makeup while engaging in some of her favorite athletic activities. Before she became the Princess of Wales, the paparazzi captured Kate Middleton while skiing in 2005. Even without makeup, Middleton clearly showed everyone how athletic and keen on natural beauty she was. Although she was in her early 20s, Middleton was already causing a flurry with her flawless complexion, even while skiing in the winter season.
Polo match spectator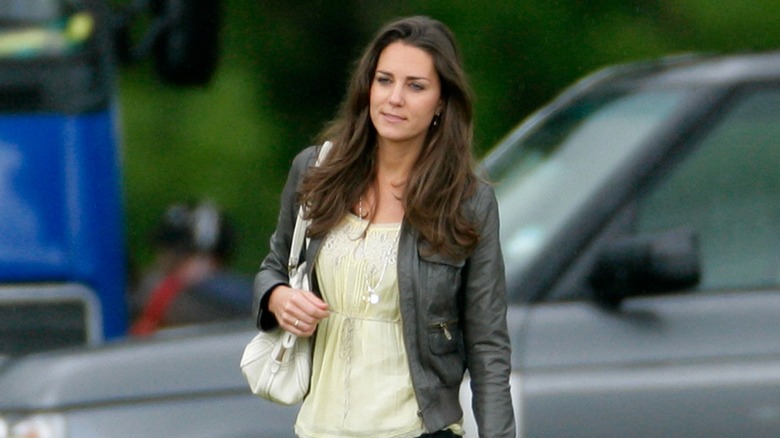 Max Mumby/indigo
It wasn't strange to find a young Kate Middleton cheering on Prince William during his polo matches during their days as girlfriend and boyfriend. Many of these matches gave the public a glimpse into the style and beauty that would later become the Princess of Wales. While she already had a spotlight on her, Middleton would still stun with no makeup while casually approaching a highly public relationship. With this, Middleton showcased her natural beauty and the accompanying glow that goes along with a happy romance.
Early working girl days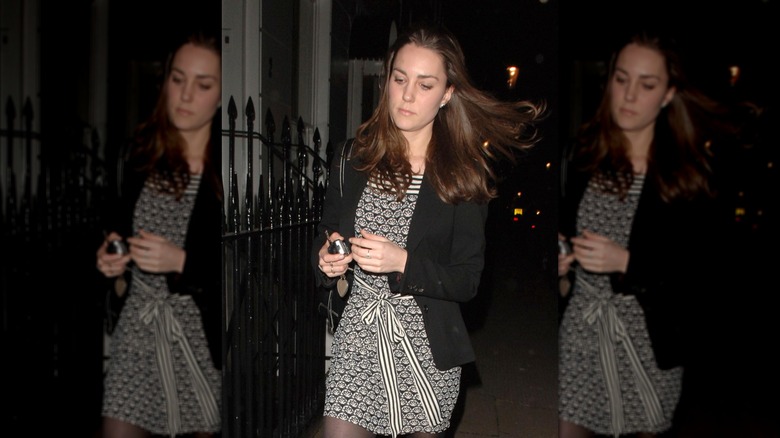 C. Uncle/Getty Images
Like most women in their early 20s, Kate Middleton was also subject to the woes of being a young adult in the workforce. In 2007, at the height of the couple's popularity, it was common for paparazzi to spot Middleton as she traveled to and from work. Despite her heavily publicized relationship with the heir to the British throne, Middleton still endeavored to work. Like any young professional, this likely meant exhaustedly heading back from work without makeup. Although she was around 25, she maintained her youthful glow tactfully, as evidenced by the numerous paparazzi pictures from this time.
Everyday girl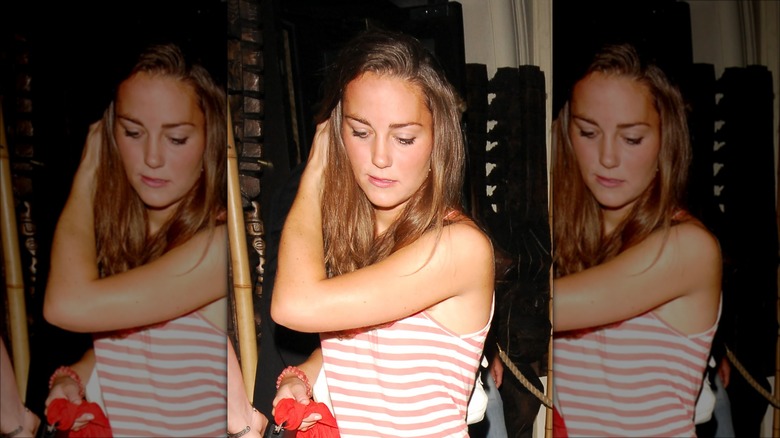 Mark R. Milan/Getty Images
You would think that Kate Middleton in 2007 would have worried about being captured by photographers 24/7 due to her relationship with a prince. However, this didn't distract her from continuing her daily activities. From going out with her friends to running errands, Middleton attempted to live her everyday life, including leaving her home sans makeup to go about her day. Although she wasn't wearing makeup, these 2007-era photos help shine a light on the trends of the day, including thinner eyebrows, which were on full display whenever the future princess appeared without makeup.
Staying active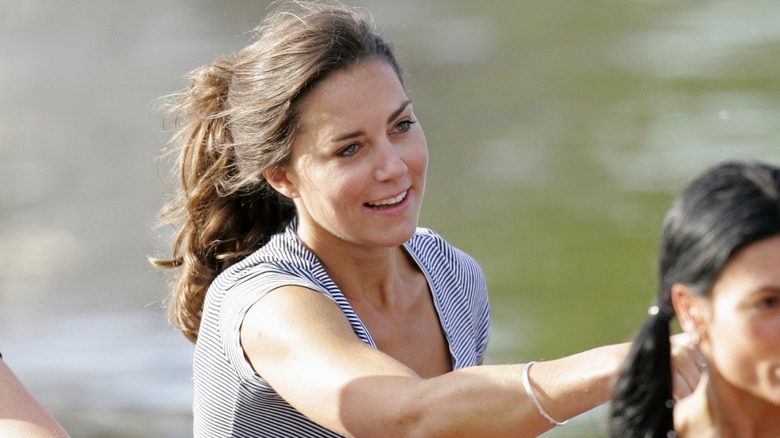 Max Mumby/indigo
Although a future queen consort's life contains galas, gowns, and tiaras, Kate Middleton prefers to participate in hands-on activities. In 2007, Middleton showcased her rowing talents, a casual outfit, and teammate skills alongside her all-female rowing team, the Sisterhood. While her sports skills and competitive spirit are well-known today, the royal's no-makeup look from her youth left us in awe. Showcasing a few glimpses of natural texture and bumps, Middleton was carefree and had a good time, likely not knowing that in a few years, she would be engaged to the future King of England.