Septum Piercings Are On Trend For Fall 2023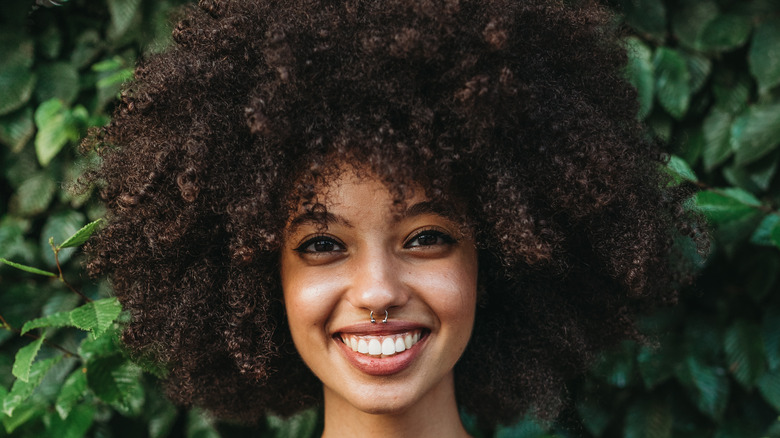 Lorenzoantonucci/Getty Images
Septum piercings are no longer the rarity they once were, with celebrities like Florence Pugh and Zoe Kravitz undoubtedly to thank for at least some of this popularity surge. In fact, they're so popular these days that they're a trending fashion choice for fall 2023. The piercing, which is done in the part of the nose flesh between the nostrils (known as the septum, obvi), originated in Native American tribal cultures, as well as those in India, Tibet, and Nepal. The meaning behind the septum piercing varies by culture, but these days, in standard circles it's pretty much a simple style choice like an earring stack or tattoos.
Much like other body modifications, there is a significant amount of variation in septum piercing options, so everyone can find something that gels nicely with their personal vibe. For those pain-averse people who want to get in on the look, the great news is that these types of piercings generally don't hurt nearly as much as other types because the nose tissue is pretty thin, according to Healthline. Since fashion and beauty are often linked with some amount of discomfort (corsets and high heels, anyone?), this is surely some welcome news. So which septum piercing style is your favorite?
Traditional septum barbell
dean bertoncelj/Shutterstock
A lot of septum newbies start off with the traditional circular barbell, which is basically a horseshoe. Once inserted, balls are threaded into place at the ends to keep the ring secure. This one will stay in until the piercing is fully healed, which Healthline says usually takes two or three months, although it can take longer.
A sweet and simple ring
Then there's the understated solid septum ring, which many piercers will have on hand as a starter piece. This is probably ideal for people who want the septum ring to be more of a complementary accessory than a dominating focal point on the face. People with sensitive skin might opt for a titanium ring because it's hypoallergenic, Healthline explains, although surgical stainless steel and gold are among the other options. 
Septum clicker jewelry
Some people choose septum clickers instead of the traditional ring because they're a bit easier to use and don't require any tiny parts to fiddle with. Instead, they have a hinged piece that "clicks" into place, instead of traditional septum rings that involve screwing beads or balls on. As an added bonus, septum clickers can also be used in other piercing locations, like the ears!
Septum stacks
Fans of maximalism are likely to love the stacked septum ring trend, which involves multiple rings in a "stack." However, this definitely requires stretching the septum hole, which is a gradual process. It's probably best to consult a professional about how to stretch it safely so that no permanent damage results. When done correctly, stacked septum rings are eye-catching and the ideal way to express one's individuality through mixed metals, gems, charms, and more.
Septum pincher potential
Another unique option for septum styling is a pincher, which can be made from all kinds of materials, like wood, steel, bone, glass, and so on. Urban Body Jewelry describes the pincher as, "a crescent that goes into the septum and is held in place with two O-rings," so it is a little bit different than other septum options. Generally speaking, it is necessary to have a stretched septum to sport one of these intriguing pieces.