'Black Nail Theory': TikTok's Favorite Confidence Hack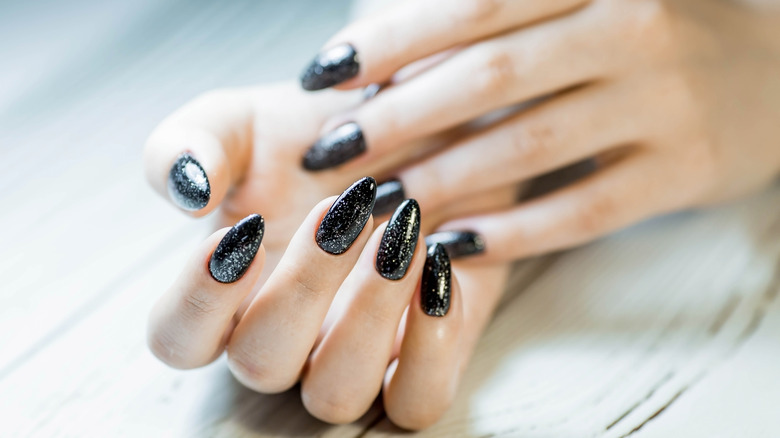 PhotoJuli86/Shutterstock
We may receive a commission on purchases made from links.
Of course, there's the red nail theory. Then, along came the came the light blue nail theory. But what about the black nail theory? Black nails make women on TikTok feel more chic, confident, and empowered. For instance, @biryanibby_ — a TikToker with over 16,000 followers — posted a video sharing her reaction to getting her first black manicure. The TikToker said, "I feel so cool doing things. I feel kind of, like, powerful. It matches everything... it's just such a vibe... I think the black is the new French or the new red... I love it."
Viewers agreed, commenting, "Ugh love me some black nails," and "They look great on you!" Unlike some other "nail theories" involving bright or light colors, the black nail theory isn't about using nail polish to flirt with men or appear classically attractive. The black nail theory is about making the women who wear the nail polish feel powerful — not the men looking at those women.
TikTokers think black nail polish intimidates men
Many TikTokers have a theory that black manicures scare away men, and there's even a post explaining the concept. TikToker @janell.roberts shared a video rocking black nails, with her voiceover saying, "Forget the red nail theory. Have you heard about the black nail theory? It is the perfect male-repellent. Stay over there." Viewers agreed, commenting, "Heavy on the repellent" and "Yesssss black is deadly and comforting." Another commenter even noted another spin on the theory, suggesting that black manicures help wearers increase productivity. After all, how could you not be more productive when men aren't constantly bothering you and getting in the way?
Other TikTok users, such as @journeyof.janae, proudly post videos showing off black manicures with the same audio, appearing confident and enjoying their nails. Even men have confirmed that the theory is true. TikToker @IEInFriends shared a video where a man gave his opinion on women based on their choice of nail color. When the other man asked him what he thinks of women who wear black nails, he said, "Don't f**k with them. They'll eat your soul. They hate men." Viewers commented, "Black nails for life," and "Me with my fresh black nails."
Test the black nail theory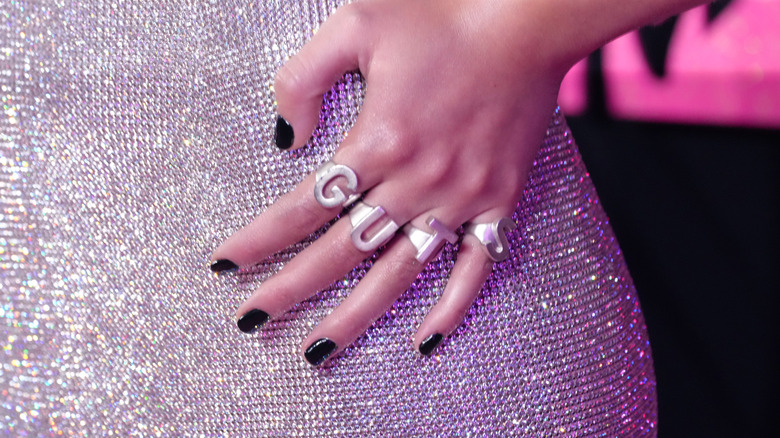 Jeff Kravitz/Getty Images
The only way to find out if the TikTokers are right about black manicures scaring off men and making the women who wear the black nail polish feel more confident is to try it yourself. Plus, it's such a versatile and timeless manicure option. "Black is such a chic, sophisticated color that goes with everything, so it can be worn at any time of the year," Mel Shengaris, a celebrity manicurist, told InStyle.
If you want to test the black nail theory without going to a nail salon, you'll need good black nail polish. One popular option is the Sally Hansen Xtreme Wear Nail Color in black, available for only $3.29 at Target. The black nail polish has 4.2 out of five stars. Another highly-rated option is the Essie Salon-Quality Nail Polish in the black Licorice look. Selling for $8.25 on Amazon, the Amazon's Choice item has 4.5 stars with over 29,000 ratings. Another option is black press-on nails, such as the Kiss imPRESS Solid Color Medium Press On Nails in all black. The vegan product is available for $7.99 at Ulta and has four stars.