6 Times Mary-Kate And Ashley Olsen Went Makeup Free And Looked Flawless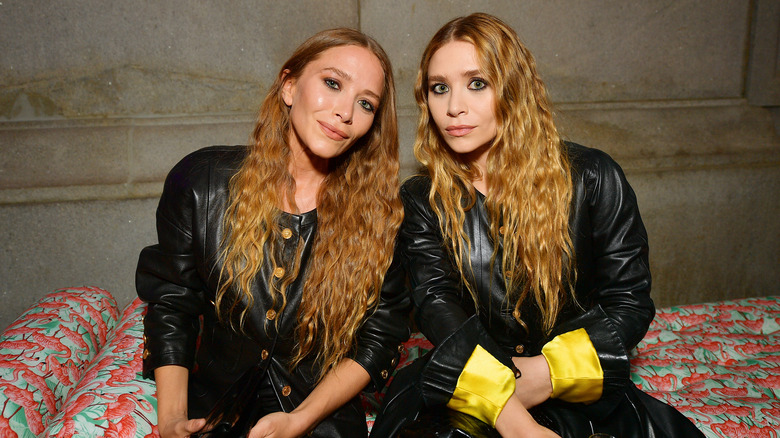 Matt Winkelmeyer/mg19/Getty Images
Besides being a part of a classic American sitcom, Mary-Kate and Ashley Olsen are known as major players in the high-fashion world. As the founders and designers behind the minimalist brand The Row, the Olsen twins know a thing or two about chic looks. Although many will inevitably remember the duo from their acting roles, they've made a name for themselves as trendsetters and style inspirations for their unique approach to clothing. There's no denying that style is undoubtedly one of their strong suits. However, the Olsen twins have also made their mark on beauty trends.
Even though they tend to hide behind oversized sunglasses to protect their privacy, the times we have seen the Olsen twins embrace beauty trends it's been nothing short of iconic. Who can forget their era of smudged and heavy eyeliner that went with the beauty fads of the 2010s? Beyond this, the sisters have made their mark by embracing the no-makeup movement. Although ditching cosmetics for an outing is not abnormal, seeing two high-profile stars rock the natural look is refreshing. Not only are they setting the bar for no-makeup looks, but their natural beauty emphasizes how going makeup-free can be a refreshing twist on one's beauty routine.
Twins in New York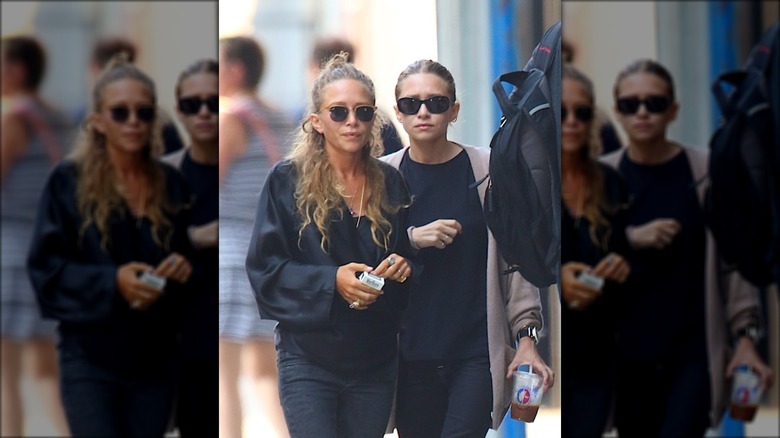 Raymond Hall/Getty Images
The Olsen twins have gone through many style phases over the years. From their early bohemian fashion sense to those edgy black eyeliner days, we've seen the siblings cover numerous trends. However, taking a cue from their brand, The Row, it's not a shock that their style and beauty have become much more minimalist. Often spotted in New York, it's not unusual to find the twins sans makeup and sporting effortless looks like this moment on the street in 2015. With barely-done hair and not an ounce of cosmetics, all you need to replicate their approach is a pair of oversized sunglasses.
Ashley Olsen in New York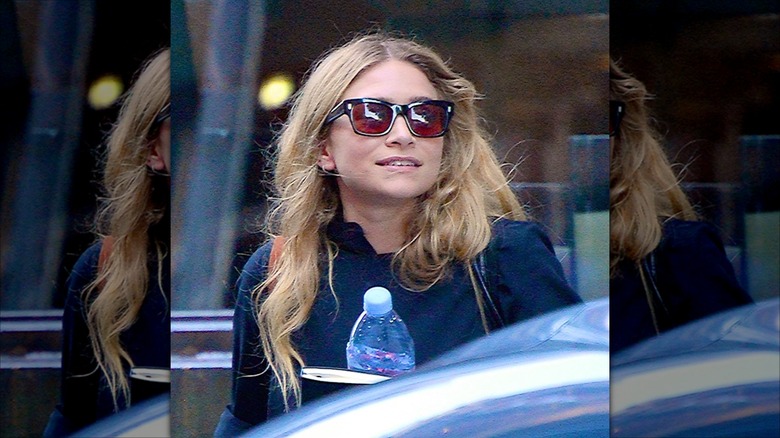 Robert Kamau/Getty Images
While it might be challenging to tell them apart, Mary-Kate and Ashley Olsen are instantly recognizable, even when they decide to go for no-makeup days. Spotted by paparazzi in 2018, Ashley's bare-faced look showcases her natural beauty. The sisters' cosmetic-free moments share similarities with the red carpets and events where they've turned up with only touches of beauty products. Whether it's lipstick or a hint of eyeliner, both twins have aced the concept of minimal makeup.
Mary-Kate: The equestrian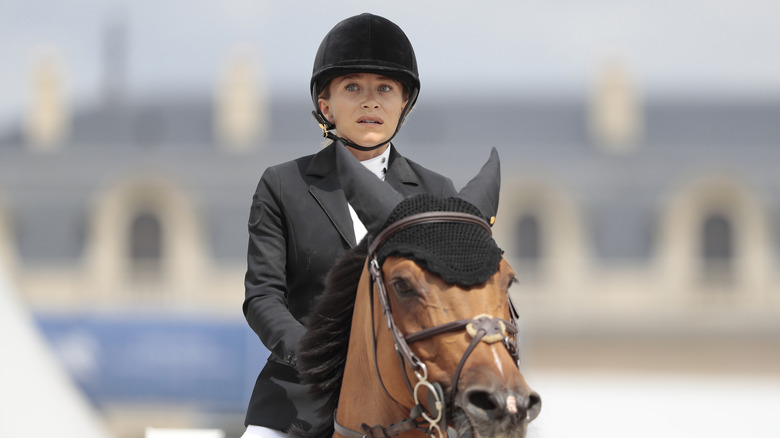 Stephane Allaman/alea/Getty Images
Besides the many activities they do together, Mary-Kate Olsen has developed a reputation for her equestrian skills. In 2022, the former actor and designer competed in a horse jumping competition in Paris, where she placed sixth before being disqualified for an error. While her riding attire gave off quiet luxury vibes, her decision to go makeup-free kept the look more down-to-earth, suiting the situation at hand.
The twins take on tennis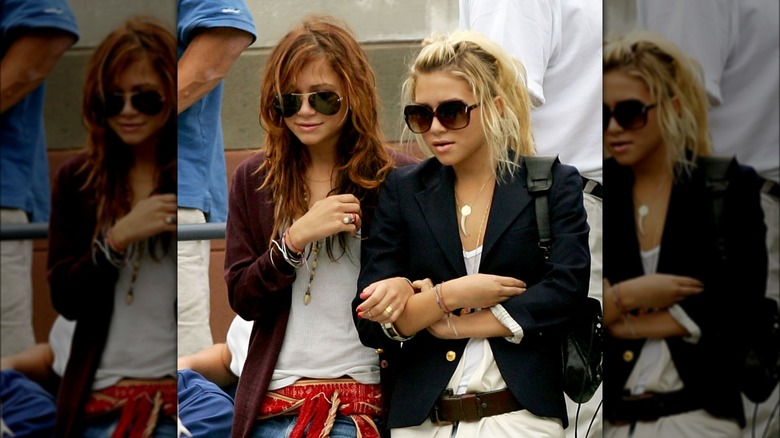 Ezra Shaw/Getty Images
Before their designer days, the Olsen twins were known for their cult-favorite movies, including the classic "It Takes Two," that cemented their stardom early on. In 2004, 18-year-olds Mary-Kate and Ashley Olsen attended the men's semifinal match of the U.S. Open with all of the early 2000s trends on display. Embracing the bloom of youth, both sisters opted for a low-key, no-makeup look to take in the action. The siblings signed autographs amid the match and embodied their bohemian fashion sense with messy hairstyles and cosmetics-free faces.
Mary-Kate's Tribeca run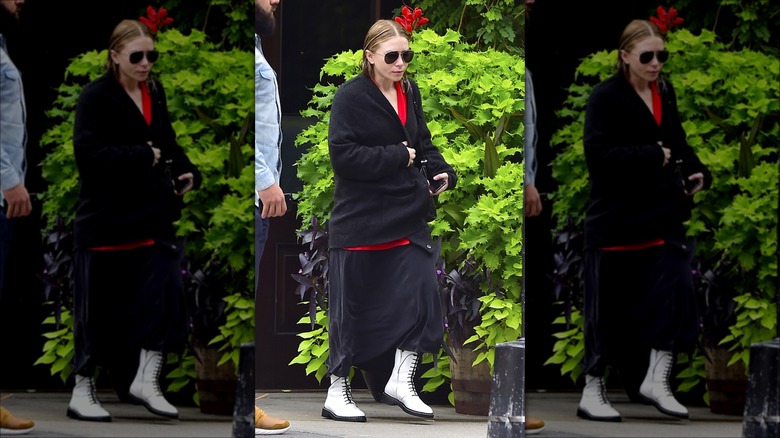 Alo Ceballos/Getty Images
If anyone can make an everyday occurrence into a trend- it's the Olsen twins. In this case, the paparazzi captured Mary-Kate out and about in the Tribeca neighborhood in 2017 with wet hair and a bare face. While leaving the house seemingly freshly showered is not unusual, it's comforting to know that celebs like Mary-Kate Olsen aren't afraid to do so too. Along with her makeup-free look, Olsen sported various oversized clothing items, which have become a staple of the twins. Although celebrity beauty trends can be challenging to copy, all you need to get Olsen's look here is to jump into the shower and throw on some comfy pieces.
Ashley's coffee day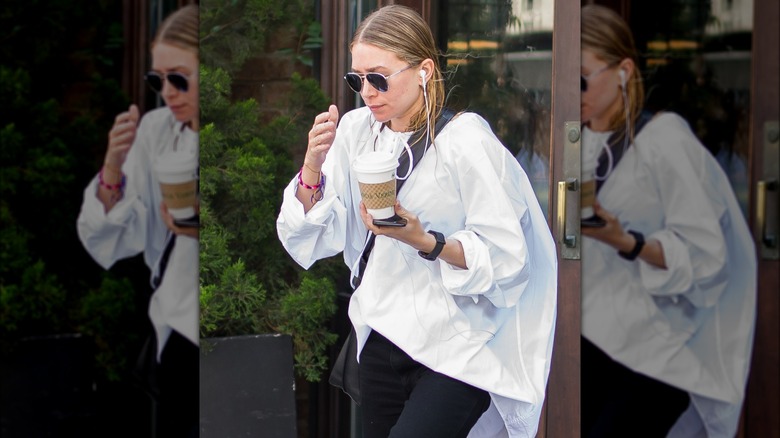 Tal Rubin/Getty Images
Not far behind, Ashley Olsen was also spotted with wet hair and no makeup in 2017. In a rare situation where celebrities appear similar to everyday folk, Olsen was sighted with coffee in hand. For two people as busy as the Olsen twins, it's not a shock that both have too much work to do to worry about putting on a full face of makeup. Bare-faced and ready to take on the day, Ashley embodied the "clean girl" aesthetic that has trended across multiple seasons.