We Tried Hailey Bieber's Favorite Volume Spray & Got Effortless, Bouncy Waves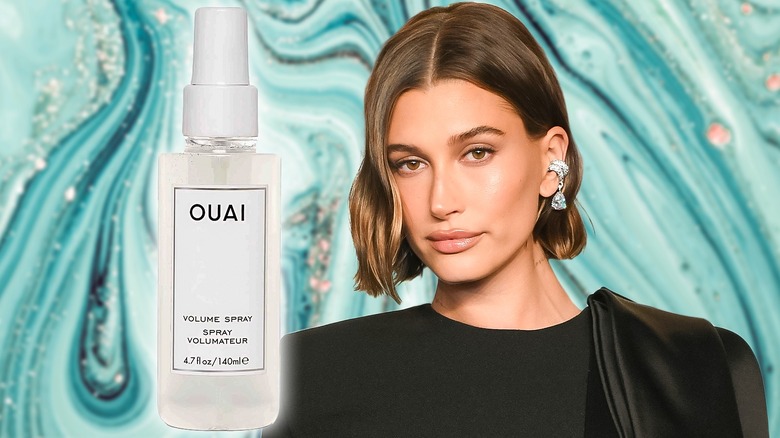 Static Media / Shutterstock / Getty
When it comes to beauty advice, Hailey Bieber is an open book. In fact, in a hair routine video on her YouTube channel, the star revealed that one of her favorite hair products is none other than beloved beauty brand OUAI's Volume Spray. As noted on OUAI's website, this volume spray was created by celebrity hairstylist Jen Atkin, and the formula has "thickening volume polymers" for extra oomph and panthenol to condition your locks. The spray, which retails for $26, is also vegan and free of parabens and phthalates.
According to the product's instructions, you simply spray the formula onto damp hair and then blow dry it, which is precisely what Bieber did prior to filming her tutorial. She then used a texturizing spray and, working in sections, created loose, beachy waves with a straightening iron. After completing her whole head, she finished everything off with a spritz of dry shampoo and hairspray. The end result was beautifully undone and lived-in waves, and we at Glam couldn't wait to try OUAI's volumizing spray on ourselves.
The volume spray with a blowout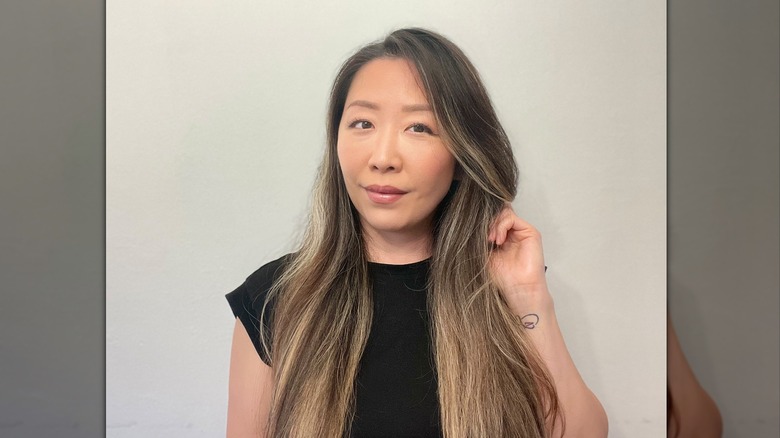 Jessica Choi / Static Media
Upon the first spritz of OUAI Volume Spray, we were hit with a light, floral scent. According to the company's website, its signature scent is called North Bondi, which is inspired by the famous Bondi Beach in Sydney, Australia. The scent contains notes of bergamot, jasmine, violet, sandalwood, and patchouli, among other citrusy aromas. As instructed, we sprayed the formula on damp, towel-dried hair from our roots to our ends. We then gave it a good brush to make sure it was evenly distributed and our hair was knot-free.
Now for the ultimate test: Like Hailey Bieber, we worked our hair in sections, but instead of blow-drying completely and then using an iron to give us waves, we used a round brush and a hairdryer for our at-home blowout. Making sure to give our roots a lift, we maneuvered the brush underneath the hair and gave it a nice blast of heat. After completing our whole head, we found that we didn't need a texturizing spray, as the volume spray gave the hair some grip without feeling sticky — just as OUAI promised. The final consensus? Our hair was undoubtedly more voluminous compared to before we used the spray, and our hair looked about 50% fuller.
The volume spray with waves
Jessica Choi / Static Media
With such great results, we naturally had to try OUAI Volume Spray on another hairstyle. This time, we chose big, loose waves using a 1.5" barrel curling iron. After towel-drying our hair, we distributed the formula all over and then dried our strands completely with a blow-dryer. Working from the bottom up, we used a clip to section off the top half of our hair and created large spirals. Once we were done, we gave our hair a quick run-through with a flat brush, followed by hairspray.
While curling your hair naturally gives it volume, we found that the spray gave our curls extra bounce, preventing them from falling flat. Our curls also held up throughout the day and even had some volume the morning after. One thing to note is that the spray is heat-activated, so it's not just a spritz-and-go type of product. For the best results, you'll have to blow-dry your hair, and we recommend the brush and blowout method, focusing on your roots for extra volume. Overall, we think this one's a winner due to its natural, cruelty-free ingredients and results that really delivered.