Capris Are Coming Back, According To Fall 2023 Runways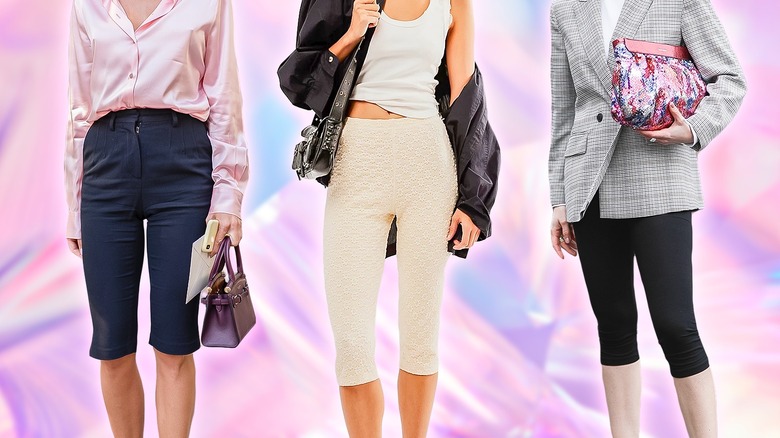 Static Media / Shutterstock / Getty
Fashion-savvy folks will be aware of the fact that between barely-there hot pants and simple cropped jeans is where capris exist. With designs that might reach just under the knee or midway down the shin, they offer you just the right amount of coverage while still keeping things cool in more than one way. They're also a style that's seeing a serious resurgence in mainstream popularity. As for why that might be, Alicia Rivera, a stylist with Stitch Fix, told InStyle, "We're seeing the '90s-style capris dominate the fashion industry, with models and celebs alike opting for the sleek form-fitting cropped pant."
Granted, the '90s weren't the only decade that saw capris come into style. They're a design that tends to pop up every once in a while. Each time they do, they embrace both a throwback vibe as well as a contemporary twist on the class look. For instance, Christina Stein, who works as a style therapist, explained to InStyle, "The [2000s] style was presented as more of a gaucho and less of a classic capri. Capris in 2023 seem to be a bit more tailored and body-hugging, similar to the styles that really hit all-time popularity with Hollywood starlets like Marilyn Monroe and Audrey Hepburn in the '50s."
At the same time, modern versions of this look are taking it to the extreme in other ways as well. Along with form-fitting and perfectly tailored, there is a wide variety of ways that you can slay this style.
Classic black under-the-knee capris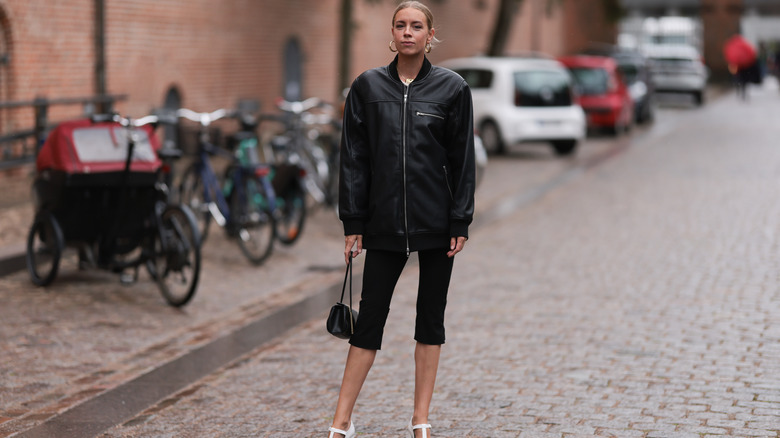 Jeremy Moeller/Getty Images
In the same way that you surely want to have a little black dress on hand that can suit pretty much any affair, a classic pair of black under-the-knee capris can be just the piece you need to fill out your wardrobe with a versatile piece. Reaching just under the knee and relying on a straight fit, you can wear these capris with a T-shirt and runners or a sleek jacket and high-heeled shoes. You can also wear them on a casual lunch date with friends or to the office for a day at work.
Off-white cargo capris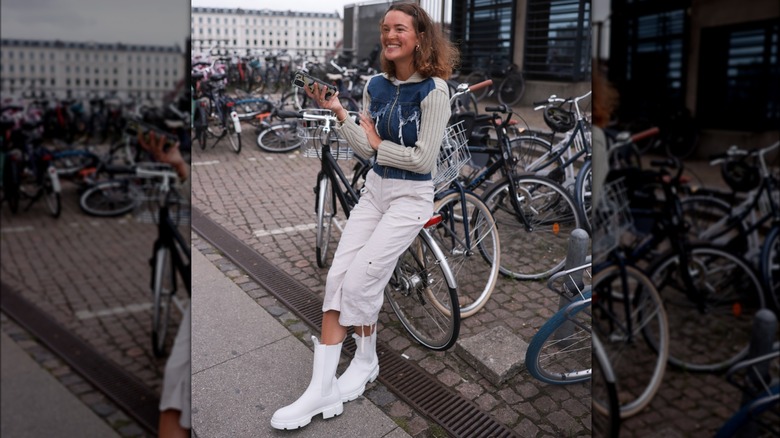 Jeremy Moeller/Getty Images
Cargo pants can be just as versatile as capris, which is one reason why the styles go so well together when combined into one snazzy look. The cozy cargo material makes it an ideal choice for capris that are either somewhat loose or more form-fitting. They also look great with designs that are slightly shorter or longer, high or low-waisted, and more simplistic or have adornments, like extra ties. That's not to mention that cargo capris can be anything from off-white and khaki to a shade of dark forest green.
Form-fitting capris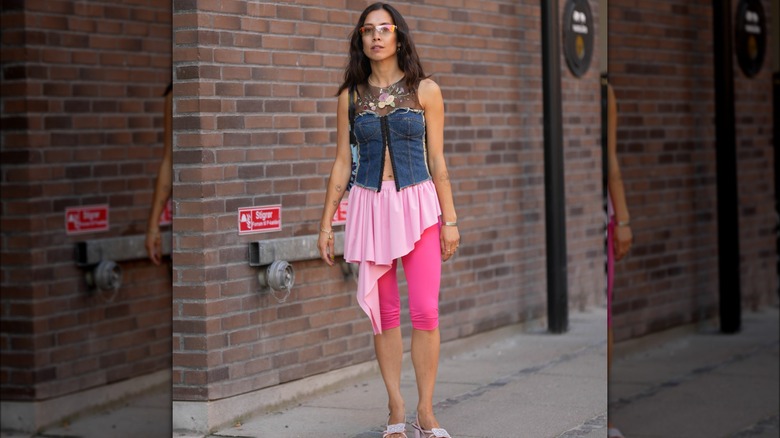 Edward Berthelot/Getty Images
If you're the kind of fashionable lady who loves leggings, you might also adore form-fitting capris. A lot like the tights you're already familiar with, capris might be a little thicker or just as thin as you prefer. Of course, you'll find that they come to just beneath the knee, which makes them the perfect choice for warmer weather. They're also the kind of pants that you can wear on their own or as a part of a layered look that includes capris and a skirt, dress, or long shirt.
Retro striped capris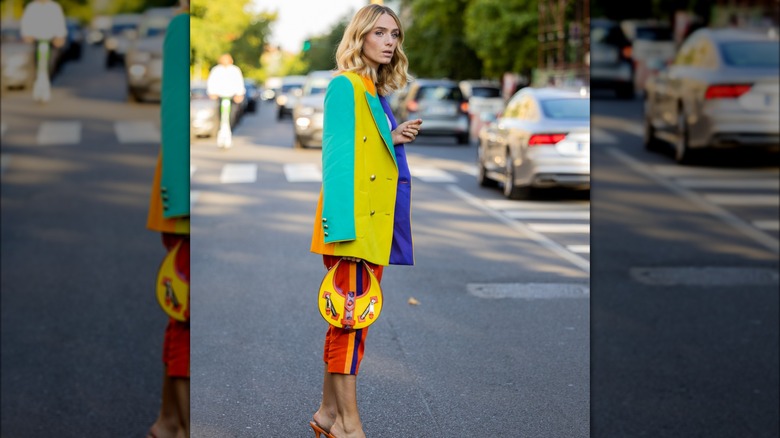 Christian Vierig/Getty Images
Capris may be a throwback style in themselves, which is why they work so well with retro designs. That might be an old-school paisley pattern or classic black-and-white checkers. Of course, you can't forget about stripes. You might want to opt for a pair of cute capris that are navy blue and have a bright red line down each side, which makes the length of the pants even more pronounced. Granted, that's just one color combo. You might also be intrigued by the idea of pink and yellow, green and maroon, or an orange and blue pairing.
Rough-cut denim capris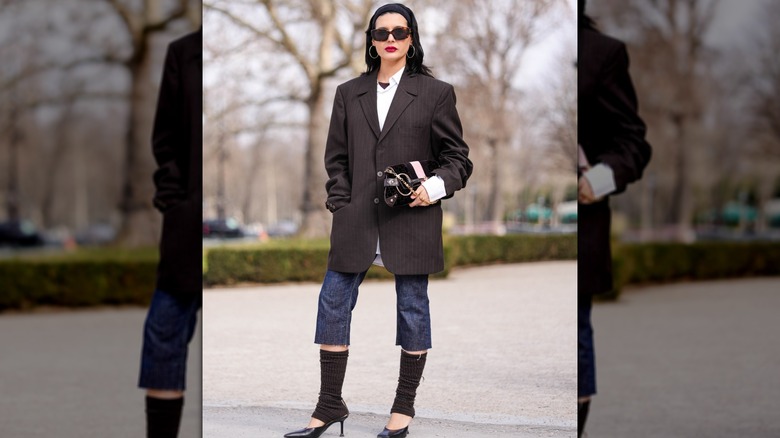 Edward Berthelot/Getty Images
Rough-cut denim capris can be a super-casual option or a piece that creates a fun contrast in a sleek ensemble. Pop on a pair and wear them with a basic white T-shirt, and you'll be surprised by how much you love the look. You can also throw on an oversized blazer, chic headband, and stiletto heels, not to mention tight-fitting leg warmers or boots. Of course, the best part of this style might be that you can make some for yourself by simply cutting off the lower legs of an old pair of jeans.
Oversized loose capris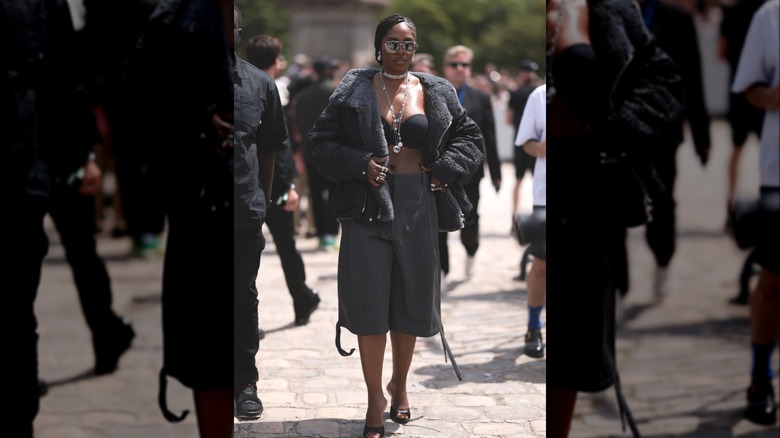 Jeremy Moeller/Getty Images
Fitted capris may be rather popular with those who appreciate short pants. However, that doesn't mean you can't indulge your wonderfully individualistic self and head in the other direction. In order to do just that, opt for capris that are on the loose side. The very loose side. Not only will they be super comfy, but short oversized pants also help you stand out while still showing off how style-savvy you are. Keep the vibe going with an oversized coat and create contrast with bare lower legs, a tight top, and sleek shoes.
Wool patterned capris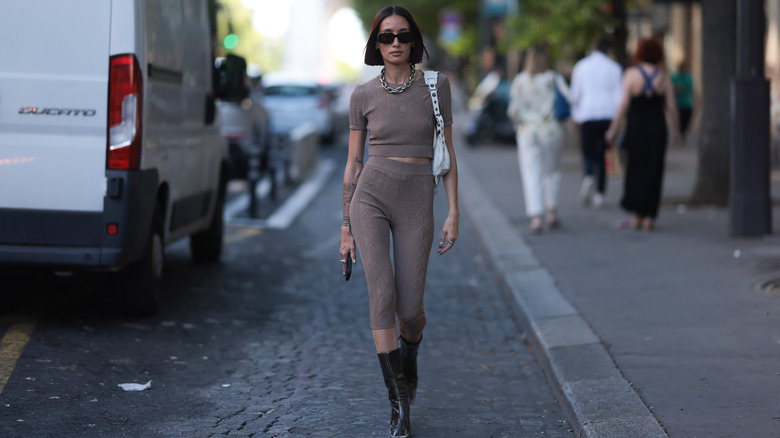 Jeremy Moeller/Getty Images
Wool might be an unexpected material when it comes to capris, which is why it's such a fun choice and something that will make you stand out. Beyond that, it's also a cozy option that will keep you relatively warm and can boast patterns that range from classic to contemporary. Think along the lines of an Irish Aran Sweater, which features intricate weaving that results in stunning shapes and lines. Choose capris that reach just below the knee, and it will leave your upper legs comfy and your lower legs cool.
Shiny sequin capris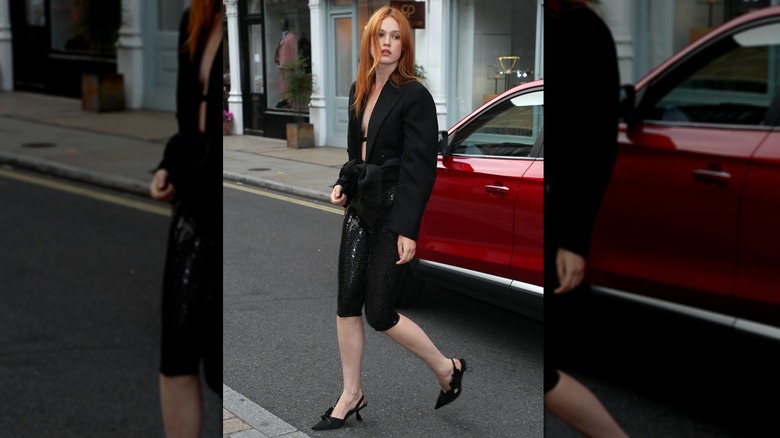 Neil Mockford/Getty Images
Sequins are always a fun addition to an ensemble and are another way to make the most of capris. The shiny nature highlights every inch of the design and accentuates each curve and line. That includes the line at the bottom of each leg, which creates a striking contrast between the fabulously flashy material and your natural bare legs. Keep things classically formal by opting for black sequined capris, or add a pop of color to your outfit with something like a hot pink or bright blue.
Metallic tasseled capris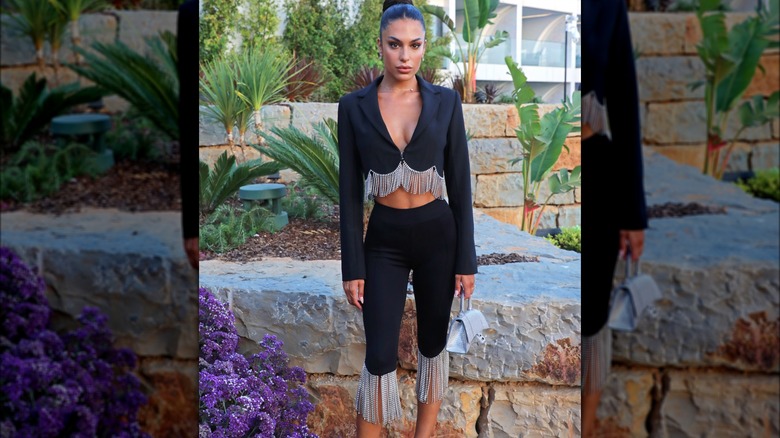 Dave Benett/Getty Images
Your capris may stop just beneath the knee. However, the design can be extended in a number of ways that set them apart. That includes the use of ruffles, fringe, or tassels. If you like the idea of the latter, imagine how stunning your pants would look with sleek silvery metallic tassels. Thin enough to sway back and forth whenever you move your legs, they can be long enough to accentuate both the bend of your knees and the curve of your calves.
Cutout and knotted capris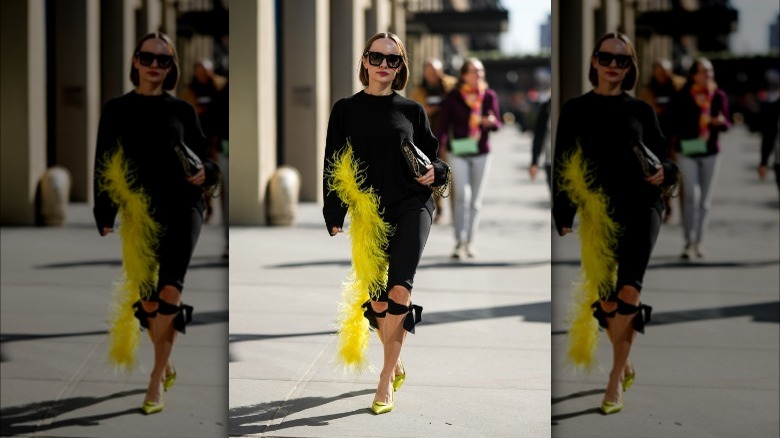 Edward Berthelot/Getty Images
There's no need to accessorize with these unique capris. The flare speaks for itself. A cutout of fabric frees your knees as the knotted tie flowing just off the side of the leg creates a new twist on these timeless pants. It also allows you to change things up every time you wear these capris by tying a different knot each time. To keep the outfit from looking too busy, you can pair this style of capris with a basic, no-nonsense, loose-fitting tank or long-sleeve shirt.