The Best Beauty Deals To Shop On Black Friday 2023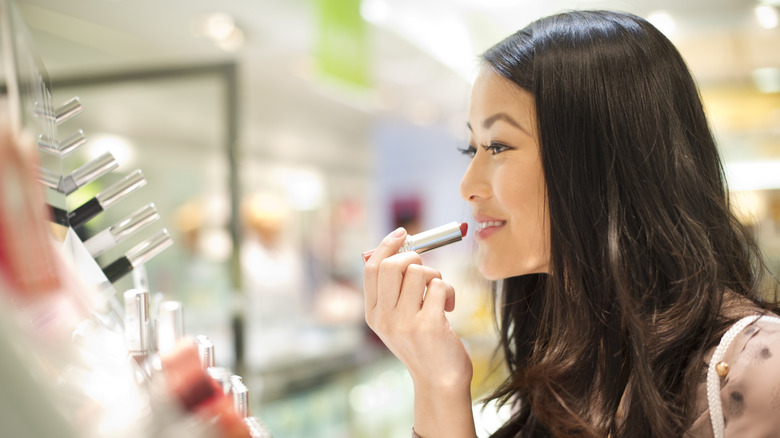 Sturti/Getty Images
We may receive a commission on purchases made from links.
The holidays are officially here — and what better way to celebrate than to treat yourself to a few must-have items from your wishlist? This year, Black Friday lands on Friday, November 24, and you can expect to see many irresistible deals — both online and in-store. With all the savings available, Black Friday is the perfect time to re-stock your shelves and indulge in luxury beauty items without breaking the bank. So, prepare your wishlist in advance and make note of the beauty favorites you'd like to buy to truly make the most of these Black Friday deals. And while you're at it, you might as well get a head start on Christmas gifts and stocking stuffers for everyone on your list.
That said, it's easy to feel overwhelmed by all the deals and websites, so Glam curated a list of coveted beauty products that you simply can't afford to pass on. Make sure you have your credit card nearby and get ready to take advantage of these top-notch deals. It's time to get your beauty fix.
How we selected products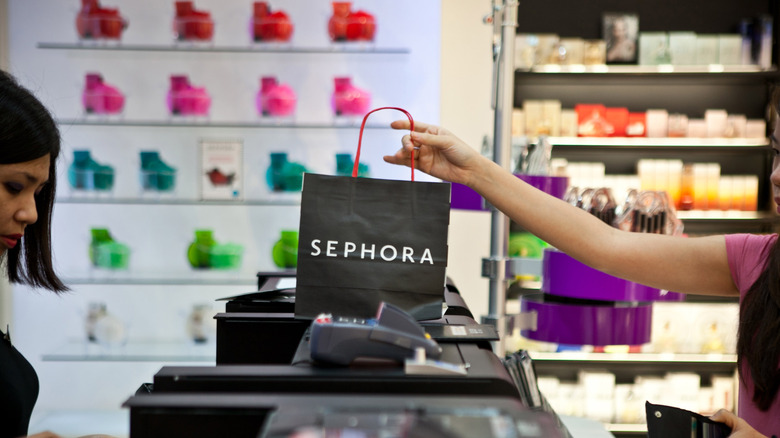 Bloomberg/Getty Images
To curate a list of the best beauty deals this year, we researched popular beauty products across a range of prices, websites, and brands to help you find the most desirable deals from each category. We also made sure to adhere to a strict set of criteria that we applied to each category.
First, we assessed the products based on the savings gained to help you find the best bang for your buck. As a result, you can expect to see deals as high as 50% off. Next, we dissected the buyer ratings and reviews while scoping out incentivized reviewers to locate as many unbiased consumer experiences as possible. To do this, Glam researched multiple sites and sources to ensure we included honest reviews only.
Ultimately, we've done all the hard work for you, so you can be the first to know about the best deals.
Best deal overall: Ole Henrikson PHAT Glow Facial Mask
The greatest beauty deal this Black Friday is, by far, the PHAT Glow Facial Mask, which is available for 50% off its regular price of $52. This face mask has close to 2,000 ratings and an impressive 4.4 stars. Reviewers with acne-prone skin love the clarifying and exfoliating benefits, which come from the use of pink bentonite clay and polyhydroxy acids (PHAs). This mask also contains Nordic birch sap to soothe and nourish. However, note that the PHAT Glow Facial Mask may not be suited for those with sensitive skin, according to buyer reviews. That said, this mask boasts over 56,000 likes on Sephora, so this product is sure to sell out fast.
Purchase the Ole Henrikson PHAT Glow Facial Mask at Sephora for $26.
Best luxury beauty: Armani Beauty Lip Maestro Matte Lipstick
If you're in the mood to treat yourself to something extra special during the Black Friday sales, head over to Nordstrom to pick up the Armani Beauty Lip Maestro Matte Lipstick for 30% off. The Maestro liquid lipstick has a creamy consistency that leaves a smooth matte finish while offering eight hours of long-lasting wear. This luxury lippie has over 2,000 ratings, and reviewers love the hydrating formula as it doesn't dry out your lips. Many buyers also comment on the bold, highly pigmented colors. With over 30 different shades to choose from, Armani has a color for every occasion.
Purchase the Armani Beauty Lip Maestro Matte Lipstick at Nordstrom for $31.50.
Best for hair styling: Kitsch Heatless Curling Set
Constant heat from curling rods or flat irons can wreak havoc on dry strands. Take a break from heat-styling products and try your hand at heatless curls with the Kitsch Heatless Curling Set. Although there is a learning curve to master this satin-covered curling rod, this product comes highly recommended by reviewers. If your hair could use some TLC, you can rely on this set to create juicy curls for all hair types and lengths without worrying about heat damage. What's more, purchasing this heat-free curling set, which is 29% off, also helps support the brand, which is a female-owned business — so, it's really for a good cause.
Purchase the Kitsch Heatless Curling Set on Amazon for $12.78.
Best skincare set: Ole Henrikson Acids Done Bright Smoothing Set
Don't miss out on this Ole Henrikson Smoothing Skincare Set which contains three powerhouse products to fight dark spots, dullness, and textured skin. This set includes a toner, a scrub, and a night treatment which work together to provide serious exfoliation. While this kit is designed for use on the face, reviewers agree that the scrub and night treatment also work wonderfully on the body to treat stubborn hyperpigmentation. One reviewer shared, "I've only had this kit for 2 weeks and I already notice a change in my skin. My skin is so much more brighter and smoother. I'll definitely purchase this again!"
Purchase the Ole Henrikson Acids Done Bright Smoothing Skincare Set at Sephora for $26.40, down from its original price of $44.
Best concealer: Estée Lauder Double Wear Radiant Concealer
Run, don't walk, for the Estée Lauder Double Wear Radiant Concealer on Black Friday. This creamy concealer is available for 40% off, and it's the perfect option for fans of dewy makeup or those who are looking to nail the "no-makeup" makeup look. The nourishing ingredients contain kukui nut oils and chia to give the skin a luminous glow while still providing medium to full coverage thanks to the buildable formula. This classic concealer boasts over 1,000 ratings on Nordstrom where reviewers shared how well this product conceals acne and redness. One reviewer loved the long-lasting wear and commented, "Concealer that stays put, even at the gym while sweating!"
Purchase the Estée Lauder Double Wear Radiant Concealer at Nordstrom for $19.20.
Best mascara: Lancôme Lash Idôle Volumizing Mascara
It can be tricky to find the right mascara, but when you find one that you love, it becomes essential to stock up. The Lancôme Lash Idôle Volumizing Mascara is an iconic lash product that everyone should have in their beauty bag. This instant-lift mascara boasts close to 15,000 ratings and a dedicated fan following that will, no doubt, flock to the stores to take advantage of this deal. Buyers love that it's safe for sensitive eyes and separate lashes. One reviewer shared, "This is my new favorite mascara. The brush separates lashes SO well and doesn't clump or fall off. I feel that it comes off easily at night with face wash and eye makeup remover."
Purchase the Lancôme Lash Idôle Volumizing Mascara for $21, down from $30.
Best hair mask: Christophe Robin Regenerating Mask with Rare Prickly Pear Seed Oil
Repair your damaged hair with Christophe Robin's Regenerating Mask with Rare Prickly Pear Seed Oil. This hair mask has surged in popularity ever since Sofia Richie Grainge posted a viral tutorial to show how she styles her signature slicked-back bun without hair damage. Even if you're not a fan of the slicked-back look, the Regenerating Hair Mask is a must-have to protect against breakage and dryness. This intensive repair treatment also contains prickly pear seed oil and ceramides to treat damaged or color-treated hair while preventing split ends. And for 40% off the regular price, you don't want to miss out on this luxurious Christophe Robin hair mask.
Purchase the Christophe Robin Regenerating Mask with Rare Prickly Pear Seed Oil at Nordstrom for $41.40
Best lippie set: IT Cosmetics Pillow Lips Matte Lipstick Trio
Make sure you pick up the IT Cosmetics Pillow Lips Lipstick Trio, which is 20% off as part of the Black Friday sales, before they sell out. This set contains three full-sized lipsticks in a limited-edition combination which includes the shades Wishlist, Moment, and Lights Out. As IT Cosmetics is a clean beauty brand, all lipsticks are also free from sulfates, phthalates, and parabens. These matte lipsticks make up a hydrating lippie set that both looks and feels amazing. The consumer reviews indicate that this trio works well for those with dry skin. Reviewers also love that these lipsticks offer saturated colors that only require a single swipe.
Purchase the IT Cosmetics Pillow Lips Matte Lipstick Trio at Nordstrom for $39.60.
Best eye mask: Grace & Stella Moisturizing Eye Mask
Put an end to tired eyes with Grace & Stella's Moisturizing Eye Mask. These award-winning eye masks were voted "Best Natural Eye Mask" in the 2023 Global Green Beauty Awards (Gold), and they have over 17,000 ratings on Amazon, where they also happen to be 40% off. These marks are essential for days when you're short on sleep to help reduce the appearance of puffiness and dark circles. According to the reviews, the Moisturizing Eye Mask is safe for sensitive skin and acts as a soothing balm under the eyes. Several reviewers also shared how they love to keep their masks in the fridge to increase the cooling and de-puffing effect.
Purchase the Grace & Stella Moisturizing Eye Mask on Amazon for $23.99.
Best for brows: Anastasia Beverly Hills Dipbrow Pomade
It's an exciting day when your favorite Anastasia Beverly Hills product is on sale. Make sure to add the brand's Dipbrow Pomade to your cart or you'll miss out on the 30% off Black Friday deal on Amazon. The 11,000 (and counting) ratings on Sephora can attest to this product's popularity. One reviewer calls the Dipbrow Pomade "[t]he best product for precise and neat eyebrows that stay in place ..." Many buyers rave about the easy application, pigmented shades, and natural finish. And despite the small size of the pot, the reviews assure us that the product lasts longer than expected.
Purchase the Anastasia Beverly Hills Dipbrow Pomade on Amazon for $14.70.