How To Recreate Sofia Richie Grainge's Signature Slicked-Back Bun (Without Hair Damage)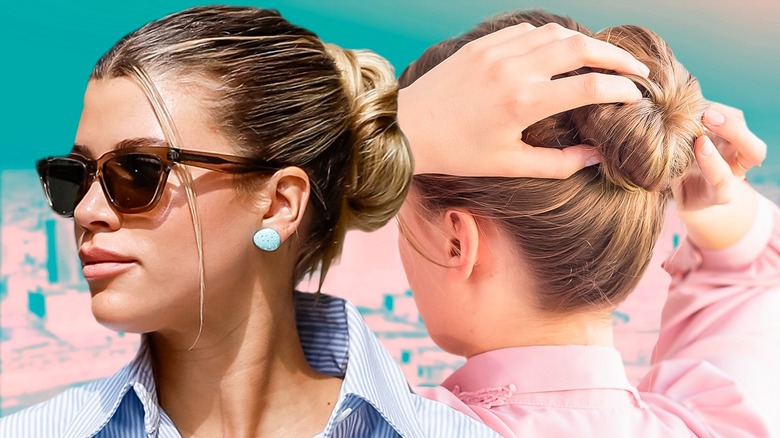 Static Media / Shutterstock / Getty
We may receive a commission on purchases made from links.
Trendsetter and model Sofia Richie Grainge has done it again with her chic, slicked-back hair bun. In a TikTok video, which has amassed over 2.6 million views and almost 9,000 comments, Richie Grainge shared a tutorial for her signature bun, which people associate with ongoing trends such as quiet luxury and the model-off-duty look. However, she refers to this sleek hair bun as her "lazy girl hairstyle." Richie Grainge's tutorial offers a unique method to the classic "clean girl" bun that she explains helped repair her hair after the overuse of bleach and hair dye. The secret to her healthy hair routine involves swapping gel for a hydrating hair mask — the star product in her sliced-back style.
That said, if you've come across her classy bun and found yourself cringing internally while following along with Richie-Grainge's video, know you're not alone. In fact, many hair experts have weighed in on the potential damage of styling such a tight bun with wet hair. "Tight styles such as a sleek-back [bun] can put excessive stress on the hair," board-certified trichologist Helen Reavey reveals to Refinery29, "which is only amplified when the hair is wet since it's much more vulnerable and tends to break more easily."
In posting an alternate version of Richie Grainge's bun on dry hair, hairstylist and TikTok user @madeandtaylored also warned that styling with wet strands will lead to breakage. So, if you want to pull off this slicked-back look but worry about damaging your hair, follow this stylist-approved tutorial instead.
Smooth and detangle
In Taylor's updated tutorial, she begins by gently brushing through dry hair to remove any knots or tangles. If you're serious about hair care, a helpful tip to reduce the chance of breakage while brushing is to start from the bottom, at the ends, and work your way up to the roots. If your hair is prone to mats or tangles, apply a detangling spray or lotion before brushing.
Similarly, for those with wavy or curly hair who want to try the slick bun hairstyle, start by smoothing your strands as much as possible — by using a flat iron or blow-drying your hair straight, if necessary — before moving on to the next step.
While it does increase the chance of hair damage, you can still follow Sofia Richie Grainge's original video if you want to replicate her exact method. "If you're styling [your hair] wet every once in a while and using it as a time to add a hair mask or treatment, then it's generally okay," Reavey explains to Refinery29. However, "If you have extremely brittle and fine hair or a scalp condition such as dandruff, I would avoid slicking your wet hair back until it subsides."
Brush in a hair mask
After detangling, use a rat-tail comb to achieve a precise part in the center of your hair. Now you want to go in with a hydrating hair mask. Sofia Richie-Grainge uses Christophe Robin's Regenerating Mask with Prickly Pear Seed Oil, as revealed in Christophe Robin's TikTok repost, but any mask that repairs damage will suffice. Taylor uses a budget-friendly option in her video— Amika's Soulfood Nourishing Hair Mask.
Slather on your hair mask and brush it through to evenly distribute the product, while focusing on the top of your head to create a slick appearance. Next, separate the front half of your hair with a small comb by parting it down to just behind the ears on both sides. Use clips to keep the separated sections away from the back half of your hair, which you can tie into a mid-to-high ponytail. Next, apply a lotion or oil to smooth the front sections and slick both sides back, securing them with small hair bands. Lastly, twist your ponytail and tie it into a bun. Finish off with more oil to add more shine and seal any lingering stray hairs.
Note that curly girls recreating this look may need to apply more product to seal their hair. "For curly or coarse girls, you might need to add a mousse around the edges for control," Sofia's hairstylist, Gregory Russell, tells Vogue.