How To Stop Being Intimidated By Leather Pants And Style Them Like A Pro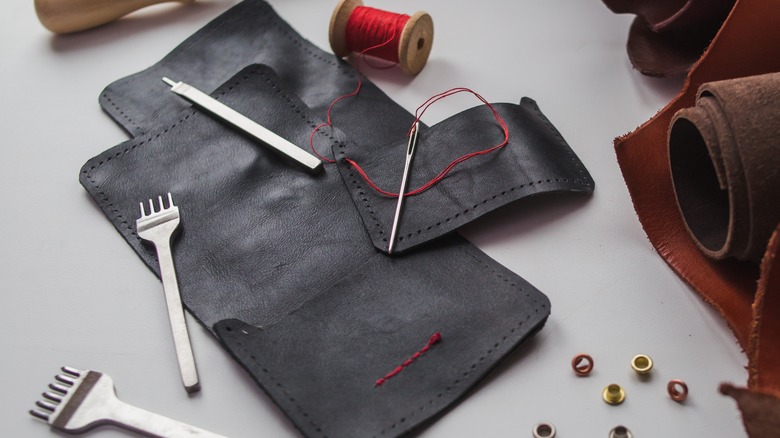 Anna Listarova/Shutterstock
Has anyone else noticed that 2022 is all about outlandish style trends? From vibrant dopamine dressing to Crocs blowing up in fashion right now, the 2020s seem to be the decade of unique looks. Refinery29 rounded up some of the more prominent trends, such as low-rise bottoms, pretty purple hues, peak-a-boo-style skin showing, and wearing bras as tops. As if the hottest trends weren't dauntless enough, leather pants are becoming a popular choice, too.
According to Who What Wear, some of the most famous people in the world have been rocking this bold trend. Some celebrities who've been flaunting leather on their legs include supermodel sisters Gigi and Bella Hadid and pop star Katy Perry. We're aware that this trend may seem a bit intimidating at first, especially if you have a more minimalistic or casual style. However, proper styling can make leather pants look excellent on anyone, so don't be afraid to start experimenting with this daring look!
How to style them
Are you unsure about wearing leather pants because you don't know how to style them properly or don't usually wear leather? Don't let your inexperience hold you back from exploring! Anyone who needs some inspiration for putting together an outfit with leather pants can look up #leatherpants on Instagram, and over a million different posts will pop up to help you with some styling ideas. For instance, if you want to rock an edgy look, you can never go wrong with a pair of leather pants and a black graphic crop top. Or, if you have a girlier or more glamorous style, try pairing your leather pants with a chic fur coat to soften the look while making a statement.
For anyone looking for some more suggestions regarding how to style leather pants, MasterClass shared some advice. For example, you can wear leather pants with a well-fitted blazer for a dressier style or a simple white T-shirt for a chic yet minimalistic outfit. On the other hand, try wearing a top with a neon hue with your leather pants for contrast. MasterClass additionally notes that boots tend to pair well with leather pants, whether you opt for a combat-style pair or a knee-high option.
Make sure to choose the right pair
When shopping for a pair of leather pants, you should keep in mind the same general guidelines you would stick to when selecting any other types of bottoms. For instance, when you're shopping for jeans, you would only want to buy a pair that fits you well; you probably wouldn't want to purchase anything tight to the point where it's uncomfortable or so loose that it wouldn't hang right on your body with or without a belt. The same rules apply when shopping for leather pants, so only buy a pair if you're confident you'd feel comfortable when wearing them.
With that said, there are many excellent leather pants out there! Byrdie rounded up some of its favorite options, such as The Melina Pant by Wilfred. These high-rise pants are made of vegan leather and are available at Aritzia for just below $150. If you're willing to splurge on a pair of designer leather pants, Byrdie recommends the Leather Flare Pant by Vince. Made from 100% real leather and featuring a rich mahogany hue, you can buy this investment piece for $630 at Nordstrom.
If you prefer faux leather, Who What Wear rounded up some stylish pants that don't use real leather. For example, if you like joggers, you can get the best of both worlds with Spanx's Faux Leather Jogger Pants. These jogger-inspired leather pants are available at Nordstrom for right under $150.
So, who's ready to flaunt leather pants?