How To Style Your Favorite Oversized Hoodies And Sweatshirts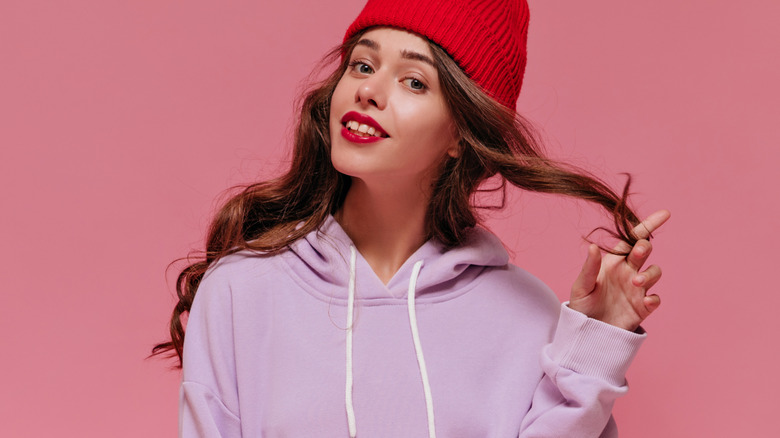 Look Studio/Shutterstock
Believe it or not, the history of sweatshirts goes back to the 1920s. Although flapper dresses and glamorous outfits probably come to mind before cozy sweatshirts when you think of the roaring '20s, Benjamin Russel Jr. came up with the idea of the first sweatshirt in 1926 to feel less uncomfortable when playing football (via Russel Athletic). Then, Champion Products produced the original hoodies in the '30s as a form of athleisure, per FashionBeans.
Sweatshirts and hoodies are both successful inventions, as they've become quite beloved in the streetwear side of fashion — and, of course, they can still be seen as athleisure, too. Plus, thanks to cozy fashion's rise in popularity nowadays, such as how trendsetters have taken a robe from pajamas to a style staple, oversized hoodies and sweatshirts are considered stylish outfit options. For instance, when you search #oversizedhoodie and #oversizedsweatshirt on Instagram, thousands of outfit ideas pop up. So, are you ready to learn how to style an oversized hoodie or sweatshirt?
There are many ways to rock these pieces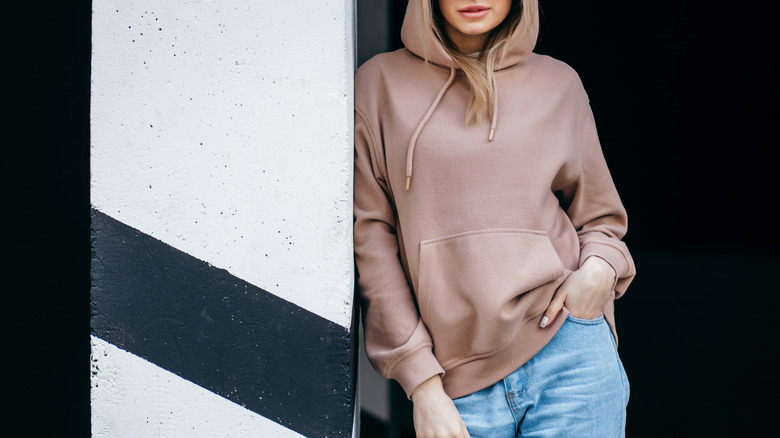 Andrewshots/Shutterstock
While some people initially may not think oversized hoodies and sweatshirts fit their styles, everyone should give these cozy garments a chance. There are more ways to style them than you'd think. For anyone looking for different ways to wear an oversized sweatshirt or hoodie, Russel Athletic noted some ideas. To start with a sassy look, you could wear your ultra-oversized sweatshirt or hoodie as a dress with no pants underneath to make an effortless statement. If you aren't feeling dauntless enough to flaunt such a bold style, you can pair your oversized piece with jeans for a casual, cool look or leggings if you want to lean into the athleisure aspect. Anyone who wants a super comfy outfit should match their oversized hoodie or sweatshirt with sweatpants and Crocs, which are blowing up in fashion right now.
If you're looking for even more ways to style your oversized hoodie or sweatshirt, Cosmopolitan offers some suggestions. For anyone who has an edgy style, pairing your oversized piece with a short leather or faux leather jacket is an excellent way to show off your style. Or, if you have a girlier style, try wearing your oversized garment with a matching or sparkly skirt for some cohesion or contrast, depending on what you're looking for in your outfit.
Now, we can't wait to start styling our oversized hoodies and sweatshirts to the stars.