Why You Should Be Keeping Plants In Your Shower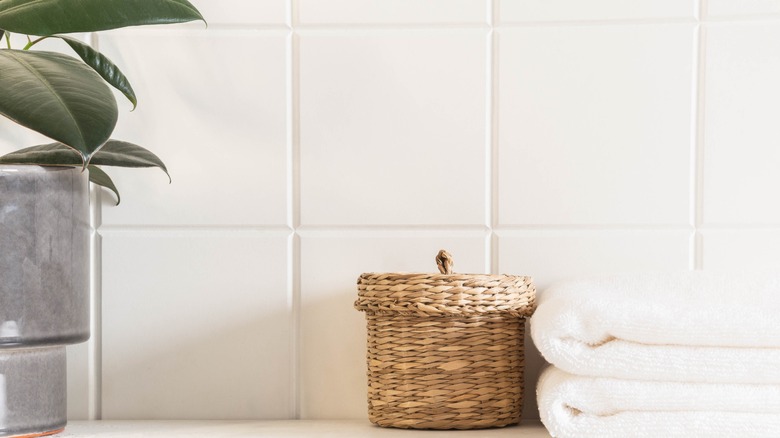 Sentelia/Shutterstock
Because most people have been staying home more frequently, home renovations have been at an all-time high. Although a new look to a room is refreshing, remodeling can hit the pocketbook pretty hard. Even the smallest remodel can demand a lot from your finances; that's why jumping on the latest trend in décor could be cheaper and easier than you think (via HGTV). 
One of the most popular and cost-effective additions to home design is plants, but have you ever considered keeping plants in the shower? Experts agree that an affordable way to enhance your shower room and add more relaxation to your morning or nighttime routine is to add plants. Don't worry — you don't have to transform your shower space into a tropical rainforest. Pops of green here and there add a soothing feel and elevate the relaxation level of your shower or bath. The benefits of plants are many, and shower plants could be the perfect design addition to help calm your mind after a long day.
Give your bathroom a spa feel with plants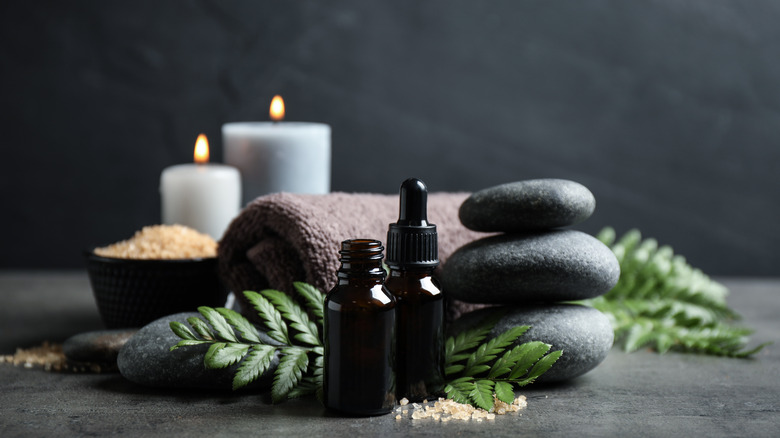 New Africa/Shutterstock
Indoor greenery is aesthetically pleasing and has been known to help make living spaces beautiful. Many resorts and spas invest in greenery for their customers. Homeowners can do the same but for even bigger benefits. In fact, studies show that plants reduce stress in humans by giving them something to nurture. Focusing on taking care of something else helps pull people out of their own minds making it harder to focus on what stresses them. According to Healthline, experts also agree that indoor plants can improve air quality, personal productivity, and concentration. 
Many people shower to get ready for the day or to calm down at night. What better way to take care of yourself at these important times of day than with luscious greenery in your shower? Keeping plants in your shower helps to conserve water and the plants thrive with moisture. Think you don't have enough room? Think again. Even the smallest showers have enough room for plants (via Today). Styling your bathroom with a succulent or a fern will give it a bougie, spa feel while brightening the space.
Types of plants that thrive in the shower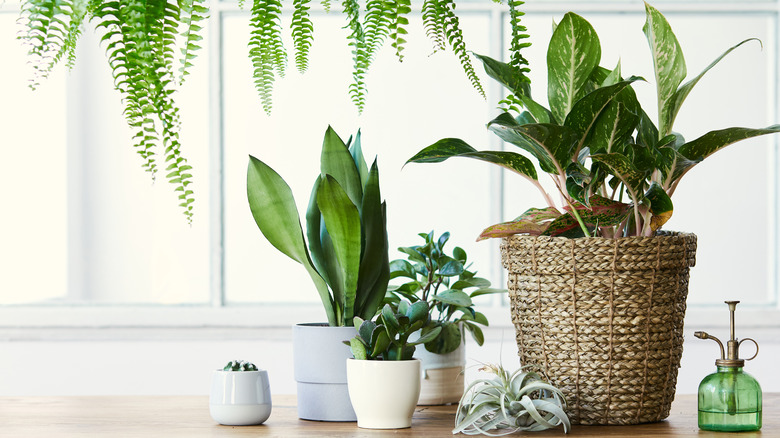 Followtheflow/Shutterstock
Now that you're ready to put a plant in your shower, which types are the best? The answer is easy: plants that benefit from moisture-rich environments. Whether you're a fledgling gardener who is new on the scene or a seasoned veteran, the snake plant (or Dracaena) is an excellent choice for the moisture a shower provides. The snake plant is a succulent that stores water in its sharp leaves. It's happy in high humidity and low light making it a perfect addition to any shower (via Treehugger). 
Air plants are also an excellent choice to adorn your bathing space. Air plants are unique because they don't use soil. They live best in moist areas and are light enough to give you plenty of options for hanging (via Bob Vila). Finally, any fern will love the drops of water from your shower. For well-lit bathrooms, consider the Boston Fern specifically. This beautiful plant's leaves can grow over two feet tall and they look gorgeous cascading into the shower (via Real Simple).
Whether you are going for the light air plant look or the luscious fern accent you can't go wrong with shower plants. They add to the aesthetic of any room, they are good for your mind, and they'll never go out of style. In addition, if you can't seem to remember to water your plants on a daily basis, a shower plant's care is built right in. Now that's a win for any plant lover.