Everything You Need To Know About Kristin Cavallari's Uncommon Beauty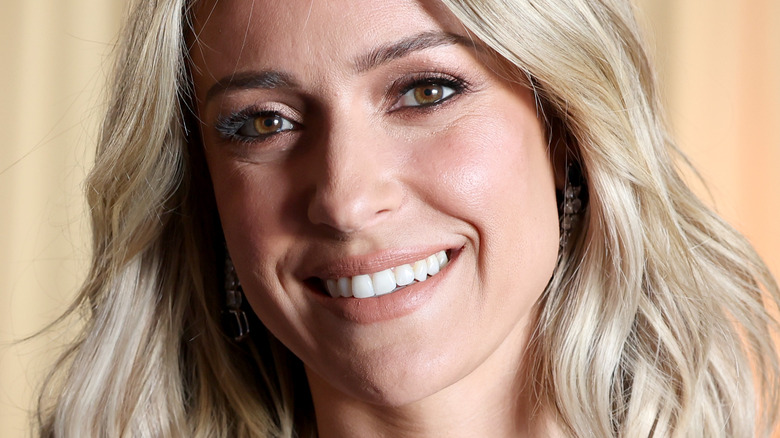 Rich Fury/Getty Images
Kristin Cavallari is truly the gift that keeps giving. It all started with a sassy teenager on "Laguna Beach" that was unapologetically herself and gave us some of the most iconic eye rolls reality TV has ever witnessed (via Glamour). Long after the show ended, Cavallari has stuck around as her stardom transformed from a young partying fashion icon to a girl boss and a stunning mother. Whichever hat Cavallari puts on, she effortlessly rocks it. 
Advertisement
When the "The Hills" star released her own jewelry brand — Uncommon James — it was an instant success, per People. The dainty jewelry brand got all the more buzz when Cavallari made her return to reality TV with her own show — "Very Cavallari" — which displayed the ins and outs of both her personal life and what it's like to run a company. However, the series sadly ended alongside her divorce from Jay Cutler, per BuzzFeed News. 
The number one thing fans learned from the show was that Cavallari's teenage sass butterflied into her being girl-boss goals and keeping her company in check at all times. In fact, she has no plans of stopping anytime soon. Cavallari didn't let her divorce bring her down and instead made the big move of launching yet another brand under the umbrella of her existing brands — Uncommon James, UJ Home, and Little James — and this time it was all about beauty.   
Advertisement
Uncommon Beauty is all about keeping it clean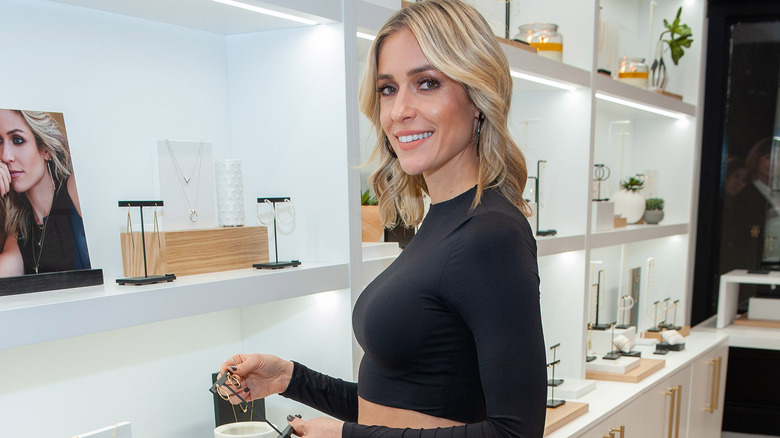 Timothy Hiatt/Getty Images
For those of us that grew up with Kristin Cavallari on our screens, it's hard to imagine she's grown up at all. After all, it's hard to believe that she's aged. Always one to keep it real, Cavallari has finally decided to let fans in on her skincare secrets. In fact, she's done you one better and released her very own skincare line: Uncommon Beauty.
Advertisement
"Our goal at Uncommon Beauty is to shrink the daily skincare routine, so you can feel really good about what you're putting on your skin," Cavallari said on the vision behind Uncommon Beauty. The clean beauty brand is all about focusing on keeping things easy using simple and effective ingredients and fewer products — a step away from the 10-step Korean skincare routine that's blown up in recent years. 
Fans have always noticed how fresh Cavallari looks, especially with her constantly glowing skin. Well, it turns out that fans are the reason she was inspired to launch the brand. "The inspiration actually came from constant questions about my skincare routine," she told Byrdie. Cavallari then looked into the products she was using, and after a trip to a lab, she discovered they weren't as clean as she'd thought. Therefore, she decided to one-up her existing routine herself. And she did it by providing a simple five-step skincare routine that's easy for anyone to follow.
Advertisement
Kristin Cavallari breaks down her Uncommon Beauty routine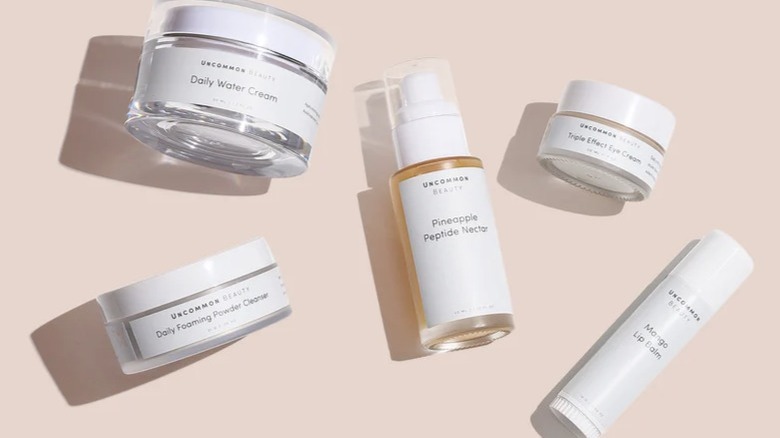 Uncommon Beauty
When creating Uncommon Beauty, Kristin Cavallari had a very clear vision of building a collection of a few products that were genuinely 100% clean and super effective. In fact, she explained to Byrdie, "We ultimately decided to launch Uncommon Beauty with five core products that serve as the foundation for the perfect skincare routine." The five core products consist of the Daily Foaming Powder Cleanser, Pineapple Peptide Nectar, Daily Water Cream, Triple Effect Eye Cream, and Mango Lip Balm, per Uncommon Beauty. 
Advertisement
Cavallari also broke down her favorite way to use her collection to Refinery29. After cleansing her face with the Daily Foaming Powder Cleanser, Cavallari kicks off her routine with the Pineapple Peptide Nectar serum, which she raved about to Harper's Bazaar, saying, "This is a unique and cool product because it's a mix of vitamin C, specifically Australian Kakadu plum, which is the world's highest source of vitamin C, and peptides in one formula. Plus, it smells so yummy. I put it on first thing in the morning." 
Cavallari's final step is the Daily Water Cream. At night, she adds in the Triple Effect Eye Cream as an additional step. As for the Mango Lip Balm? That's a constant staple for Cavallari. "I bring the Mango Lip Balm everywhere I go," she told Refinery29.
Advertisement
While the concept of Uncommon Beauty was to keep things simple, fans are hopeful that she'll expand the range in the future. Cavallari teased Refinery29 that "fun products" were in the works, so we're looking forward to seeing more from her.