How To Style A Bucket Hat The Right Way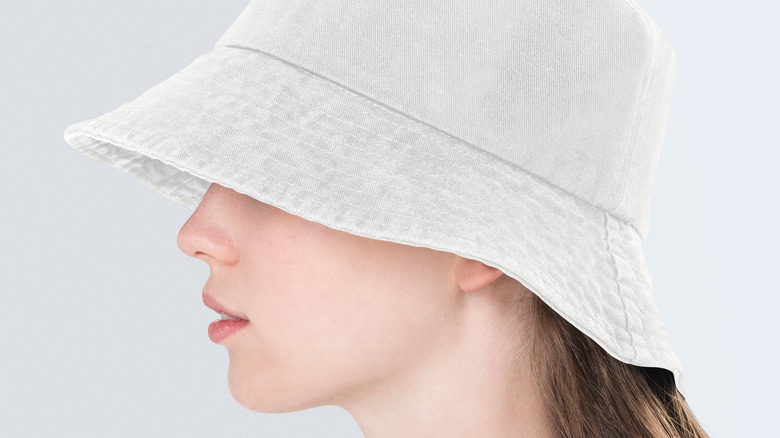 Rawpixel.com/Shutterstock
Whether you love them, hate them, or don't quite understand them, bucket hats have been trending for a minute now and aren't going to fade out anytime soon. Although some people probably thought — or hoped — that this quirky look would stay in the late '80s and '90s, these somewhat floppy hats are arguably more popular than ever. After all, celebrities such as Megan Thee Stallion and TV show characters like Emily from the fashionable show "Emily in Paris" have been donning bucket hats (via Nylon).
Anyone considering giving bucket hats a chance and looking for some inspiration can find a plethora of style ideas by searching #buckethattrend on Instagram. For instance, if you like bold prints, you'll find a bucket hat with a checkered pattern elevating a neutral top. Or, if you want something elegant and minimalistic, you can't go wrong with pairing a solid white bucket hat with a matching blouse and skirt. On the other hand, why not flaunt a tie-dye bucket hat featuring adorable floral details if you're all about dopamine dressing? The styling options are endless!
Here's how to rock a bucket hat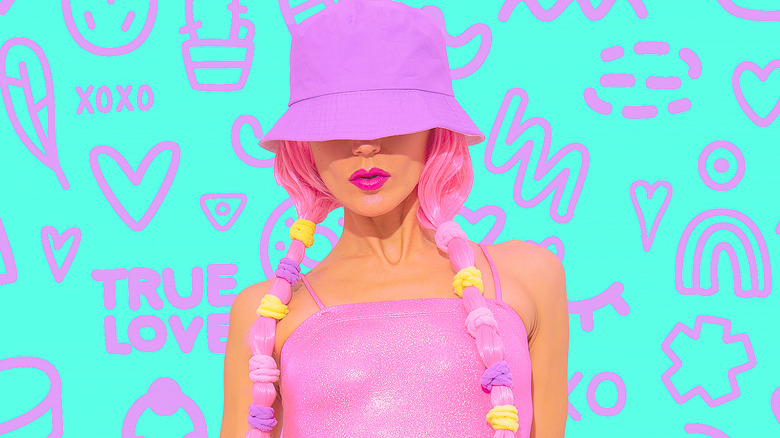 Eugenia Porechenskaya/Shutterstock
There are plenty of ways to add a bucket hat to your outfits based on your unique style. For example, if you're going for a beachy look, wear a bucket hat with your bathing suit next time you go to the beach (via Who What Wear). Or, if you're trying to keep warm during the cooler weather, wear a stylish bucket hat in the same color as your cardigan. Furthermore, anyone who wants to add a more dauntless touch to a minimalistic outfit should feel free to wear a colorful, sparkly, or patterned bucket hat with a neutral look for a bit of pizazz. Style tip: if you want to add tropical prints to your wardrobe, you should look for a bucket hat with these summery prints.
Now's the time to start shopping if you want to buy a bucket hat! According to Byrdie, one of the best bucket hats available is the Madewell Short-Brimmed Bucket Hat. Fully made of cotton, this light, neutral item is an excellent gateway bucket hat if you're trying to ease into the trend, and it's selling at Madewell for just below $30. For those who prefer a quirky crochet look, Byrdie also recommends THE GREATEST Granny Crocheted Bucket Hat, which features various patches of unique patterns. You can purchase it at W Concept for right under $90.
So, are you ready to start rocking bucket hats?