How To Remove Waterproof Mascara Without Pulling Your Eyelashes Out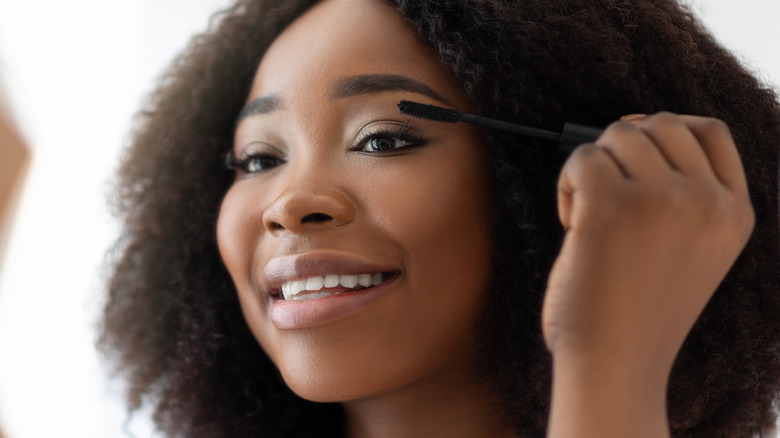 Prostock-studio/Shutterstock
Makeup can sometimes feel like a never-ending cycle. You want to apply it because you love how it looks, but having to deal with the process can get annoying. Then, once you finally have it on, you have a few hours before having to deal with the second daunting task of removing it. And no, skipping that step is never an option. In fact, if anything, you should be double cleansing to make sure there's not a trace of makeup left, per Allure. 
The process gets all the more exhausting when you use makeup products that are meant to provide longevity, except, ironically, we sometimes wish it budged easier. But one of the most stubborn steps has to be removing waterproof mascara. Unfortunately, it's also one of the best steps you can incorporate into your makeup routine. 
Switching to waterproof mascara can not only prevent your mascara from running, but it also holds a curl much better and for longer. While the switch can transform how your lashes look, the removal process can be detrimental to them. Tackling waterproof mascara removal is an art, but there are tips and tricks to doing it the right way to avoid damage while ensuring that the mascara is completely gone. (After all, we don't want to wake up to raccoon eyes.)
Prepping your eyes is key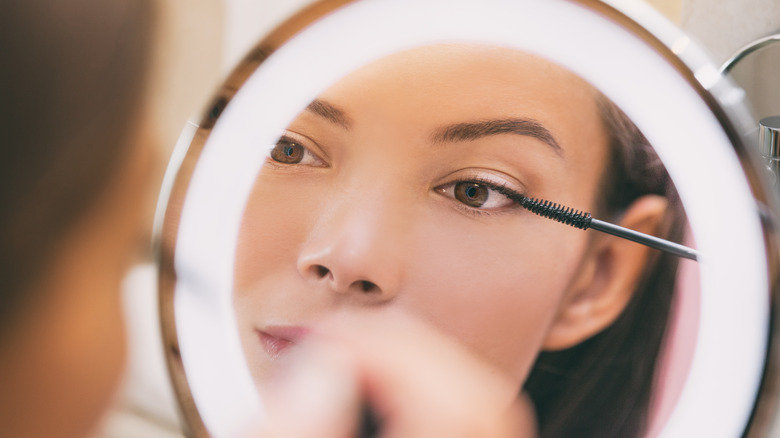 Maridav/Shutterstock
The trick to an easier waterproof mascara removal process starts before you even apply the mascara. You should take the time to brush on a lash conditioning serum or mascara primer before applying your waterproof mascara. This works as a barrier between the mascara and your lashes as well as provides you with longer wear, per Byrdie. With a mascara primer or lash conditioner, you're protecting your lashes from the waterproof mascara and coating them in a protective layer. This has no effect on the actual wear of your waterproof mascara, though — don't worry. 
It also helps to apply your waterproof mascara in a certain way. Instead of piling on the product with 50 layers, make sure you wipe down your mascara wand to use as little product as possible. Sometimes, mascara wands are packed with so much product that they can pile thick layers onto your lashes, making it a nightmare to get off. Using less mascara won't give a less dramatic effect; the waterproof mascara will still do its job. Still, it could save you a lot of time when it comes to removal, per Byrdie. 
You need an oil-based makeup remover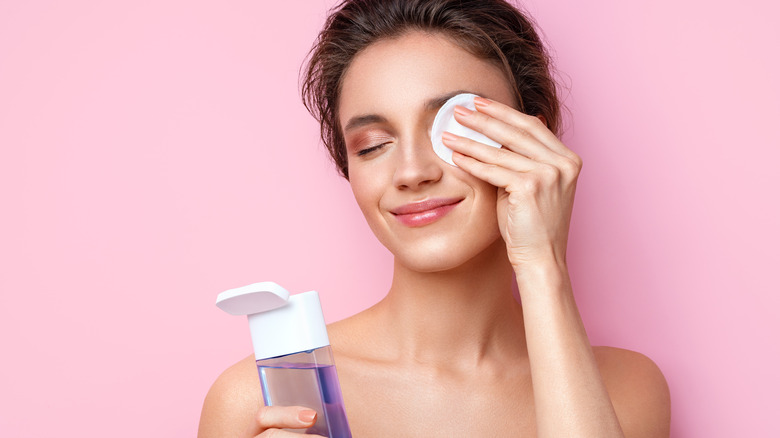 RomarioIen/Shutterstock
The number one waterproof mascara removal must-have that most people can agree on is an oil-based makeup remover. Professional makeup artist Samantha Lau has a particular way of getting the most out of her oil-based makeup remover. "Put some of the remover onto a cotton pad and you place the remover-soaked pads over your lashes," she told Who What Wear U.K. "I normally let that sit for several seconds (sometimes up to 10 seconds) and then I use a gentle rocking motion to loosen up the stubborn formula. Then you wipe away."
The idea is to soak your lashes, whether you're using a pure oil or an oil-based makeup remover. By using oil on your lashes and patiently ensuring each lash is coated, your waterproof mascara will be a lot easier to work with. The oil, along with the prolonged soaking, will break down your waterproof mascara and allow it to slide off the same way the rest of your makeup does, per Good Housekeeping.