10 Best Dry Shampoos For Mattifying Oily Hair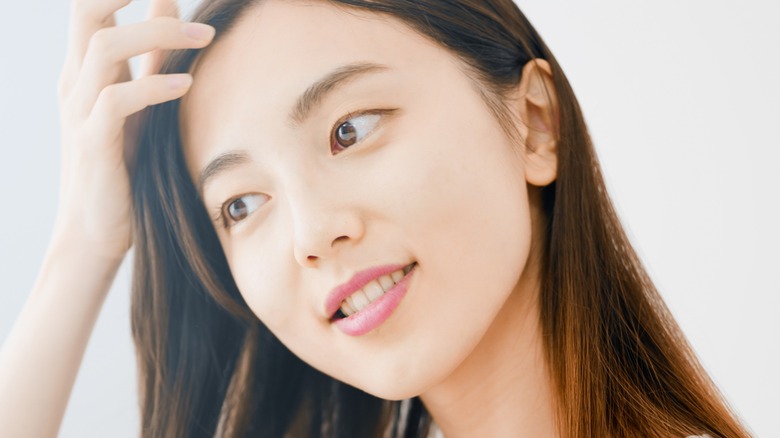 aijiro/Shutterstock
We may receive a commission on purchases made from links.
Oh, that dreaded hair wash schedule. Planning your entire week around the days you need to wash your hair only to wake up on day two and discover that your hair has sabotaged you and revved up its oil production overnight. Of course, this is just one example of what those with oily hair suffer.
It's a daily battle made all the more difficult when you have experts everywhere telling you that the less you wash your hair, the less oily it will get over time (via Harper's Bazaar). That sounds great, but what about your hair's unrelenting need to produce excess oil within a day or two? Even when you follow all the right shower steps, keep your conditioner on your ends, use the right amount of shampoo, and use the right shampoo typ, nothing seems to slow down that oil production (via Glamour). Enter dry shampoos. 
Dry shampoos are a godsend for people with oily hair. Miraculously, with just a few spritzes and a quick tousle of your hair, you can buy yourself an extra day or two before having to wash it. But with such a vast market of dry shampoo options in all shapes and sizes targeting all different needs, it can get a little overwhelming to navigate. 
How we selected the dry shampoos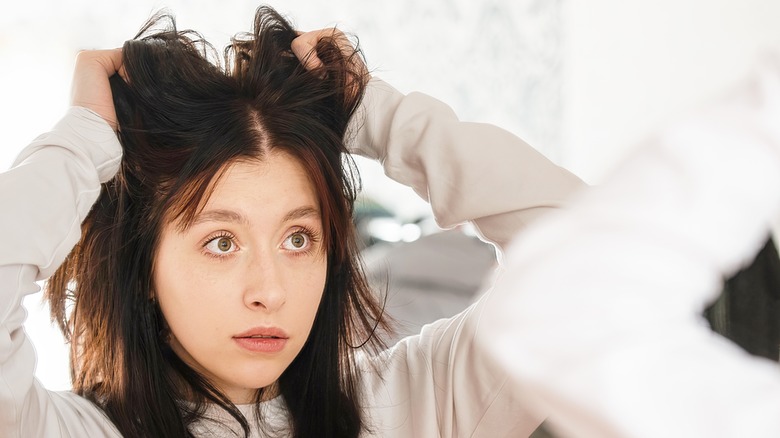 olgaarmawir/Shutterstock
It's wild to think that a simple powdery mist product made of a starch component such as dry shampoo can somehow leave your hair looking and feeling freshly washed. Well, if you pick the right dry shampoo, that is. Any veteran of the oily hair struggle knows that the oversaturated dry shampoo market is actually filled with busts. 
Dry shampoo really has a simple job: to refresh your hair, absorb oiliness, and mattify it. And when selecting this list, that was the number one benchmark they all had to pass. We chose the best dry shampoos based on ones that have each earned their very own cult following of loyal fans that use dry shampoo on an almost daily basis. The dry shampoos we chose each excel at mattifying oily hair, but they also each have their own added bonus. From a dry shampoo for dark hair to a unique water mist, you're guaranteed to find your new must-have dry shampoo.
Selecting your dry shampoo requires you to figure out exactly what you expect from it. With each of the dry shampoos below targeting a certain need or hair type, there's something for everyone. The rave reviews of these dry shampoos speak for themselves, and a few have even made their way into celebrity hair stylists' kits. 
Best Cult-Favorite Dry Shampoo
Any true dry shampoo lover is very familiar with that unique crisp citrusy scent of Living Proof's Perfect Hair Day Dry Shampoo. It makes sense why this is so many people's holy grail dry shampoo; it was backed by MIT research and scientists, after all. 
Living Proof uses a patented Healthy Hair Molecule that allows this dry shampoo to actually cleanse your hair rather than simply masking the oiliness. Plus, its scent releases throughout the day, so you don't have to worry about not smelling fresh, either. Rave reviews of the 4.9 star-rated dry shampoo definitely agree, with one reviewer praising, "This is by far the best dry shampoo I've ever used, and I've used ALL of them."
Purchase Living Proof Perfect Hair Day Dry Shampoo on Amazon for $28.
Best Drugstore Dry Shampoo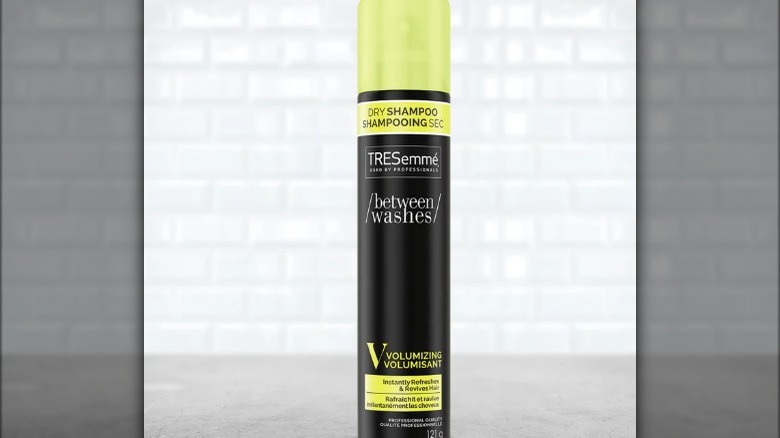 Tresemme
The drugstore beauty scene has definitely blown up to compete with luxury beauty products, and it's definitely flourishing when it comes to dry shampoo options. It's hard to believe that this pick is under $6 considering the volume punch it packs. 
Tresemmé's Volumizing Dry Shampoo is a fan favorite, and it's hard to tell whether its delicious fruity fragrance or its ability to give the finest of hair an extra zhuzh that earned it the spot. The Volumizing Dry Shampoo is formulated with mineral clay and citrus that work to soak up excess oil and leave your hair looking and smelling freshly washed. But the best part is the dramatic lift it gives your roots, giving you that fresh blowout volume. 
Fans especially love the lack of white residue it leaves behind. As one Target reviewer shared, "This smells great and absorbs easily on hair leaves mild residue feeling. I am very picky with my dry shampoos and this helps me when in a rush, it leaves me feeling refreshed and leaves no white stuff on your hair."
Purchase Tresemmé's Volumizing Dry Shampoo at Target for $5.99.
Best Luxury Dry Shampoo
You can immediately tell just by looking at the packaging how luxurious this pick is, and it doesn't disappoint. Oribe's Gold Lust Dry Shampoo is a classic that's always been coveted in the beauty community. The scent alone is more than enough reason to opt for this. Where else are you going to find a dry shampoo with such a rich luxurious perfume fragrance that sticks around for hours thanks to its fragrance-retention technology?
Scent aside, the Gold Lust Dry Shampoo does its job by absorbing excess oils using translucent powders. It also has the added bonus of relieving your scalp of that dreaded dry shampoo itchiness using a soothing mixture of lavender and chamomile extracts. The product's 4.7-star reviews speak for themselves. In fact, one fan of it shared, "Ok I have to say this is the best dry shampoo I have ever smelled and used."
Purchase Oribe's Gold Lust Dry Shampoo on Oribe for $48.
Best Dry Shampoo for Sensitive Scalps
You've hit the trifecta if you struggle with oily hair as well as an itchy sensitive scalp. For most, dry shampoo is the obvious quick fix, but adding a ton of product onto your sensitive scalp could lead to an itchy flaky mess. Well, Klorane answered the call for a dry shampoo that is both effective without being too harsh on sensitive scalps.
Klorane's Dry Shampoo with Oat Milk is an award-winning favorite gentle dry shampoo that revives your hair leaving it refreshed with a bit of extra volume all while using plant-based ingredients. The oat milk is ideal for soothing sensitive scalps and helping prevent dandruff. This dry shampoo will buy you extra hair wash-free days without constant scratching. 
Byrdie's Leigh Weingus tried it out and gave it a 4.7-star rating. "Yes, the Klorane Dry Shampoo With Oat Milk is great for anyone less than enthused about the idea of washing their hair daily," Weingus wrote. "It's also an excellent option for anyone dealing with dull-looking, flat hair who wants a quick boost without washing and styling their hair."
Purchase Klorane's Dry Shampoo with Oat Milk at Ulta for $20.
Best Dry Shampoo Foam
If just looking like your hair is freshly washed isn't enough for you, then this foaming dry shampoo is the perfect pick as it'll also give you that refreshing shampoo feeling as it works its magic. Batiste is a pioneer in the dry shampoo market, so it's no surprise that this brand excelled at creating the Waterless Cleansing Foam. 
The best part of a dry shampoo foam is that the wet formula really mimics the feeling of a proper shampoo. It's also more lightweight, as it feels as though you simply shampooed without water rather than spraying on a powder formula. The delicious tropical coconut scent, thanks to the inclusion of coconut milk, is simply an added bonus. 
Unlike some foam formulas, this one won't leave your hair feeling sticky and heavy; it just does its job and seemingly disappears into thin air. "This has been a life-saving product. This foam allows your hair to smell, feel, and look refreshed. It creates volume and adds life back to the hair. A very useful tool to have in your kit," one fan raved.
Purchase Batiste Waterless Cleansing Foam on Walmart for $10.99.
Best Dry Shampoo for Extremely Oily Hair
There's oily hair, and then there's my-hair-is-already-greasy-from-the-first-day oily hair. If you struggle with extremely oily hair, you've likely tried every dry shampoo you could and realized even dry shampoo can only serve as a very short-term fix. Still, the trick is simply finding a dry shampoo that goes above and beyond with soaking up excess oil. 
IGK's First Class Charcoal Detox Dry Shampoo has everything you need to finally mattify your hair for more than a few hours. This dry shampoo seriously packs a punch, the detoxifying charcoal powder works to remove dirt as well as absorb excess oil. It's a fan favorite for post-workouts for how well it removes sweat. 
But don't worry: this won't be super harsh on your scalp either thanks to the soothing white tea powder. Pro tip: after spraying this onto your scalp, let it settle for a few seconds before massaging it in to really allow the formula to get to work.
Purchase IGK's First Class Charcoal Detox Dry Shampoo at Ulta for $32.
Best Dry Shampoo Powder
Dry shampoo is essentially canned powder in spray form, which is why some prefer to opt for simple dry shampoo powders and skip the spraying step. Dry shampoo powders are typically ideal for volumizing and giving your roots some extra lift. While there is a ton of options out there, Crown Affair's The Dry Shampoo definitely tops the list. 
The luxe packaging of this dry shampoo that makes it feel like a high-end beauty product is a selling point in and of itself. The powder is designed to get right to your roots using the brush included to absorb oils and leave your hair looking voluminous and feeling freshly washed thanks to the all-natural tapioca starch. The Japanese persimmon scent also gives your hair a freshly-shampooed smell that lasts. 
Vogue's Julie Tong was immediately sold, saying, "[It's] the best dry shampoo I have ever tried." With a 4.9-star rating, fans of the powder can't get enough of its "smell and feel" as well as the fact that it "works wonderfully to remove grease and give volume to roots." 
Purchase Crown Affair's The Dry Shampoo at Sephora for $36.
Best Volumizing Dry Shampoo
Sam McKnight has always openly shared his wealth of hair knowledge online, but he really blessed us all when he launched his very own haircare range. McKnight knows hair, and he knows how to give it the perfect amount of weightless volume. Now, he's placed all that knowledge into Lazy Girl Dry Shampoo. 
The Lazy Girl Dry Shampoo is a lightweight mist rather than a harsh spray, and it completely erases any oiliness in sight while also giving your hair extra body and volume. This dry shampoo is so volumizing that many fans use it as a lifting texturizing spray whether their hair is oily or not. You can eve blow-dry your hair after brushing through this to give you even more va-va-voom volume. 
Purchase Lazy Girl Dry Shampoo on Sam McKnight's website for $27.
Best Dry Shampoo for Dark Hair
Dry shampoo is a lifesaver for oily hair types, but it doesn't come without a few downfalls. For instance, there's that dreaded white-cast that sometimes refuses to fade regardless of how vigorously you massage it in. This is especially a struggle for darker hair tones; there's no masking that grey aftermath. Enter Moroccanoil's Dry Shampoo for Dark Tones. 
Moroccanoil has been a holy grail haircare brand for many with its iconic range of Moroccan argan oil-infused hair products. This Dry Shampoo for Dark Tones is no exception to the hype. Moroccanoil already mastered its dry shampoo formula that uses rice starch to soak up excess oil along with argan oil that doesn't leave your hair looking dull. 
Well, they went one step further by including a Dark Hair Tone edition of it that uses a slight tint to prevent that white cast. The argan oil also works to emphasize the richness of your darker hair tone rather than dulling it. One rave review praised the product, saying, "I have tried other dry shampoos and this is my favorite! No white residue to worry about and smells great! Gives me volume, no flat hair."
Purchase Moroccanoil's Dry Shampoo for Dark Tones on Moroccanoil's website for $12.
Best Unique Formula
Last but certainly not least comes a unique take on the dry shampoo concept. We've seen foams, we've seen powders, and we've seen tinted formulas. But what about a watery mist?  R+Co's Spiritualized Dry Shampoo Mist is a creamy formula that combines micellar water and a suspended cleansing powder to refresh your hair between washes without leaving the feel of product buildup. This pick is especially perfect for dry scalps or if you have any extensions or weaves as it won't pile up and add too much grit. 
One reviewer couldn't believe just how well this odd formula worked. "I didn't think it was possible to have a liquid dry shampoo but this thing is magic! Finally a product that refreshes my hair without leaving a white residue or irritating my scalp. This is the only dry shampoo I'll ever use," they wrote.
Purchase R+Co's Spiritualized Dry Shampoo Mist on R+Co's website for $29.