Here's How To Be Respectful When Dressing For A Funeral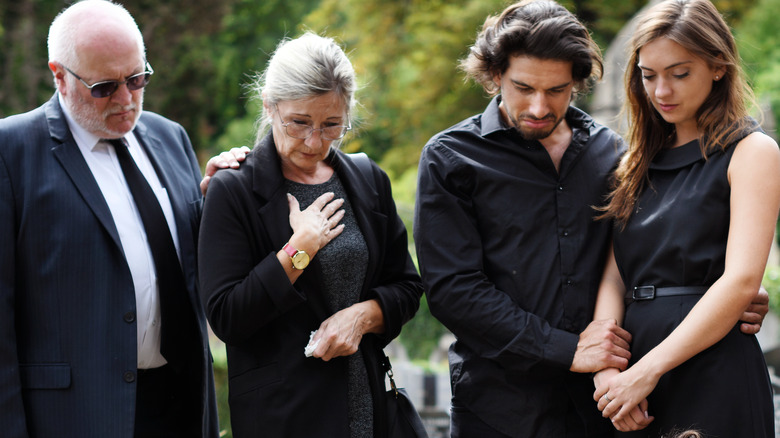 Rawpixel.com/Shutterstock
A question that almost nobody dares to ask but is a situation in which many people find themselves is what to wear to a funeral. Preparing to attend a funeral is a heart-wrenching experience whether it's for an immediate family member, a friend, or a colleague who has passed away. Considering the emotional grief you have to process, finding a funeral dress might usually be at the bottom of your list.
Nonetheless, dressing appropriately is a way of showing respect for the deceased as well as support for the bereaved. Even if your wardrobe is the last thing on your mind, you'll still have to sort through your hangers with trembling hands and teary eyes to pick the most sensible clothing at the end of the day. For this reason, fashion does matter even when you're in mourning, per The New York Times. Although the general rule of thumb is to wear to a funeral what you might wear for a business meeting, per Funeralwise.com, there's still room to customize your own look.
In case you're having a hard time choosing what to wear to a funeral, the information provided below may assist you in your quest for the appropriate funeral attire.
Take context into account when dressing for a funeral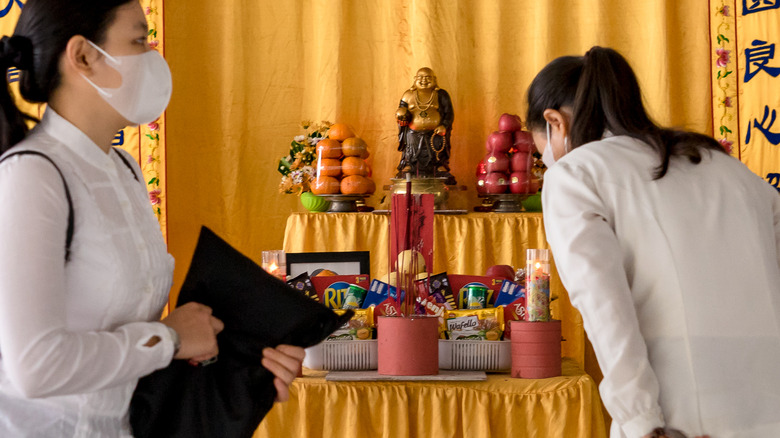 Eddie Cheever/Shutterstock
Before you rummage through your wardrobe, read the obituary for clues about the theme of the service and the wishes of the family, La Vista Memorial Park & Mortuary points out. Most funeral hosts don't request a specific style or color, but those who want a break from the traditional funeral setting might. If the family requests funeral attendees to wear pink to honor the wish of the deceased for a pink-themed send-off, you should oblige to show support. In case the host doesn't give any specific requests, you can adhere to the conventional funeral dress code of modest, dark-colored clothes.
At the same time, keep in mind the cultural context and religious customs before planning your funeral attire, according to Grief Speaks. For example, the Western culture has long preferred black for mourning, but vibrant colors seem to be the more popular shades in the Caribbean and African funerals. Unlike Catholic, Christian, and Jewish funerals where black is the most commonly worn hue, white is the most common color to wear at a Hindu funeral.
If you're still in doubt, wear black. A symbol of mourning and has been the long-accepted shade of choice for funerals in many parts of the world, black is always the safe color. Having said that, there's still a good selection of alternatives that still reflect the situation. 
Customize your look with appropriate shades and accessories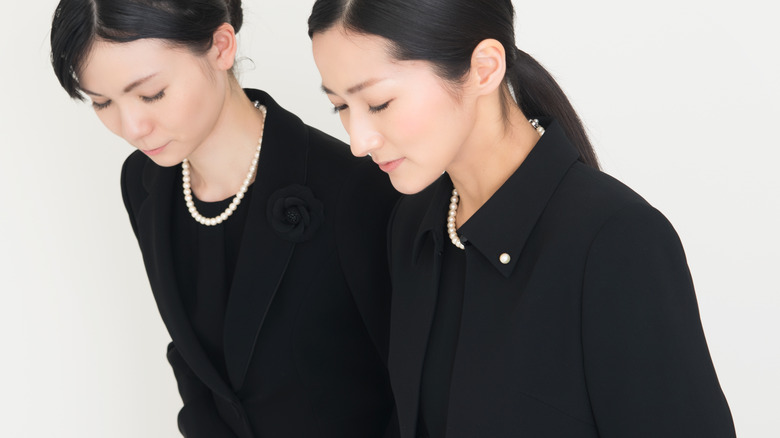 karins/Shutterstock
If you are not related to the deceased, you can wear navy blue or dark gray to the funeral, per Anderson Funeral Service. Brown and lighter grays with subtle patterns are also suitable for the vast majority of funeral services. Unless noted otherwise by the deceased or their family, avoid bright colors such as red and yellow as well as wild prints and flashy sequins.
While simplicity is the key in this setting, you should shy away from casual clothing items such as shorts, jeans, and tank tops. A safe choice, according to Funeral Partners, is a mid-length skirt or long-sleeve dress below the knee in a block color worn with tights. For sophisticated separates, opt for a pair of full-length or ankle grazer trousers in a low-key color paired with an ironed shirt and a blazer. 
When choosing accessories, you might want to leave jangly jewelry such as bangle bracelets and chain-free handbags at home. For shoes, stick to muted-colored and closed-toed flats, shoes, or heels at or below an inch tall. Hats or fascinators could be a nice touch, as long as they're of small size and not overly decorative.
At the end of the day, you don't need to overthink about what to wear to a funeral. What counts is that you're making an effort to celebrate a life in a respectful fashion while making sure you still feel comfortable throughout the service.