How Do UV Rays Affect Your Hair?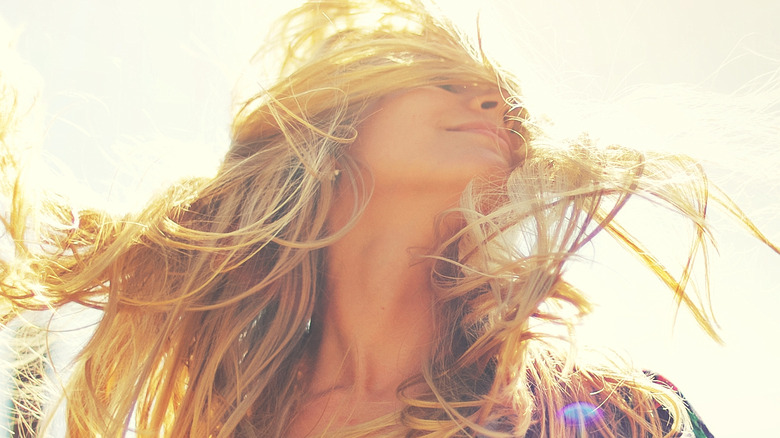 sun ok/Shutterstock
Experimenting with glowing, bright hair shades, especially for those who are natural brunettes, can transform your overall look. However, bleaching your locks out with peroxide is harsh on the strands and can be costly as well as time-consuming if done at a hair salon. For better convenience, swathes are exposing their hair to the sun for long hours for free bleaching and lighter hair color as a result. Some even apply citric acid-filled lemon juice to their hair before sun bleaching to get faster results.
The good news is, if you spend the whole day outside catching the rays, you will come back inside with brighter hair. The science behind this, explained by hair colorist Robert Bennet to Shape, is in a chemical reaction called oxidation. This means the sun can bleach out the melanin in your hair and give it a brighter hue.
The bad news is that your new hair won't come with a sun-kissed glow but a brittle look and dry feel instead. Turns out, sustained exposure to sunlight, as explained in a 2015 study in the International Journal of Cosmetic Science, lets the UVA and UVB rays pass through multiple layers of your hair, impair your hair strands, and give you a significant hair breakage. As far as your scalp is concerned, the sun is your hair's worst enemy. Here's what UV rays can do to your hair and what you can do to avoid a headful of frizzy hair. 
UV rays can damage your hair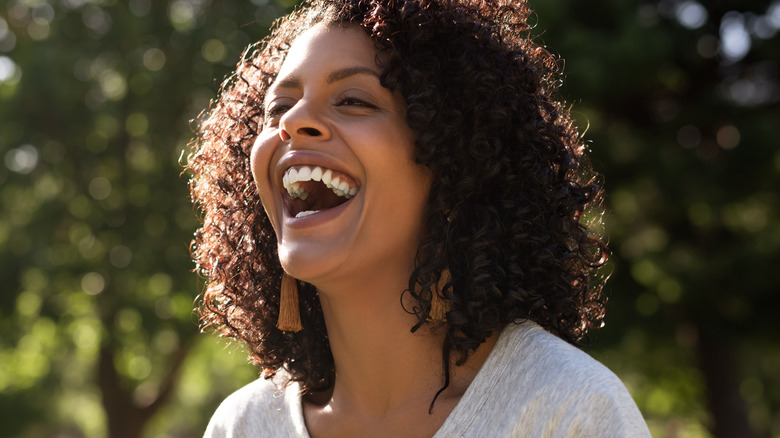 mavo/Shutterstock
Just like the sun can play mischief with your skin, it can inflict damage on your hair. Prolonged exposure to UV rays, as explained by chemist Dr. Joe Cinnotta (via Color Wow), can take a toll on your hair's protective lipid layer, an outer barrier responsible for the natural moisture of your hair. Once this barrier is broken, your hair becomes frizzy and as dry as a bundle of straw.
According to a 2008 study in the scientific journal Collegium Antropologicum, excessive sun exposure can also wreak havoc on the internal protein structure of your hair. Keratin, the most important protein in your hair, can make or break the elasticity and strength of your hair. When left in the sun for too long, the protein in your hair will be impaired while the moisture gets absorbed by the heated rays, resulting in degraded hair strands and split ends.
In case your hair has been color-treated, you need to be extra careful. Because colored hair is already devoid of protein, sustained exposure to UV radiation can erode its color and make it brassy. Compared to darker tones, hair that is light in color, like blonde, is more vulnerable to UV harm. All hair kinds and colors are, however, prone to some degree of degradation when exposed to direct sunlight for an extended period of time.
To keep your strands in tip-top shape, it's never too late to learn how to protect your hair from damaging UV rays. 
How to protect your hair from harmful UV rays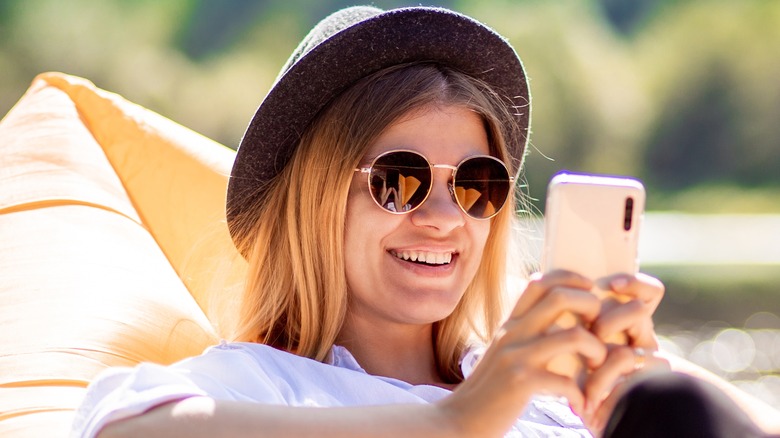 Sv Svetlana/Shutterstock
The easiest approach to protect your hair from UV rays is to cover it with a hat or a scarf as well as avoid going under the rays during the hottest hours of the day unprotected. To prevent harmful sun rays from damaging your scalp, you should use hair products containing sufficient Sun Protecting Factor (SPF), according to The Hair Fuel. For example, an SPF of 30 permits around 3% of UVB rays to reach your skin or hair. By the same token, an SPF of 50 permits around 2% of those rays to affect your skin. Also, there are numerous options for sun-care products, including spray and powder-based sunscreen for your scalp.
"Using an SPF on your scalp and hair while in the sun can be as important as using an SPF for your skin," says Chelle Neff, owner of Urban Betty Salon, stressing that applying sunscreen along your hairline and on your part can shield your scalp from the looming threat of UV radiation (via Healthline).
For added protection, consistently moisturize your hair with moisturizing products such as coconut oil, hair masks, and conditioners. In case you need a quick intervention for your damaged hair, a haircut to get rid of split ends can work wonders.
Your hair, like your skin, needs shielding from the harsh glares of the sun. Next time you're heading out into the sun, make sure you wear a hat and sufficient sunscreen for both your skin and your scalp.