How To Achieve The Popular Wet Hair Look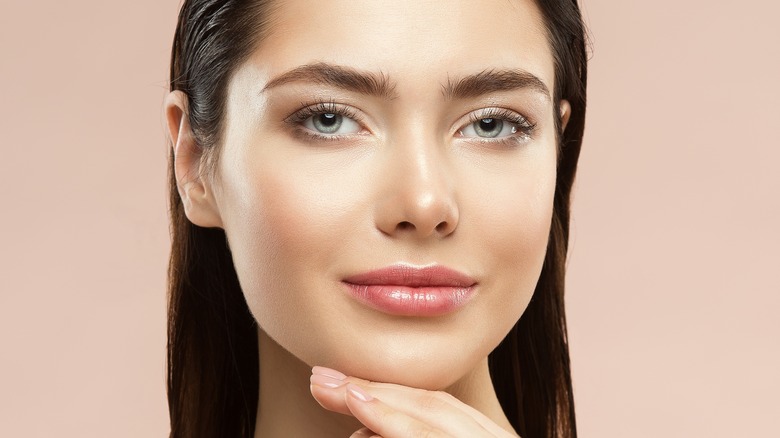 Inara Prusakova/Shutterstock
We may receive a commission on purchases made from links.
Style goes beyond clothing, and fashion entails more than just keeping up with the latest sartorial trends. Like accessories and makeup styles, the way you wear your hair can make or break your outfit looks. However, not many of us can afford to emerge from our eight-hour work stint or post-workout shower with the Duchess of Cambridge's signature bouncy, blow-dried mane or Taylor Swift's enviable poker-straight locks. In the quest for glossy and smooth hair, hot tools such as blow-dryers and irons are undeniably a necessity.
Advertisement
Having said that, heat damage from these styling items is real. Heat settings exceeding 284 degrees Fahrenheit, as cautioned in a 1984 study in the International Journal of Cosmetic Science, can damage your hair cuticles, resulting in split ends and breakage. If you are not willing to hit the road looking like a mess but don't want to risk damaging your mane with heat styling either, why not try wet styling? This technique allows you to style your hair while it's still wet, per Greatist, thus giving your overall look a beachy vibe with a touch of grunge. Celebrities such as Kim Kardashian and Julianne Hough have all been spotted donning this slick look, so why can't you wear it, too?
Before you go for your next hair wash, consider the following tips to pull off a sculpted, heat-free hairstyle with a lasting hold.
Advertisement
Towel-dry your hair and use styling products to style a wet hair look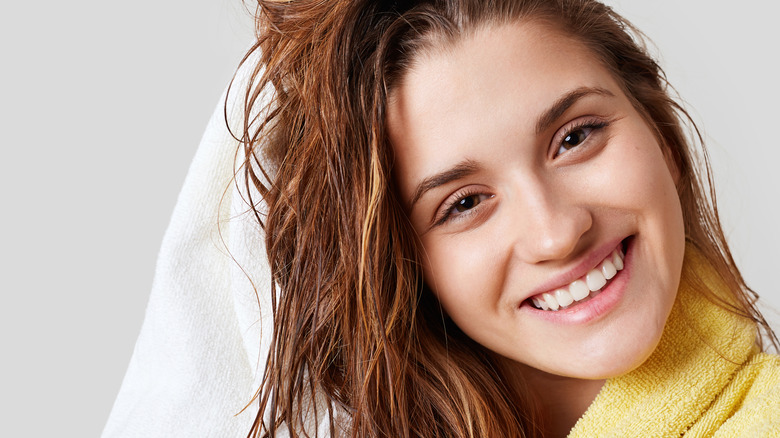 StoryTime Studio/Shutterstock
The first step to achieving a long-lasting wet hairdo is to dry off excess moisture from your freshly showered hair with a towel. And remember to blot your hair instead of rubbing it, as hair stylist Nick Arrojo explained to Byrdie. Plus, your hair should be damp, around 60% dry before you can start styling. Next up, part your hair with your finished look in mind. Your face shape may help give you the best part, too. Those with rounder faces might use a deep side part, while a center part might highlight the cheekbones of those with heart-shaped faces. 
Advertisement
The next step is to pick your hair products. Depending on your hair's texture and porosity, per Mane Addicts, you might need to use a combination of hair products such as an anti-frizz hair serum, moisturizing hair cream or leave-in conditioner, and a styling gel that holds your locks in place. You can mix hair cream and gel or opt for gel alone if it fits your styling needs. 
Those with thick hair should apply a quarter-size amount of serum and cream formula to the midsection and the ends of their hair as a primer before layering on hair gel. Fine hair is more susceptible to damage when it's wet. Therefore, use a dime-size portion of serum on it while it's still saturated and then coat it with an alcohol-free mousse or conditioner. To boost volumes in your curls, make sure you have styling foam at your disposal.
Advertisement
Customize your wet hair look like a pro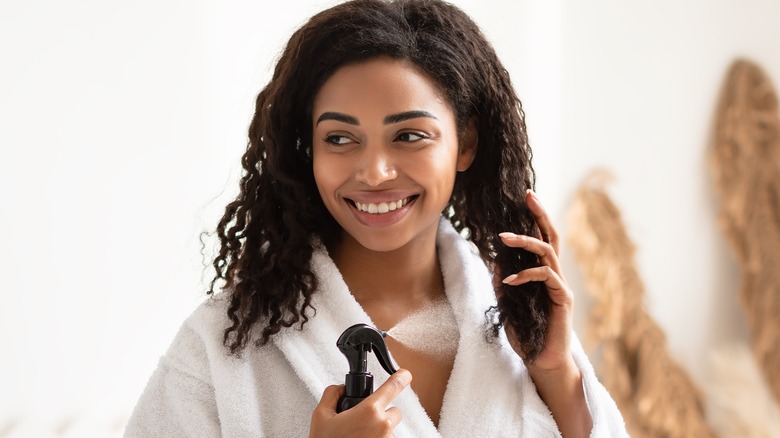 Prostock-studio/Shutterstock
Now, use a wide-tooth comb to work the ingredients into your hair. Depending on the look you're going for, deftly balance out the ingredients. According to L'Oreal Paris, adding a generous amount of gel starting at your roots helps you achieve an ultimate slick look. The more gel you apply to your hair, the wetter it will look. Some popular gels that offer a flexible hold and a shiny finish include Oribe's Rock Hard Gel, Aveda Confixor Liquid Gel, and Got2b Ultra Glued Invincible Styling Hair Gel.
Advertisement
If you're going for a damp look at the roots and a loose feel at the ends, apply the product to the first few inches of hair, Cosmopolitan points out. In case you want a wet-look hairstyle all over, apply the product uniformly from root to tip. There are many soaked hair looks you can try, from slicking back your hair for a modern look to making a fishtail braid to create the illusion of a planned hairdo. A classic ponytail can also help you pull off a perfectly imperfect look. Once you're done, keep your look secured and baby hairs down with a decent amount of hair spray.
In essence, a wet hair look can help you appear effortlessly modern and chic skipping the heat. If you're the type of person who hits the gym during your lunch break, wet hairstyles can help you get back to work on time.
Advertisement