This Shoe Trend Will Elevate Your Outfits To New Heights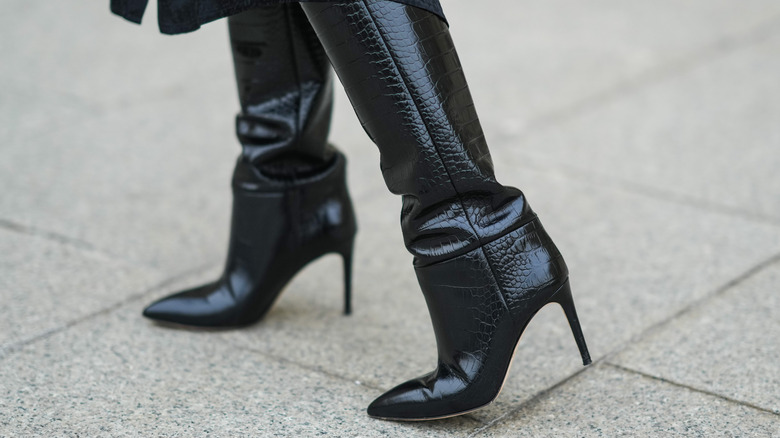 When looking for a new pair of shoes, it's important that they will elevate your current wardrobe and are versatile enough to pair across several outfits. This doesn't mean you can't have a little fun with texture! Shoes are proven to reflect the wearer's personality and it would be tragic to give up that bit of yourself for a plain pair of shoes (via Psychology Today). 
The newest shoe trend on the scene provides a unique twist to the classic staple shoes in your wardrobe and is popping up on every fashion guru's radar. The shoes are often traditional shoes, such as heels, sneakers, or sandals, with an exotic twist to add personality back to the shoe. While the trend gives the appearance of everything expensive and exclusive, it often is available at a low price point (via Who What Wear). 
If you're looking to add spice back to your shoe collection, this is the trend to try!
Crocodile skin is in, but not how you think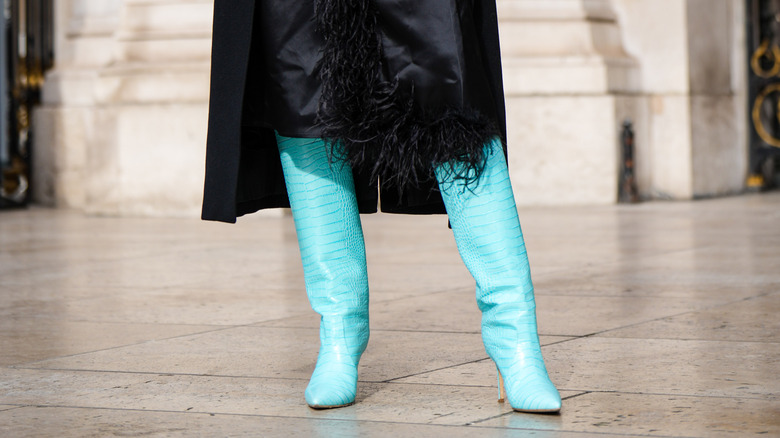 ​​Faux crocodile skin is the ultimate versatile texture, as it can be used on many fashion accessories. Crocodile leather is seen as luxurious and expensive, as the creatures now have to be specially bred for their skin, which raises the price (via Gentleman's Gazette). Meanwhile, faux croc gives the appearance of expensive leather while being vegan and much more inexpensive.
Faux croc is also versatile in that it can be worn with many different outfits and give a completely different vibe each time. It can also be worn across seasons; from sandals in summer to boots in fall, the croc effect is always in style. Vogue fashion director Lisa Aiken considers mock croc a neutral, according to The Zoe Report, which means you can pair it with almost anything in your closet.
Texture is a great way to spice up any outfit, whether it be boring or camp. Luckily, faux croc fills the texture gap. Whether on your sling backs, pumps, boots, or sandals, these are sure to take your look to the next level.
How to style faux crocodile shoes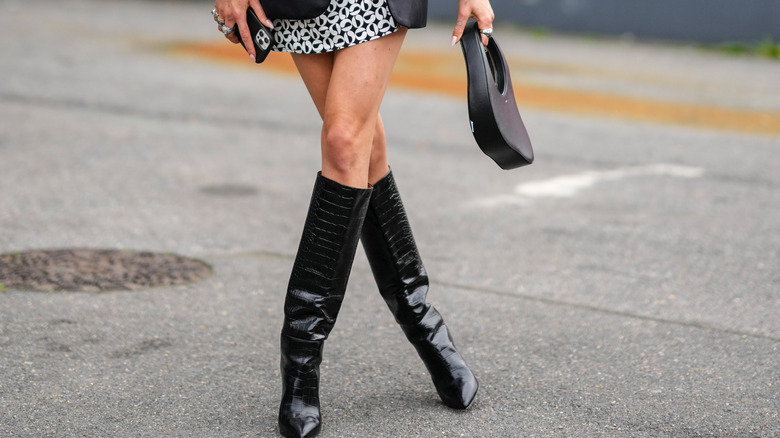 While faux croc shoes can be styled with any outfit, we do have some favorite pairings. No matter how you wear these shoes, they're sure to elevate any basic pieces and enhance the fashion favorites in your wardrobe.
One fan-favorite way to wear crocodile embossed shoes is to wear faux croc boots with a miniskirt or midiskirt. This is a great look for fall or winter. Throw on a chunky knit and some gold jewelry to look like a million bucks without spending a million bucks. Another mock croc look to try includes a matching mock-croc belt and shoe combo. We love to pair a matching belt with our croc sandals, jeans, and tee. This takes the entire look to a luxury level. Similarly, you can try the same combination but with shoes and a handbag instead (via A-Line Magazine).
No matter how you style this trend, crocodile skin is often associated with designer brands, so it's sure to add a splash of luxe to even the most basic outfits (via Who What Wear).