15 Of The Best Backpacks That Mix Function With Fashion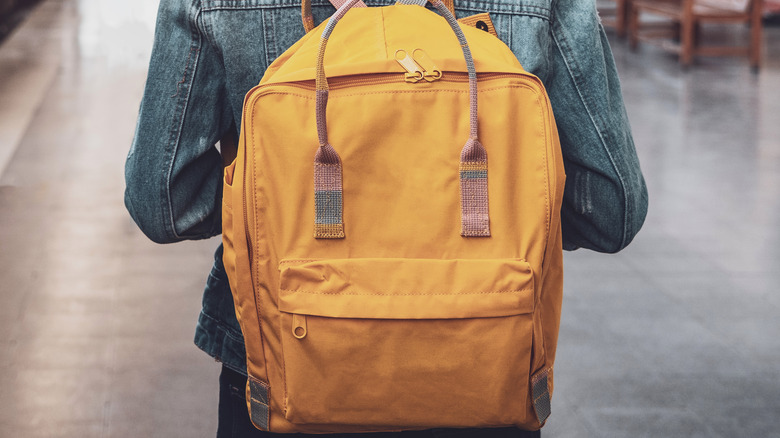 CrispyPork/Shutterstock
We may receive a commission on purchases made from links.
Whether you're a student with a busy schedule, a commuter looking for a better way to hold onto all of your belongings on your train ride to work, or an avid traveler who packs frequently, you should invest in a reliable backpack. Wearing a backpack will help you keep all your belongings organized and in one place so you won't have to worry about losing them. Plus, it's much easier to carry it all on your back than to hold a bag full of stuff in your hands while you're on your feet.
Since a backpack is something you'll use often, you should invest in one that you genuinely like and take the time to choose an option you'll be happy with for a long time. Of course, your new backpack should be practical and durable. But you should also pick one that you think is fashionable. There are so many different backpacks available that everyone should be able to find the right one for their unique style. So why not choose a backpack that's so stylish that it will complement your favorite oversized hoodies and sweatshirts or your favorite little black dress?
How we selected the backpacks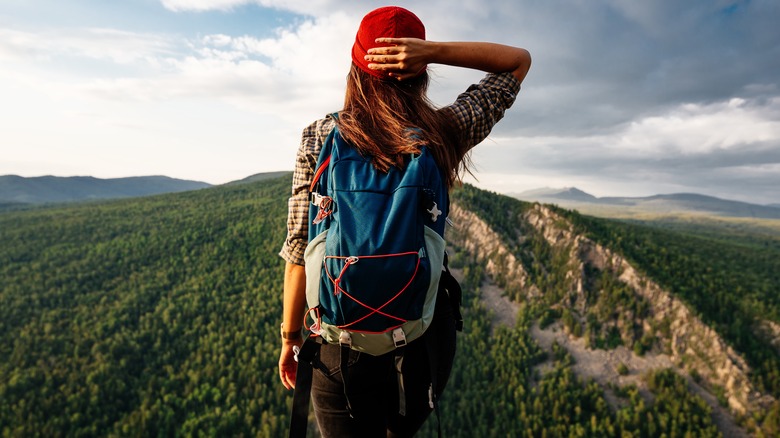 Sotnikov Misha/Shutterstock
We know that you'll be using this product frequently, so we made sure to research all the best options for you. Here at Glam, we never throw together poorly-researched lists of products that we know nothing about because that wouldn't help our readers. When we browse for products for our roundups, we not only have our readers in mind, but we also think about whether we would enjoy the items we end up selecting. We truly want to make our readers happy by helping them find wonderful products. That's why we spend significant time reading product descriptions and reviews to find only the best choices for you, whether we're helping you discover backpacks or high-waisted jeans that will flatter any body type.
Therefore, we know that many of our readers will likely be looking for different features and details when searching for backpacks, so we divided our roundup into subcategories based on specific characteristics. We're very excited about these practical yet fashionable backpacks!
Best overall backpack
One prominent indication that any product is remarkable is that many people want to buy it, and that's the case with this backpack — it's even labeled as a #1 bestseller on Amazon! Plus, the backpack comes in a plethora of colors to choose from, and you have the option to wear it as a backpack or a satchel, so it's super versatile. According to Amazon, the measurements are around 12.3" W x 13.4" H x 6.3" T.
The Zocilor Women's Fashion Backpack is available for $33.99 on Amazon.
Best budget-friendly backpack
Whoever says that you can't get function and fashion on a budget is wrong, as proven by this stylish yet affordable backpack. This quilted, medium-sized black backpack is made of Nylon and features adjustable straps, per Shein. With an impressive rating of 4.85 out of five stars, customers love this backpack. One happy reviewer even wrote, "This bag is so cute, perfect size and so spacious."
The Emery Rose Quilted Double Zipper Backpack is available at Shein for $15.
Best splurge backpack
Anyone willing to pay a little extra for a gorgeous designer backpack should consider investing in this Michael Kors item. This ultra-stylish backpack features the iconic Michael Kors monogram all over it, so everyone will know you're wearing a high-quality, designer item. With measurements of 9.5" W x 12.5" H x 5" D, this product has a fantastic rating of 4.8 stars at Macy's.
The Michael Kors Signature Rhea Zip Medium Backpack is available at Macy's for $358.
Best spacious backpack
We understand that some people have a lot of personal belongings and need as much space as they can get. If you're one of those people, this is the perfect backpack for you because of its impressive measurements of 11" x 5.75" x 18.75". Plus, The North Face notes that this backpack was certified by the American Chiropractic Association; thus, you won't have to worry about it breaking your back. Furthermore, this product has a near-perfect rating and is 75% customer recommended.
The Women's Borealis Backpack is available at The North Face for $99.
Best mini backpack
On the other hand, we know that some people might want a smaller, more compact option because they hope to carry only a few essential belongings. If this is the case, this adorable yellow backpack is perfect. Not only will this sunny item elevate your outfits, but the shoulder straps are adjustable, too. One happy reviewer raved about this product, saying, "Love it, so cute, and for a small bag it has a lot of space" (via Nordstrom Rack).
The Steve Madden Jenn Small Backpack is available at Nordstrom Rack for $37.97.
Best solid black backpack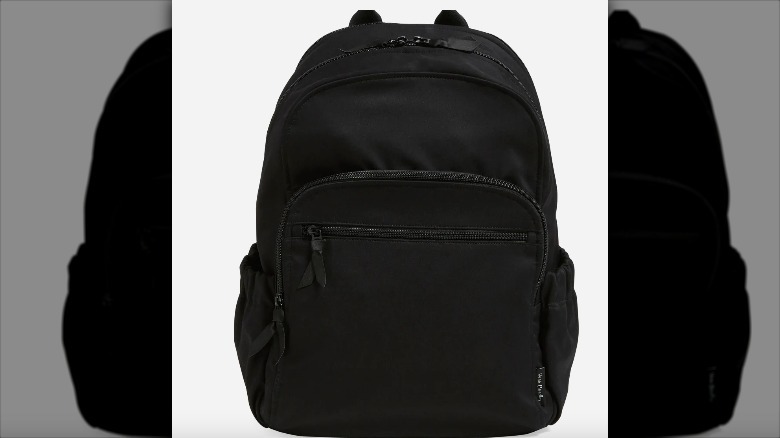 Vera Bradley
You can never go wrong with wearing a solid black backpack because it will look good with any outfit you can think of and will be appropriate wherever you bring it. This backpack is all black, so it will never clash with what you're wearing. Plus, it's made of recycled cotton (via Vera Bradley), making it a sustainable product, too. The backpack has a terrific rating of 4.6 out of five stars, so shoppers seem to love it.
The Vera Bradley Campus Backpack in Recycled Cotton Black is available at Vera Bradley for $125.
Best backpack for laptops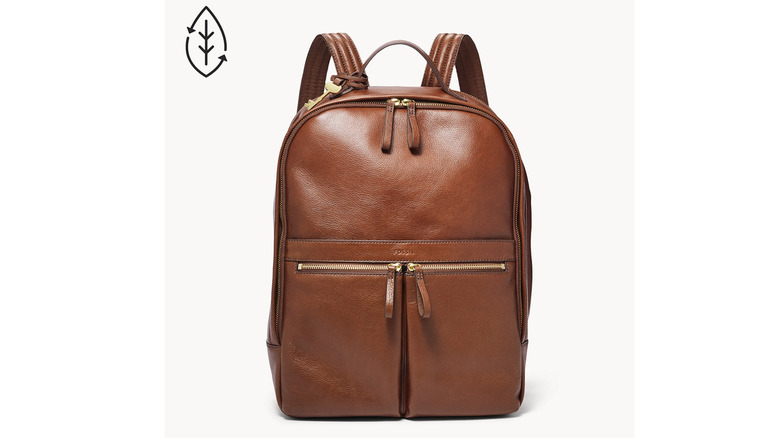 Fossil
We know how crucial our laptops are for doing our jobs. Thus, if you have to bring your laptop anywhere or keep it in your backpack during your commute to work, we understand that you'll want to invest in a product that will keep your laptop safe. This backpack is specifically a laptop backpack and is compatible with a 15" laptop, as its measurements are 11.5" L x 4" W x 15.5" H, per Fossil. Additionally, it has 4.5 out of five stars.
The Tess Laptop Backpack is available at Fossil for $300.
Best neon backpack
Who says backpacks have to be boring? This bright, wild backpack will be sure to turn heads wherever you wear it with its vibrant greenish-yellow hue. The item is made of water-resistant polyester and has spacious dimensions of around 12.2" L x 5.3" D x 16.5" H, too (via Amazon). With over 9,600 reviews, the backpack has an overall rating of 4.6 out of five stars.
The Abshoo Classic Basic Travel Backpack in Greenyellow is available on Amazon for $29.99.
Best polka dot backpack
Anyone looking for a retro, 1950s-era backpack will enjoy this playful polka-dotted item. It's such a beloved product that it's even Amazon's Choice for polka dot backpacks! Plus, don't let its classic polka dot pattern fool you; it's got some modern perks, too. According to Amazon, the backpack is compatible with laptops with sizes as large as 15.6" and has a USB charging port.
The Lovevook Laptop Backpack for Women is available on Amazon for $32.98.
Best backpack with stripes
This affordable black and white backpack features a fashionable striped detail and a polyester lining, per Amazon. The product has 4.6 out of five stars with more than 2,000 reviews and is quite versatile. One happy customer wrote, "I'm not a teen lol I'm actually 26 years old and I love how beneficial it is for me being a mommy!" Thus, this backpack is helpful for people in any stage of life.
The Lmeison Canvas Backpack with USB Charging Port Clutch is available on Amazon for $24.49.
Best floral backpack
Floral patterns are effortlessly cute and girly, and this backpack has a lovely floral print. The backpack has a sleeve compatible with laptops as large as 15", too. One very happy reviewer wrote, "I love, love, love my new backpack! I used it for travel and several people commented on it! It is sturdy and has lots of compartments for various items" (via Staples).
The JanSport Cool Student Backpack, Floral is available at Staples for $54.99.
Best tie-dye backpack
We may not be able to physically transport back in time to the days of the early 2000s, but you can still exude this trendy era's vibe with a tie-dye backpack. Labeled as a bestseller at Walmart, this mini backpack is perfect for channeling the Y2K style with its fun tie-dye look and graphic smile faces. With an impressive review of 4.1 out of five stars, you can't beat its super affordable price.
The No Boundaries Women's Hands Fee Mini Backpack Tie Dye Smiley Print is available at Walmart for $12.73.
Best sparkly backpack
Anyone who loves sparkly fashion should invest in a backpack with sequins to rock that glamorous look. Not only does this pink backpack have a velvety pouch, but the backpack has sequins all over it. The straps are padded — and you can adjust them — and the product is made of polyester, per Spencer's. Its dimensions are 16.5" H x 12" W x 2" D, making it perfect for anyone.
The Pink Sequin and Velvet Backpack is available at Spencer's for $49.98.
Best animal print backpack
Wearing an animal print backpack is the perfect way to add a sophisticated, bold touch to any outfit in your closet while carrying around your belongings. This backpack not only has a stylish leopard print design, but it has straps that you can adjust and a chic quilted look. The dimensions are around 14" H x 14" W x 7" D, and it has a perfect 5-star rating at Nordstrom Rack. One happy reviewer wrote, "Gorgeous! Sleek! Perfect for everyday carry."
The Quilted Nylon Printed Backpack by Marc Jacobs is available at Nordstrom Rack for $129.99.