The Unexpected Benefits Of The Claw Clip Trend For Your Hair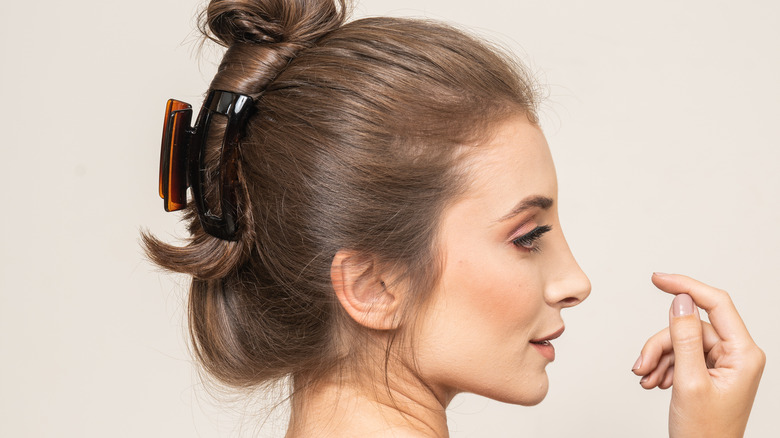 Hair ties are no longer making the cut for most of us. Instead, the '90s claw clip is back and doing the job (via InStyle). Celebrities like Kendall Jenner and Hailey Bieber can be seen often rocking the look, and the hairstyle has even become a staple of the "clean-girl" TikTok aesthetic per E! News. With beautiful new claw clip styles coming out frequently, this isn't a trend that's going away any time soon.
Advertisement
Whether staying home or going out, we are ditching the elastics and grabbing the clips for our updos. After ditching a ponytail for a few days and trying a claw clip, you may notice a difference in the texture, manageability, and overall appearance of your hair. Not only is it a fun and trendy hairdo but the hairstyle in itself has many benefits. You will look trendy and feel fabulous after experiencing the unexpected benefits of the claw clip hairstyle.
Hair elastics are damaging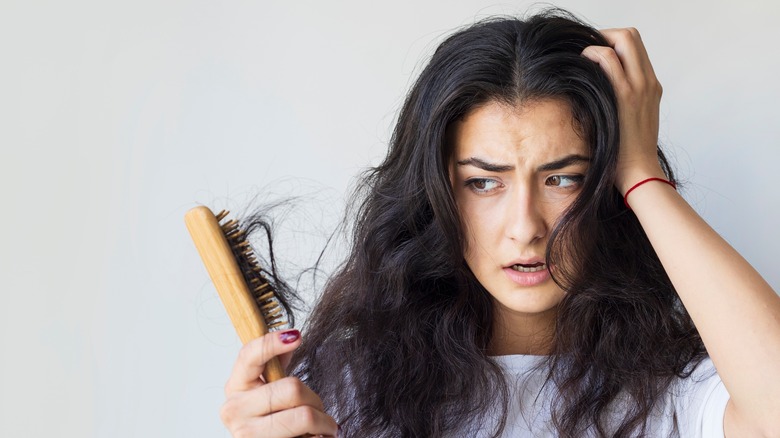 Most of us have been rocking hair elastics since we were in diapers, but, unfortunately, they can also be damaging. Unlike the claw clip, hair elastics put excessive pressure on your hair strands, causing breakage over time (via Bustle). The pressure of an elastic is enough to leave a noticeable kink in the hair with no heat, not to mention the nasty "hair-ache" we all get after a full day of wearing a ponytail. That is a lot of strength for one elastic!
Advertisement
It's tempting to throw your hair up in a ponytail after a shower to keep the pesky strands out of your face while they air dry, but this can be even more damaging. Elasticity is at its max when hair is wet, making the strands even more prone to breakage than normal (via Real Simple). Using a claw clip can avoid the unnecessary pressure and tugging of a hair elastic. Plus, claw clips are easier to put into your hair, meaning you can simply reach for one and have your hair pinned up — and free from damage — in no time at all. 
No heat is required for claw clips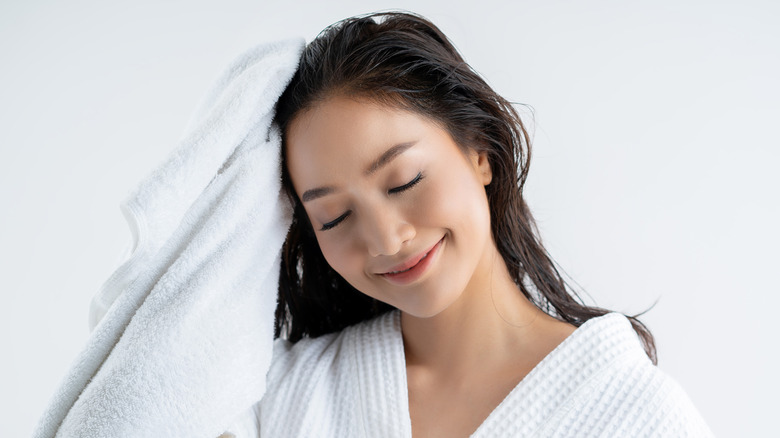 Like with any updo, the clip claw hairstyle doesn't require a hair straightener or curling iron. Using a hair claw is a completely heat-free hairstyle. In fact, many even choose to have wet hair when styling their hair while using a claw clip.
Advertisement
No-heat hairstyles are not only simple but also much less damaging. The effects of heat can cause irreversible damage. High heat on the hair actually changes the shape of your keratin strands, converting a-keratin to b-keratin. When this takes place, it makes your hair weaker and more prone to damage (via Dyson). This damage can even lead to the disappearance of natural curls or waves.
Weaker hair often leads to breakage, split ends, frizz, and dryness (via Natural Wellbeing). The damage is irreversible, meaning you will have to cut off damaged hair and let it grow back for a full repair. When you choose to do a no-heat hairstyle, such as the claw-clip trend, you're avoiding years of hair struggles, so why not give it a shot?
Advertisement