Can You Safely Dye Your Hair While Pregnant?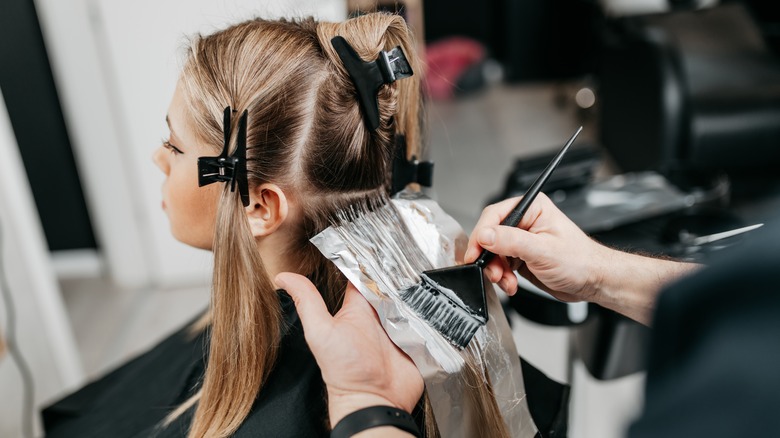 hedgehog94/Shutterstock
We may receive a commission on purchases made from links.
In the 2008 romantic comedy, "Baby Mama," a pregnant Amy Poehler said, "I'm dyeing my roots." The next thing she knew, she was in Tina Fey's tub being sprayed down. "So many chemicals!" Fey shouted. As hilarious as that scene is, it's genuinely indicative of a widespread myth in pregnancy haircare. It's long been thought that dyeing your hair while pregnant is unsafe because of the chemicals used in hair dye. But there's no need to rush to the shower to rinse your roots.
Advertisement
"Concern around this [potential risk] started back in the day when hairdressers used stronger bleach products," obstetrician-gynecologist Daniel DiSabatino tells Forbes. "There was some concern that bleach applied to the skin may cause harm to the developing fetus. However, there is no scientific evidence that bleach used in hair dyes could cause any harm to [the] mother or baby." Though some research has shown that high amounts of the chemicals used in hair dye can be dangerous, the amount that's used in a regular dye job is safe during pregnancy.
That being said, there are precautions that should be taken if you want to dye your hair while pregnant. There are chemicals involved, after all. To ease any worry you might have, we've detailed how to safely go about dyeing your hair while pregnant. As long as you check with your doctor and follow safety precautions, you can dye your hair in the second and third trimesters of your pregnancy.
Advertisement
What is in hair dye?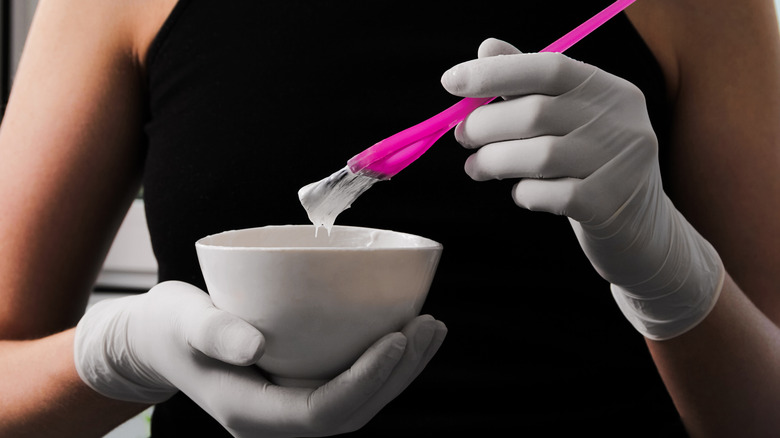 Irine and Andrew/Shutterstock
If you're at all concerned about dyeing your hair while pregnant, it might help to learn what ingredients are in hair dye. Now, for an exact list of ingredients, you'll have to ask your colorist or check the box at home. But most hair dyes have two main ingredients: hydrogen peroxide and ammonia. Though both chemicals have certain risks, which lead people to mistakenly believe you have to avoid them at all costs while pregnant, the concentration of both ingredients is very low.
Advertisement
Hydrogen peroxide is a very safe chemical to use. It's used on the body to clean wounds, whiten teeth, and even help reduce swelling in gums. It's a common household item that's pulled out in instances when all other solutions seem futile. And as noted, it's safe — but you do need to be careful as it's still a chemical. Be mindful of the strength of the peroxide you're using. Per the Agency for Toxic Substances and Disease Registry, "Hydrogen peroxide can be toxic if ingested, inhaled, or by contact with the skin or eyes," especially when it's stronger than 3%.
Ammonia needs to be handled with much more care. It's great for cleaning, and small amounts can be used on the body for certain irritants like mosquito bites to mitigate the itching, but it does pose a significant risk to your health if you're overexposed. Overexposure is not a risk for most, though, so long as you're using ammonia as directed.
Advertisement
If you're going to dye your hair while pregnant, wait until the second trimester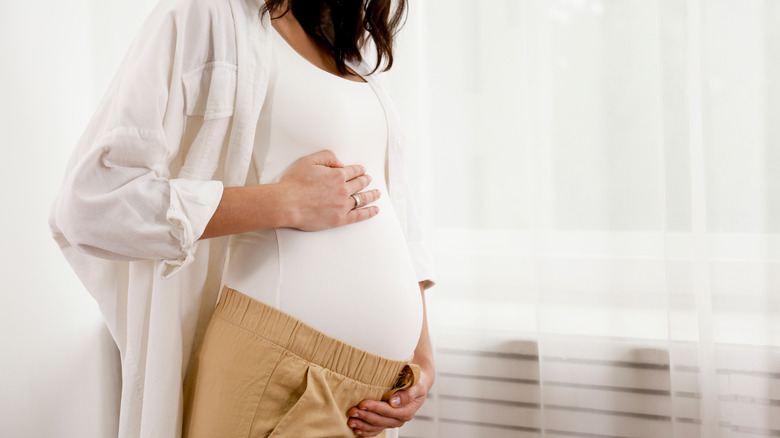 evrymmnt/Shutterstock
There are lots of activities you shouldn't partake in while pregnant — like drinking alcohol or smoking — but there are also plenty of typical activities you can resume at some point in your pregnancy. Often the biggest factor in whether or not you can resume an activity (aside from how you're feeling) is how far along you are in your pregnancy.
Advertisement
If you want to dye your hair, wait until the second trimester of your pregnancy to do so. As Dr. Salena Zanotti told the Cleveland Clinic, "Many doctors recommend holding off on hair color until week 13 of your pregnancy, just to be safe." The first trimester of pregnancy marks significant development.
By the end of the first 12 weeks of your pregnancy, your fetus will have formed all their major organs, as well as their fingernails, toenails, and eyelids. Many other major developments will have taken place, too. Because of all the critical development that's happening and how vulnerable the fetus is during the first trimester, it's best to wait until the second trimester to use any unnecessary chemicals on your body.
Advertisement
Take the health of your skin into consideration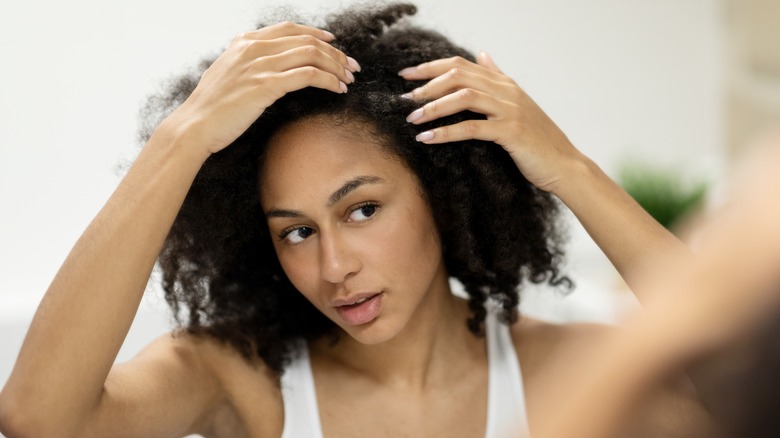 fast-stock/Shutterstock
For those with common skin problems, such as eczema and psoriasis, you may want to be more cautious. These skin conditions can often create cracks on the scalp, which can "absorb more of the hair dye's chemicals into your bloodstream," as detailed by WebMD. But even those with highly-sensitive skin can have a reaction to the chemicals in the dye, which in turn can create breaking on the scalp.
Advertisement
If you have healthy skin and your brows are in need of a touch-up, you can get them dyed while pregnant, too. Follow the same timeline guidelines for your brows as you do your hair, and wait until the second trimester to do so. Also, be aware that dyeing your eyebrows (or your hair) might be a different experience while you're carrying a child.
During pregnancy, your hormones change wildly, and because of this, your skin and hair might react differently to the dye than they did while you weren't pregnant. Speak to the professional who's tinting your brows, and consider testing a patch before dyeing the entire brow to be sure you're pleased with the results. It's recommended, however, that you don't get your eyebrows microbladed while pregnant.
Advertisement
Consider an alternative if you're worried
Srdjanpav/Getty Images
With all hair dyeing while pregnant, it's important that you only do what you're comfortable doing. If that means abstaining from dyeing your hair, that's fine. If that means going to your regular appointments and changing colors often, that's fine, too. If you'd prefer to land somewhere in the middle, there are some alternatives to consider.
Advertisement
If you want to decrease the amount of chemicals used in dyeing your hair, consider just getting highlights instead of a full dye job or root touch-up since this method uses less dye. And don't worry: As we've covered, bleach is safe to use while pregnant, too. If you don't want to mess with chemicals at all, use a plant-based dye, like henna. Some department stores, like Target, sell henna hair dye, like the Naturally Brite Henna Hair Dye.
Note, though, that this likely won't last as long as a chemical dye, and the color might not be as vibrant. There are also far fewer shades of henna dye than chemical dye, so it might not have the color you're looking for. If all else fails and you need to touch up your roots, use the old standby trick of brushing a little makeup on your scalp or reach for a spray like L'Oreal Paris Magic Root Cover-Up. Both options are by no means permanent or even semi-permanent solutions, but they work in a pinch.
Advertisement
Pick the right salon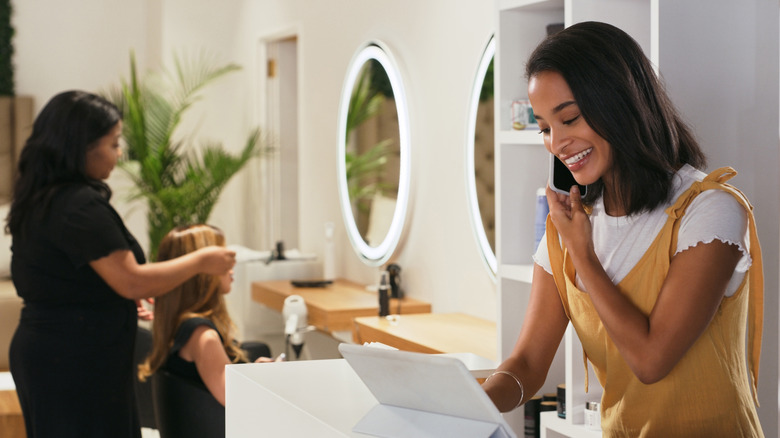 Kobus Louw/Getty Images
It's also important that you are visiting a safe and clean salon while you're pregnant (and even if you're not). If you're looking for a new salon, make sure the facilities are clean and that the hairdressers have valid licensure. If you're visiting the same salon you've always patronized, let your hairdresser know that you are pregnant and see if they can make accommodations to make you more comfortable.
Advertisement
The most important thing to ensure is that you're in a well-ventilated area and that the salon has sufficient airflow. The less you inhale chemicals, the better. (If you're worried, you can wear a mask, too.) If your salon houses multiple hairdressers, you might be able to sit in someone else's chair for the duration of your dye job to get better airflow. Feel free to ask your hairdresser to keep the dye in your hair for only the minimum amount of time recommended.
And if your hairdresser is prone to getting dye on the skin around your scalp, ask if they'll apply petroleum jelly as a barrier to limit the amount of dye on your skin. If your salon is unwilling to make these accommodations, consider going elsewhere. Your comfort and the health and safety of your baby need to be prioritized.
Advertisement
How to dye your hair at home while pregnant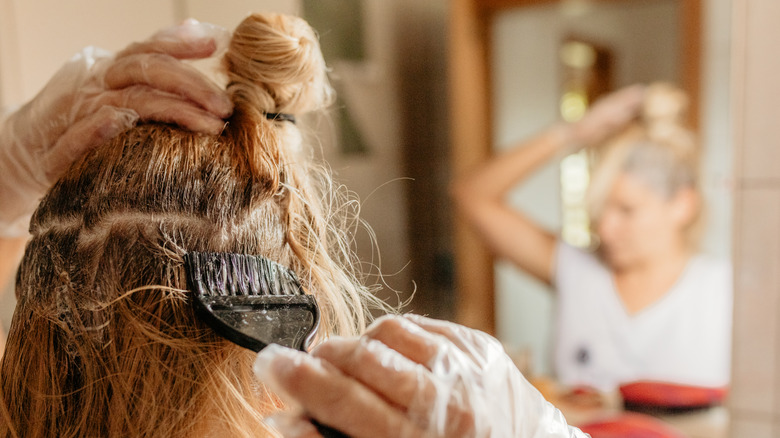 Simonskafar/Getty Images
If you're a DIY at-home hair dyer, no worries. You can safely dye your hair while pregnant, too. Most all recommendations for a salon dye job stand when it comes to dyeing your hair at home, but there are some nuances. For example, you have the power to choose which dye you use. 
Advertisement
You can use the same box dye you've been using — but if you want to avoid harsh chemicals, consider using an organic brand or even an ammonia-free product like Schwarzkopf Simply Color Permanent Hair Color, which is ammonia, silicone, and alcohol-free. Read the ingredients and use what you're most comfortable with. When it comes to the actual dyeing process, follow those same salon guidelines. Dye your hair in a well-ventilated area, and consider wearing a mask if you're concerned about inhaling fumes.
Wear gloves to limit skin exposure to the dye, and if you're messy with the dye, use the petroleum jelly trick. Follow other instructions like performing a patch test to make sure the color is what you want and only dyeing for the minimum amount of time. As mentioned previously, avoid dyeing your hair at home completely if you have a skin infection, and wait until your second trimester to dye your hair.
Advertisement
Always check with your doctor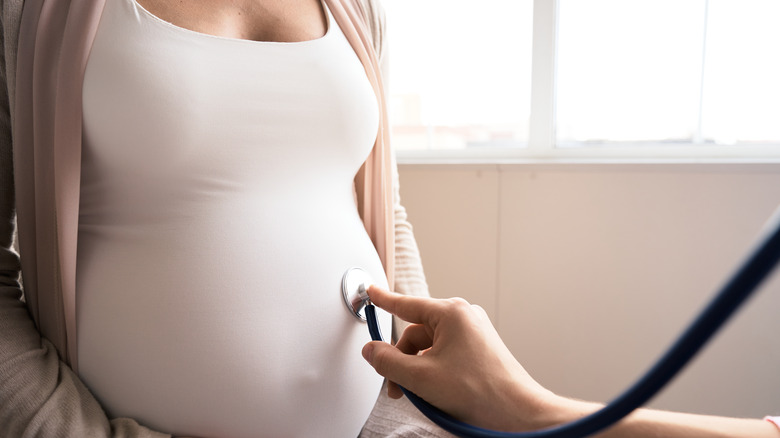 Petrovich Nataliya/Shutterstock
As with anything, if you have any concerns about dyeing your hair while pregnant, check with your doctor. Doctors have different insights into our health than we do, and you may have an extenuating health circumstance that precludes you from safely dyeing your hair while pregnant.
Advertisement
Check with your hairdresser, too. Though they won't have the same insights into your health as your doctor, they do have professional cosmetology experience that can be valuable, and they may be able to suggest a different hairstyle to wear or treatment to use while you're pregnant.
But even if your doctor and hairdresser tell you it's safe to dye your hair while pregnant, if you don't want to, don't. There should be no pressure for you to do something while you're pregnant if you don't feel comfortable. As noted, your comfort and the health and safety of you and your baby should be your top priority while pregnant, and that extends to dyeing your hair.