What You Need To Know About The Dopamine Nail Trend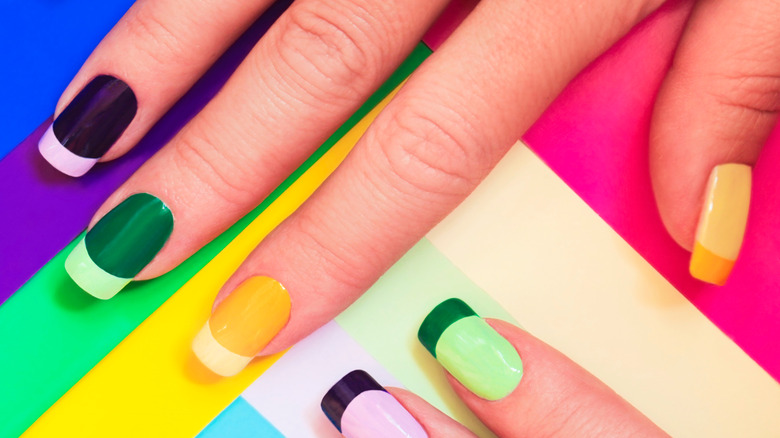 marigo20/Shutterstock
We may receive a commission on purchases made from links.
Everyone tuned into the fashion world knows that the year 2022 is all about dopamine dressing. This trend focuses on wearing colors and designs that will make you feel happier and get you in a better mood (via Byrdie). Typically, dopamine dressing involves embracing neon hues or wild patterns rather than neutrals or minimalistic pieces. All in all, this somewhat maximalist trend is all about having fun with what you wear.
We're happy to see that dopamine dressing has an exciting spin-off: dopamine nails, which have the same idea as dopamine dressing but center around your manicure rather than your clothing. "The idea is to choose colors and/or designs that bring a rush of joy — like a hit of dopamine," Rita Remark, a nail artist and the global lead educator for Essie, told PopSugar. An excellent aspect of dopamine nails is that you can use them to add a bit of pizazz to your outfits. After all, why not flaunt a dopamine manicure to add more character to your look when you wear your favorite little black dress?
How to rock dopamine manicures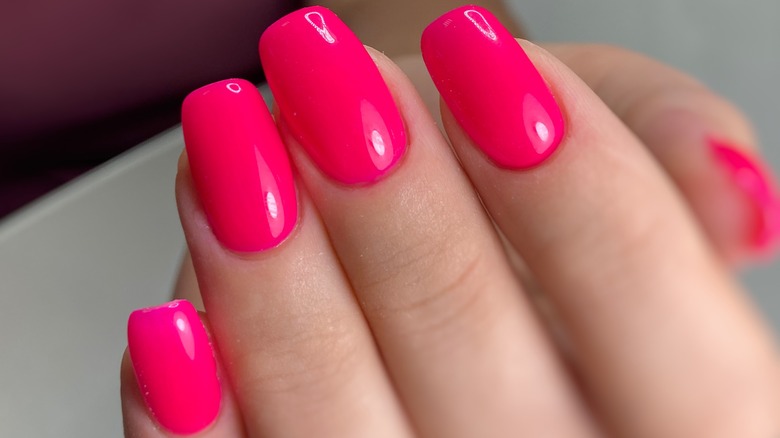 Vetrova-Noskova/Shutterstock
The dopamine nail trend is supposed to center around making you happy, so have fun with it, and don't be afraid to get creative! Anyone looking for inspiration related to this trend can search #dopaminenails on Instagram, where you'll find some intriguing examples. For instance, we love seeing a bright green nail color with swirly blots of light blue and orange for contrast. For an even bolder style, why not use black nail polish as your base and paint cute designs over it in neon, glow-in-the-dark hues for a ravey look? But don't think that dopamine nails only apply to fingernails; dopamine pedicures are just as stylish as the trendy manicure. You can also search #brightnails on Instagram to see hundreds of thousands of posts for inspiration.
Even when dopamine nails aren't as trendy, they're still super fun. "They may be on trend or they may not be, but if they genuinely make you happy, that's the main point," Rita Remark explained to PopSugar. We love the idea of painting our nails to make ourselves happy rather than just following a trend.
The best bright nail polishes for dopamine nails
If you're ready to rock the dopamine nail trend, you'll need bright nail polish. InStyle recommends Lemony Lemon Olive & June Nail Polish. Available for $9 at Olive & June, this sunny nail polish is cruelty-free, vegan, and perfect for your next dopamine manicure. If you prefer more of a cool color palette, InStyle also recommends the Static Nails Cabana Boy Liquid Glass Lacquer. Available for $16 at Static Nails, this bold blue polish contains healthy apricot, jojoba, and vitamin E.
Moreover, if you've been enjoying the Barbiecore fashion trend, you'll love the OPI Nail Lacquer, La Paz-itively Hot, Pink Nail Polish. Stylecraze named this nail polish the option with the best matte finish, and it has a rating of between four and five stars on Amazon, where you can buy it for $13. Meanwhile, anyone who likes a bit of shimmer should check out the China Glaze Towel Boy Toy nail polish. The product is just as alluring as its name, as Stylecraze gave it a shout-out as the best nail polish with a subtle shimmer. You can purchase this light yet bright blue nail polish on Amazon for around $8.
On the other hand, if you want a bold red nail polish for a sexier spin on dopamine nails, Refinery29 suggests the Tenoverten Nail Polish in Ludlow, a red hue. Available at Target for $12, this nail polish is cruelty-free and vegan. We can't wait to experiment with all of these colors to make the brightest dopamine nails!