Try This Hack If Your Foundation Isn't The Right Shade
Lil Maria/Shutterstock
There's hardly any beauty guru or cosmetics brand that can teach you how to look naturally flawless. But any makeup beginner can tell you the secret to looking flawlessly natural lies in your foundation. And that's why shopping for the right foundation requires a lot of dotting your Is and crossing your Ts. First, you have to check your skin tone to see if it's fair, light, medium, or deep. Then, you must look at your veins to determine whether your skin undertone is warm, cold, or neutral. Only after you've found your skin tone and your undertone are you on the right track to finding your right foundation shade, per L'Oréal Paris.
Here's the pickle. Imagine checking these things and spending a fortune on foundation only to find out it's not the right shade for you. For instance, your foundation shade is ivory while your skin undertone is warm, meaning the shade might be too light for your skin. Or, your new foundation makes your skin look tanned, which is certainly not the way foundation works, as makeup artist Susmta Patel explains to Total Beauty. The truth is that there are many things that can go wrong when shopping for makeup items. Even so, letting a luxury-grade foundation that boasts anti-aging effects go to waste feels like a cardinal sin. If you're ever in this situation, fear not. Here are some hacks to help you look right even with the wrong foundation.
When your foundation shade is too light for your skin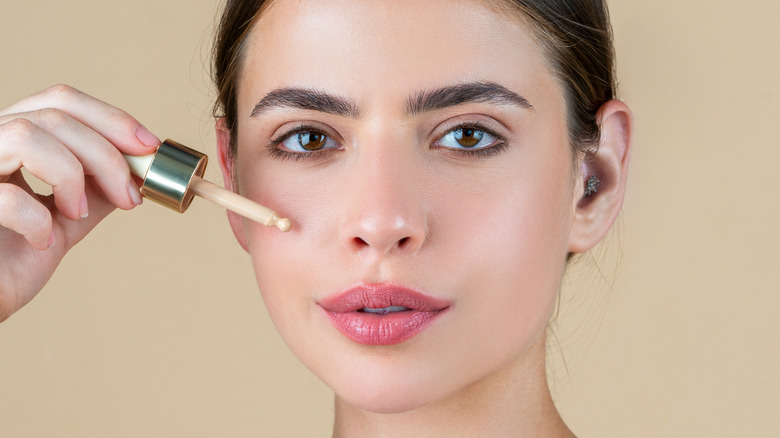 Puppy 9/Shutterstock
In case your foundation shade is too light for your skin tone and gives your face a much brighter color than other parts of your body, use it as your concealer. Yup! Since concealer is supposed to be two shades lighter than your original skin tone, this hack works for a lightweight foundation that provides sheer to medium coverage, per StyleCheer.com. For instance, if you're looking to illuminate the bridge of your nose or contour your visage, you can apply a lighter foundation in dabbing motion with your fingertips, a beauty blender, or a brush for small-area coverage.
Another method you can try is to blend your lighter foundation into some darker loose powder, bronzer, or foundation shade adjuster for a darker hue in the shade that's closer to your original skin tone, per Physicians Formula. To be sure, try the mixture on the back of your palm until you've found the shade that matches your skin tone. Once you're done with your face, don't forget to put a dab of foundation down your neck.
When your foundation shade is darker than your skin tone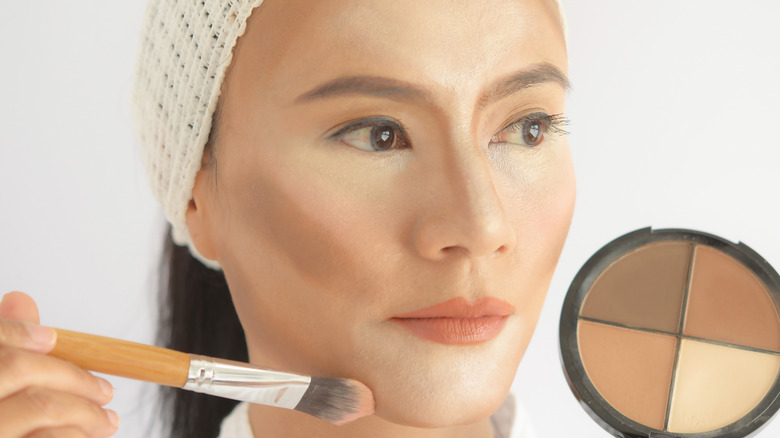 mayura benjarattanapakee/Shutterstock
Have you heard the famous tagline "I came, I saw, I contoured"? Well, that's exactly what you should do with a foundation that's two or three shades darker than your original skin tone. According to Rimmel London, you can define the hollow areas of your cheeks with a darker foundation to add shadows to your face and sculpt an illusion of cheekbones. Then, add a subtly-tinted setting powder for a matte finish.
If your foundation shade gives your skin a glowing tan, which is the job of a bronzer, you can flip the script and use your foundation as the bronzer, per Cosmopolitan. For a sculpted look, apply the foundation to the cheek and move up to the sides of your forehead. Then, run the brush along the edge of your jawline and dab just a little bronzer on the tip of your nose. Remember to do a lot of blending in gentle circles to obtain a natural sun-kissed glow all over your face. In case you have little confidence in your contouring or blending skills, you can just blend your foundation into a lighter finishing powder or dilute it with primer for a lighter mixture.
Finding the right foundation shade for your skin will always be a gamble. However, makeup is supposed to be fun, not complicated. When the colors mismatch, just have fun playing chemist and get your glam on.