This Is The Ultimate Summer Color Combo To Try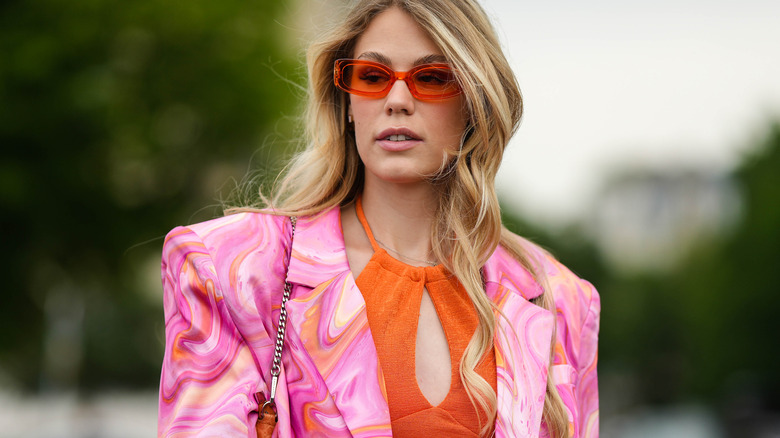 Edward Berthelot/Getty Images
Color blocking is the art of pairing dramatically different colors together to create a show-stopping outfit. Dating back to the 1960s, color blocking was part of the "mod fashion" trend (via Fibre2Fashion). Back then, the trend focused on geometric patterns in a variety of colors. Today, the color-blocking trend is worn mostly through colorful accessories, funky patterns, and two-piece sets. Ultimately, the trend never truly left — it evolved.
Advertisement
Simply put, color blocking with bright colors is a summer staple, and pushing boundaries with the uniqueness of color blocking your outfits will up your style game dramatically. In fact, this trend is so powerful that it can be applied to all scenarios. You can color block for work, for fun — you name it! If you are looking for the perfect colors to attempt color blocking with, you are in luck! The color blocking trend is better than ever this summer, as a new and unlikely color combo has hit the scene that you will be dying to try (via WhoWhatWear). 
These colors will make you shine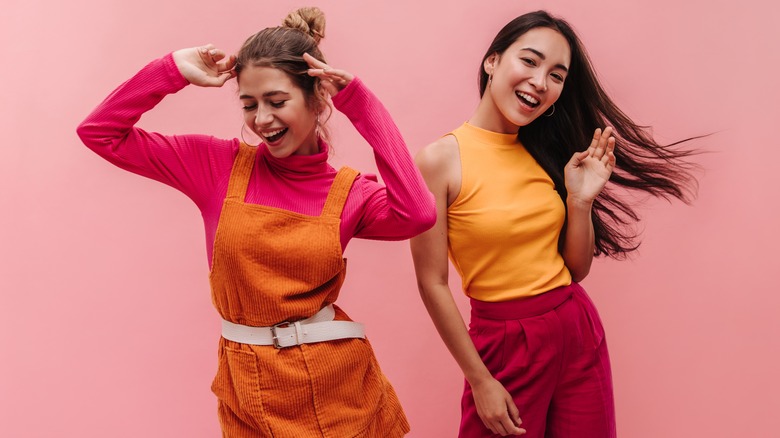 Look Studio/Shutterstock
As it turns out, hot pink and bright orange are the colors of the summer — not only separately but also together. Dunkin' was onto something when it came up with its signature pink and orange logo. This orange and pink color combo is striking because the two sit next to each other on the color wheel, which makes them that much more jarring to see paired together (via The Washington Post). This color blocking creates a unique visual experience.
Advertisement
Spotted on celebs in a variety of fashions, the trend is seemingly everywhere. From Mindy Kailing to Hana Cross, everyone is loving this color trend. High-end and fast fashion retailers alike are hopping on it because of this.
The color trend started in fall 2019 on the runway and has stayed in trend since. Gucci, Kenzo, and Jacquemus were some of the first brands to display the pink and orange color block on the runway (via Who What Wear). The bright contrast between the two colors makes for an eye-grabbing look, and this summer, some celebrities have finally taken notice. Bright colors are a summer staple, so why not give this cool-girl-approved combo a try?
How to wear this summer color combo
With so many retailers picking up on this trend, it's easy to try it out for yourself. There are also a variety of ways to style the pink and orange color combo to make it your own. We often see this color combo on celebrities in the form of wearing a pink look with orange accessories or vice-versa. For example, Awkwafina attended the red carpet for "Swan Song" in a pink dress with an orange clutch and orange heels (via Morning Honey). This can be a great way to make the combo a bit less overwhelming.
Advertisement
Some fashion icons are going for a more vibrant vibe, wearing pink bottoms with orange tops and vice-versa (via Refinery29). This is an eye-catching statement that will make everyone see you in a bright light. Finally, some are choosing to try out this trend all on one piece of clothing or accessory. The Cult Gaia Yaro Clutch is a nod to the color-blocked pink and orange trend. Emily Ratajkowski has also been seen wearing a Paloma Wool top that combines both bright pink and orange (via Hollywood Life).
No matter how you wear this color-blocking combo, its bright hues are sure to bring some well-deserved happiness into your world.