How To Pull Off Trendy Orange Lipstick This Summer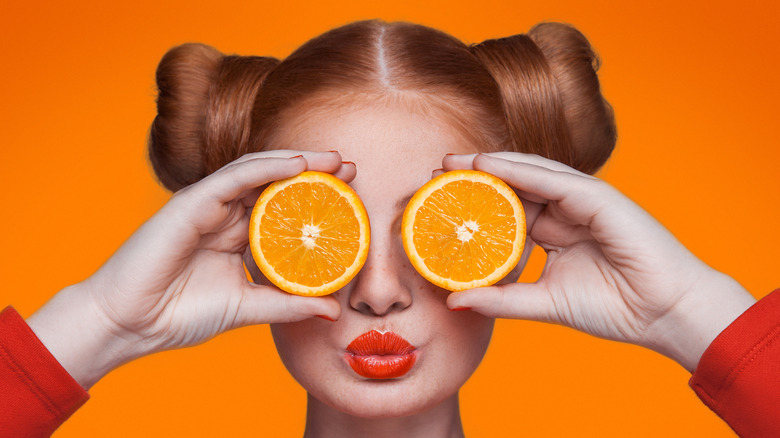 Khosro/Shutterstock
We may receive a commission on purchases made from links.
After years of super subtle looks such as the "no-makeup look" and trying to appear as natural as possible, society is finally ready to embrace bold makeup again because 2022 is all about intense makeup. Nothing is subtle about some of the hottest makeup trends between sparkling face jewels, eyeshadow designs that involve negative space, and white liner (via Marie Claire). Additionally, many dauntless beauty enthusiasts have been eager to update the early aughts blue eyeshadow trend and rock it today. But the wild makeup trends don't stop at the eye area; head-turning lips are thriving, too, as we've seen lots of people getting excited to try out yellow lipsticks.
Advertisement
If you're unsure about going as far as to rock a yellow lip but want something a little bit more unique than a classic red, you should consider wearing orange lipstick. According to L'Oréal Paris, orange lipstick is a beautiful trend for enhancing your lips. The summer season is an excellent time to experiment with this bright hue, so what are you waiting for?
When you go orange, have fun with it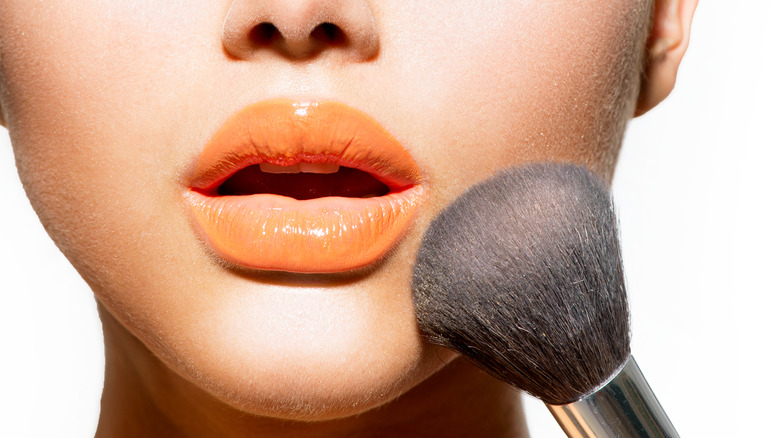 Subbotina Anna/Shutterstock
Wearing orange lipstick should be fun, so don't stress over it! One tip for pulling off this specific lip hue is to find one that will work with your skin tone, per L'Oréal Paris. For instance, L'Oréal Paris noted that orange lipsticks with blue undertones work best for people with pink hints in their skin, while warmer shades of orange will better pair with skin with warmer undertones. Plus, be mindful of the rest of the makeup you put on your face; orange lipstick is daring enough on its own, so wearing too much eye makeup with an orange lip might come across as overpowering, depending on where you'll be wearing it.
Advertisement
Although orange lipstick may initially sound a bit specific, nothing is limiting about this citrusy hue. When you search #orangelips on Instagram, you'll see over 131,000 posts featuring people flaunting different shades of orange lips, including vibrant orange, more of a reddish-orange hue, and a much lighter orange, so there's something for everyone. And you don't have to wear only orange clothing to match your orange lipstick — you'll see on the Instagram hashtag that people wear various colors from white to green with their orange lips, so don't be scared to get creative with your outfit!
Buy one of the best orange lipsticks
If you're ready to invest in a new orange lipstick, PureWow named the Make Up For Ever Rouge Artist Shine On Lipstick in 332 Blazing Flame the Best Overall orange lipstick because it's so intense and easy to apply. This lipstick lasts 12 hours and is available at Macy's for $25. However, if you're searching for a more affordable option, PureWow named the Sephora Collection #LIPSTORIES Lipstick in Hot in Havana – satin orange the Best Budget option because it adds effortless radiance to your look for a reasonable price. Available for $9 at Sephora, this bright lipstick has 4.4 out of five stars with over 3,000 reviews, and 90% of reviewers recommend the product.
Advertisement
Furthermore, anyone who likes the matte look should try the NYX Matte Lipstick in Indie Flick, as The Zoe Report named this product the Best Matte Orange Lipstick. Offering a coral hue, this lipstick is available on Amazon for only around $5, where it's labeled as Amazon's Choice with 4.3 out of five stars and over 19,000 reviews. On the other hand, for anyone who prefers a glossier look, The Zoe Report named the Revlon ColorStay Satin Ink Liquid Lipstick in Smokin' Hot the Best Shiny Liquid Lipstick. This item provides a very bright hue and is selling on Amazon for just below $8, where it has 4.3 stars with over 5,000 ratings.
So, which one will you buy first?