Does Honey Permanently Get Rid Of Facial Hair?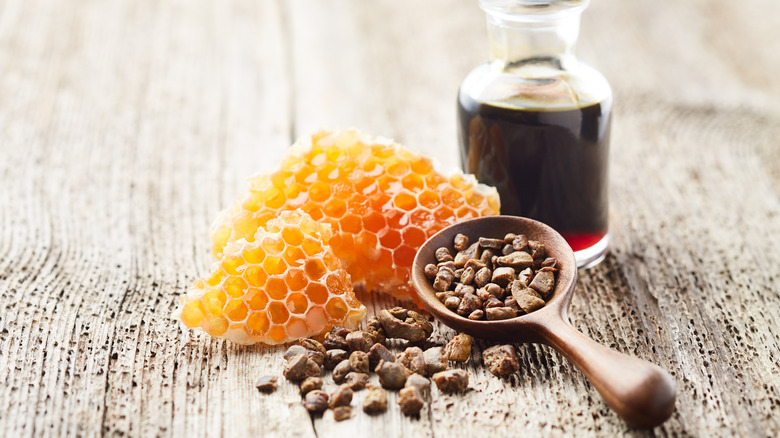 Dionisvera/Shutterstock
DIY beauty hacks are all the rage. Whether it's learning about organic skin care from TikTok or turning to Pinterest for hair tutorials, we are constantly on the hunt for the easiest, safest, and cheapest ways to treat ourselves right. With all of these tips and tricks, it's hard to know just what to believe. The same is definitely true for hair removal.
There is, perhaps, nothing more annoying than pesky hair showing up in unwanted places. The beauty industry makes millions off of bikini waxes, brow shaping, and chin hair removal (via Fortune Business Insight). However, waxing is often painful for the client, and some clients' skin is damaged from visiting a salon for this service. This is because many of these products are chemical-heavy, and it motivates many people to seek out a more gentle solution. Waxing with honey is a natural alternative to traditional waxing, but can waxing with honey remove our unwanted hair permanently?
The truth about honey waxing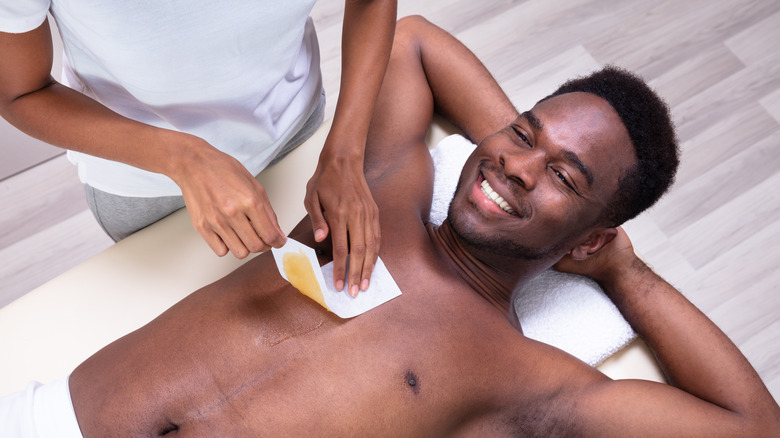 Andrey_Popov/Shutterstock
Although the rumor is out that honey waxing will permanently remove hair, this just simply isn't true. Even energy-based hair removal treatments like laser removal cannot claim to be permanent because touchups are needed periodically to remove pesky hair that just won't stop growing. The only way to permanently remove hair is to destroy a hair follicle at its base (via Byrdie). Destroying the follicle is essentially cutting it off from its blood supply, but this is very difficult to do. Unfortunately, while honey is a great alternative to traditional waxing, it cannot do this to the follicle.
Even though the removal isn't permanent, honey can offer a suitable alternative type of waxing to those with sensitive skin. Honey is natural and has healing properties within it to soothe skin after waxing. Those seeking out the honey treatment must be sure the honey is at the right temperature. If it's too cold, it can be difficult to remove, and too hot can burn the skin (via Our Everyday Life). Honey waxing is often less painful and easier to clean up than regular wax and is preservative free (via Healthline). People who have had negative waxing experiences like skin coming off with the hair and wax or painful rashes from waxing may want to try honey waxing instead.
Honey is a sweet alternative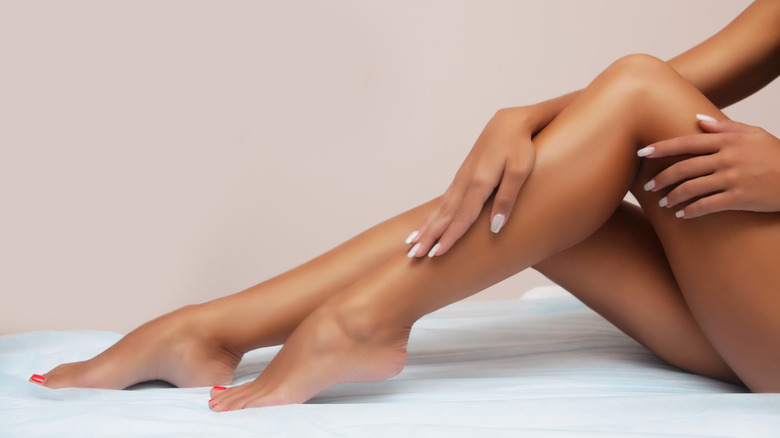 Alina Troeva/Shutterstock
The good news is that honey wax is safe, organic, and easy to make at home. Those with sensitive skin can look up honey waxing recipes and purchase an electric heating pot for home use (via Our Everyday Life). This type of waxing is also inexpensive and chances are you have the ingredients in your cupboards. The recipe consists of honey, sugar, and lemon juice. DIY waxers simply need to heat this mixture so that it gets to a thick consistency before applying it to their target areas (via Allure).
If you'd rather not spend the time mixing the ingredients yourself, there are honey-based mixtures for sale in many beauty shops (via Our Everyday Life). Other natural waxes include sugar water and turmeric. Experts cannot confirm that these waxes work better than traditional waxing, but they are effective on hair that isn't deeply rooted.
As we all seek out healthier ways to care for ourselves, waxing is another process that we can do organically. If you've had issues with traditional waxing at home or in the salon, consider the honey alternative. It may just be the sweet solution to your unwanted hair problems.