7 Drugstore Buys That Will Have You Ditching Your Expensive Liquid Eyeliner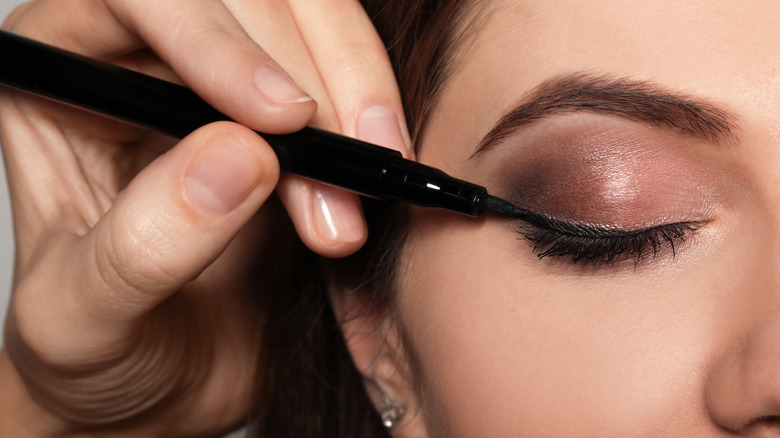 New Africa/Shutterstock
Eyeliner trends have drastically transformed over the years, but eyeliner still remains a crucial staple for most makeup lovers. Whether you're a tried and true kitten eyeliner girl or love a little smudged lash line moment, eyeliner remains a must-have in your beauty arsenal. To some, it's actually the most crucial makeup product because it's a must-have quick fix for those no-makeup days.
As with just about any makeup product these days, the options available are endless. Trying to find the right liquid eyeliner is like searching for a needle in an ever-growing haystack. Just about every type of liquid eyeliner exists these days. MAC even released a unique Rollerwheel Liquid Liner that defies science by using a ball tip to achieve the perfect flick, though it appears the item has been discontinued. You have your pens and your creams. Your brush tips, your felt tips. The options are truly endless, and so is the range of price points. 
When it comes to beauty, there are some areas where it pays to invest a little more. However, with the constantly evolving drugstore market, you can get away with keeping your makeup collection budget-friendly while still getting that same high-end quality. After all, a fair few drugstore brands even operate out of the exact same factories as higher-end brands (via Ranker). Liquid eyeliner is easily one of the prime beauty categories where you can save your pennies and still find the perfect formulas at a fraction of the high-end price points. Therefore, we've put together a roundup of seven of the best drugstore liquid eyeliner that will keep you flawless and your bank account happy.
How we selected the liquid eyeliners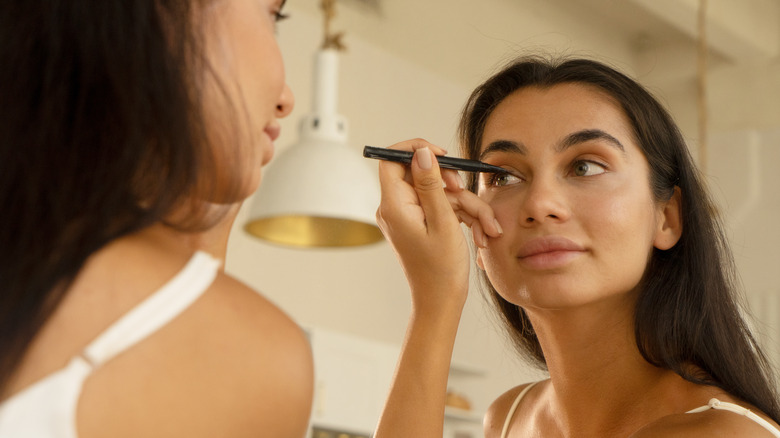 Neirfy/Shutterstock
A lot of people turn to the affordable beauty market for liquid eyeliners, so there are ample options. It can get overwhelming trying to figure out the best options, especially since a fair few of them actually reflect their low price points and tend to dry out overnight, giving you just one application. Figuring out the best drugstore liquid eyeliner that's not going to send you right back to the drugstore for a new one after a few days can be tough, so we've done the work for you. 
When selecting this roundup of the best drugstore liquid eyeliners, we considered a variety of factors. With affordable options, word of mouth is key, and that's why we've sorted through many, many product reviews to get a well-rounded idea of how well each product actually works. Of course, the reputations of a few of the options listed below already precede them.
You also need to consider your style of eyeliner, as there are so many variations out there. Whether you love a barely-there thin flick or want all the drama and width, there's something here for everyone. That's why we've broken down the options into varying formulas to suit every eyeliner need, from waterproof to bold colors. You can't go wrong with any one of these options, and your bank account will thank you for it, too.
Best overall liquid eyeliner
NYX Professional Makeup has always been a pioneer of drugstore makeup. The brand has always come through in terms of providing high-quality, professional makeup products at an affordable price point. NYX's reputation speaks for itself, and over the years, it's churned out its fair share of products that have gone viral and earned holy grail status, including the iconic Butter Glosses and Can't Stop Won't Stop range. But NYX's most iconic release to date has to be the Epic Ink Liner.
The Epic Ink Liner has a uniquely precise brush tip that is reminiscent of the cult favorite Kat Von D Tattoo Liner. The fine brush tip allows you to get a super precise flick and gives you the flexibility of either creating a subtle or dramatic tip. It's especially ideal if you're looking to attempt a graphic liner look. In that case, you can't beat this precision.
It's not just the tip that NYX has perfected. It's peaked where most drugstore liquid eyeliners drop the ball: longevity. Often, drugstore liquid liners dry out too quickly or give off a grayish tint rather than deep black, but NYX's Epic Ink Liner definitely packs a punch when it comes to pigmentation.
Purchase NYX Epic Ink Liner at NYX Professional Makeup for $10.
Best liquid eyeliner for precision
Everyone has their own personal flair when it comes to eyeliner. Some opt for a dramatic thick wing, while others just want a super fine line along their lashes to add some depth. Choosing the right liquid eyeliner for you is similar to choosing the right partner; you have to know what you're looking for. Well, if you're all about precision and fine lines, this next pick is the right partner for you. 
L'Oréal is an iconic drugstore brand for a reason. Whether you're looking for an at-home hair dye or a brand new foundation, you're likely to turn to the Parisian brand, and you'd be right to do so. After all, it falls under the same brand umbrella as high-end brands Lancôme and YSL, which explains why its quality surpasses its price point. 
The Infallible Super Slim Liquid Eyeliner is no exception to the rule. This liner is your guaranteed go-to when it comes to precision. The felt tip comes to a super fine point at the end of the long tip making it super easy to achieve a simple fine line simply by pressing the tip along your lash line.
Purchase the L'Oreal Infallible Super Slim Liquid Eyeliner on Ulta Beauty for $9.49.
Best dip-in liquid eyeliner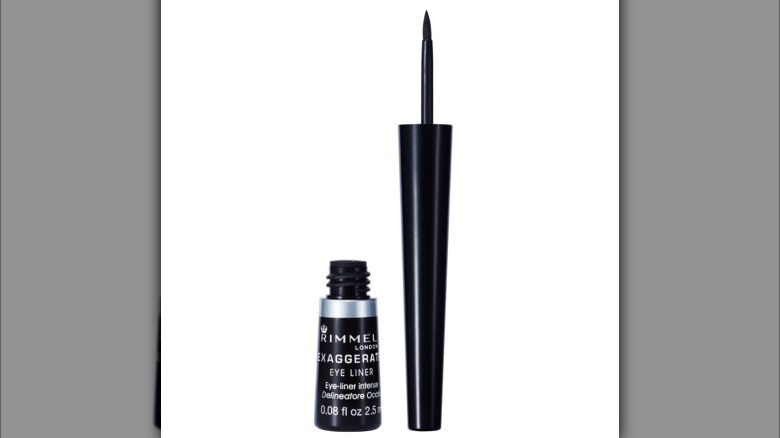 Rimmel London
Some drugstore beauty staples are iconic to certain generations. Millennials will never live down the era of Maybelline's Dream Matte Mousse or the L'Oreal Telescopic Mascara, and some have still clung tightly to this next gem. Rimmel London has always been a drugstore favorite brand, and its eyeliners are just one reason why.
One way that Rimmel has always secured a spot in makeup collections is via the Exaggerate Liquid Eyeliner. Available in both waterproof and non-waterproof formulas, as well as in brown and black, this eyeliner is a must-have affordable staple if you prefer an extra wet dip-in formula. 
It's all about the pens these days, but a classic dip-in liquid eyeliner provides constant wetness and extreme pigmentation. You don't have to worry about color fading or products running out quickly. The Exaggerate Liquid Eyeliner gives a uniquely glossy finish, but the best part is how long-lasting this smudge-proof formula is. If anything, it's tricky to get off at the end of the night!
 Purchase the Rimmel London Exaggerate Eyeliner on Rimmel London for $4.44.
Best colored liquid eyliner
NYX Professional Makeup consistently delivers high-quality drugstore makeup, so much so that it's managed to make it onto this list twice. While the Epic Ink Liner was the perfect pick for a precision-focused pen, this next pick is the opposite.
When thinking of liquid eyeliner, people's minds typically go to that classical black wing, but the truth is that you can have so much more fun with it. Eyeliner is a foolproof way to inject some color and fun into your makeup look, after all. Not all of us can perfect a beautifully blended, smoked-out eyeshadow look, but if you're comfortable with your everyday cat flick, there's no reason you can't sub it out for a funner color. 
It's only right that NYX Professional Makeup provides the pick for the best-colored liner. The Epic Wear Liquid Liners offer the same iconically potent and pigmented formula as its aforementioned sister, except these dip-in liquid gel liners come in a range of bright colors as well as a white eyeliner. The best part is that you won't get strange colors leaking down your face, as this waterproof long-lasting formula is guaranteed not to budge. You can choose between seven colors, and the super fine tip makes this the perfect pick for creating bold graphic liner looks. 
Purchase the NYX Professional Makeup Epic Wear Liquid Liners on NYX Cosmetics for $10.
Best waterproof liquid eyeliner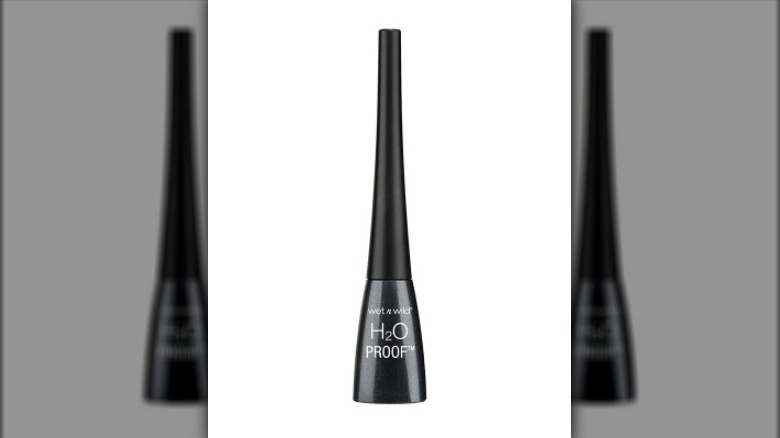 Wet n Wild
This next liquid eyeliner will transform your makeup game, and it will barely cost you. After all, no one wants to lose their eyeliner to sweat or rain. 
Wet n Wild is the most affordable of the affordable. The brand's price points are wildly low, but that never means the quality isn't there. After all, the Wet n Wild Photofocus Foundation has become a go-to base product for many special events. It even made it through those never-ending "The Bachelor" nights, per Women's Health. This Wet n Wild H20 Proof Liquid Liner is the eyeliner equal when it comes to longevity. 
The name says it all: this liquid eyeliner will weather any storm and any heatwave. This formula is waterproof, smudge-proof, and basically a stream of tears-proof. It comes in dip-in-liquid form with a precise tip brush that's perfectly flexible to help you achieve a smooth flick.
Purchase the Wet n Wild's H20 Proof Liquid Liner on Ulta Beauty for $5.29.
Best Cruelty-Free Liquid Eyeliner
Jason Wu Beauty is one of those drugstore brands that has you double-taking every time you read its prices. The brand aesthetically appears identical to its higher-end counterparts, and so does its quality. The Taiwanese Candian brand's Classic Liquid Eye Liner has mastered every category you could be looking for. The super fine tip is ideal for precision, while the formula itself is the blackest of black. But, of course, the best part is that this liquid eyeliner is 100% vegan and cruelty-free, as well as being super clean as it's formulated without parabens, phthalates, and a number of toxic ingredients typically found in liquid eyeliners. 
Fans of the Jason Wu Beauty liner have deemed it a holy grail, with one reviewer sharing, "This eyeliner is the perfect shade of black and goes on evenly with excellent pigmentation. The long wand makes making lines more manageable and contours easily with the shape of the eyelid.". 
Purchase the Classic Liquid Eye Liner on Jason Wu Beauty for $12.
Best longlasting liquid eyeliner
Long-lasting but certainly not least, let's round out this list with the liquid eyeliner that outlasts many others. The only problem with this one is that you may struggle to remove it at the end of the night. 
Milani is another drugstore staple brand that's produced some cult classic favorite products. Who hasn't owned the Luminoso blush? The brand continues to develop new and exciting products such as the Make it Last setting spray range, but the classics remain unmatched, especially its classic Milani Stay Put Matte Liquid Liner. Most long-lasting liquid eyeliners make bold claims about lasting at least 24 hours, but when Milani claimed the liner lasts 17 hours, its genuinely meant the entire 17 hours. 
The dip-in-liquid formula is potently black, and the best part is that it's completely matte. The fine felt tip makes it easy to work with, and this formula actually also happens to be cruelty-free! 
Purchase the Milani Stay Put Matte Eyeliner on Ulta Beauty for $9.99.