It's Time To Learn Once And For All How To Curl Your Hair With A Straightener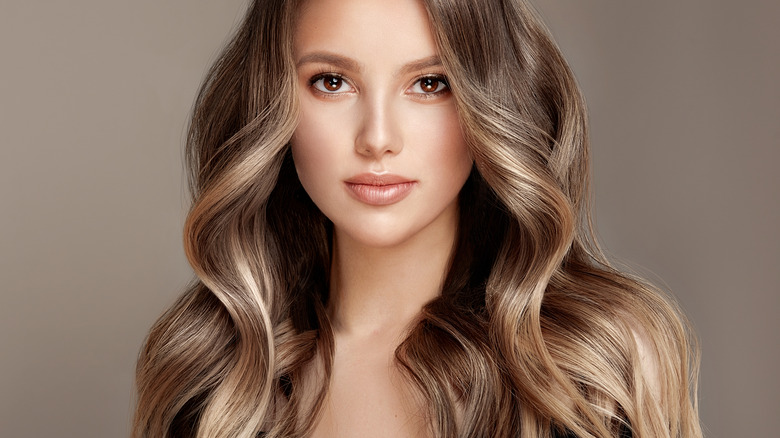 Sofia Zhuravetc/Shutterstock
We may receive a commission on purchases made from links.
We love to get perfect beachy waves without using heat, but sometimes subtle waves aren't enough when we want glamorous curls. There's something so luxurious and elegant about curly locks, so it's no surprise that so many people admire curly hair, whether the curls are tight and bouncy or soft and loose. After all, countless women on TV wear their hair in that popular style with gentle, loose curls towards the end of their locks, as you can spot this hairstyle on a plethora of shows ranging from "Jane the Virgin" to "Younger" (via Vox).
Of course, anyone who wants curly hair as they see on TV can create some curls with the help of a curling wand. However, high-quality curling wands can get expensive, as many cost over $100 — for instance, the popular Dyson Airwrap has a price tag of over $500, and the highly-rated Ghd Curve Creative Curl Wand costs almost $200, per NBC News. 
If you don't want to purchase a curling iron and already have a straightener, you're in luck. Believe it or not, you can use your flat iron to curl your hair.
Get curly hair in a few easy steps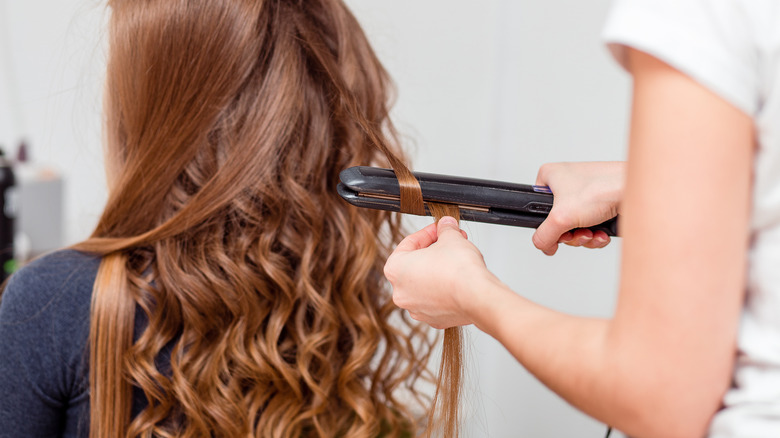 frantic00/Shutterstock
While it may seem like a strange idea and even a bit ironic to curl your hair with a straightener, the process isn't as complicated as you may initially think. According to TheStyleBlog, you should start by grasping your hair with the straightener like you typically would. Then, when you want to start making a curl, rotate the straightener halfway in the direction away from your head and carefully pull it down. Plus, you can go through the motions of this process without actually turning the straightener on before doing it for real so you can get used to how it feels and avoid any accidents or mistakes.
While this method seems pretty straightforward, there are some other ways to achieve a curly look with your straightener, such as the pressing technique. "Grab a one-inch section, and then you would push the hair through the iron in the shape of an S-wave as you gently open and close and press the iron against the hair," Justine Marjan, a celebrity hairdresser, tells Elle. This method proves to be just as simple, so it all comes down to which method is easier for you — and which is less likely to burn you.
So, are you ready to start curling your hair with a straightener?
The best straighteners for curling hair
Everyone should have a straightener at home because flat irons can help you straighten and curl your hair, so you'll be able to get two aesthetics with one product. If you don't have a straightener yet, the Wazor 2-in-1 Flat Iron may be for you, as its rounded style will help you curl your hair. You can buy this flat iron for around $60 on Amazon, where it has 4.2 out of five stars. Anyone looking for an even more affordable option should look into the Remington S5500 1" Anti-Static Flat Iron. Available on Amazon for about $20, this item has an impressive 4.6-star rating with more than 35,000 reviews.
Next, the Nition Platinum Professional Styler is one of the best frizz-free straighteners for curling your locks. No one wants frizzy hair, so this is an excellent option, available on Amazon for around $70 with a rating of 4.5 out of five stars with more than 11,000 reviews. Moreover, when styling our hair, we all aspire for our locks to look like they do when we leave a hair salon. The MondavaProfessional Ceramic Tourmaline Hair Straightener is great for achieving this every time. You can purchase this flat iron on Amazon for around $60, and it has 4.3 out of five stars, so you know it gets the job done.
So, which straightener will you buy to create some lovely curls?