This Lesser Known Amazon Feature Will Help Up Your Fashion Game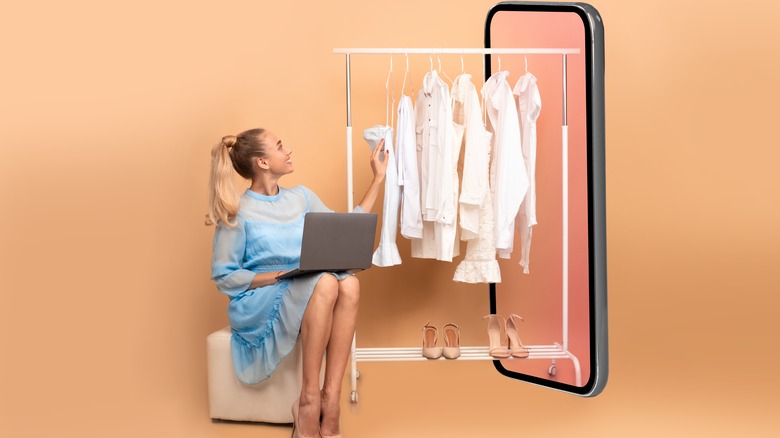 Prostock-studio/Shutterstock
We may receive a commission on purchases made from links.
If you are looking to spice up your wardrobe this summer, you've probably spent hours searching the web for styles that fit your ideal aesthetic. Whether you are going for edgy chic or old money, the online shopping experience can be overwhelming just by searching keywords on Google. There are millions of products to sift through, and it can be hard attempting to style pieces through a screen.
Advertisement
It can be frustrating to find nothing in your size, budget, or chosen style. This is why approximately 20.8% of online purchases end in returns (via CNBC). Some may suggest talking to a personal shopper at your local department store, but that can require fittings, in-person meetings, and plenty of hassle. You shouldn't have to choose between shopping from your couch and finding clothes that actually fit your style!
What if we told you that there is a hidden feature that can change the way you shop for clothes forever? In 2019, Amazon launched a feature that will help Amazon Prime members build their dream wardrobes for just $5.
Amazon's personal shopper by Prime try before you buy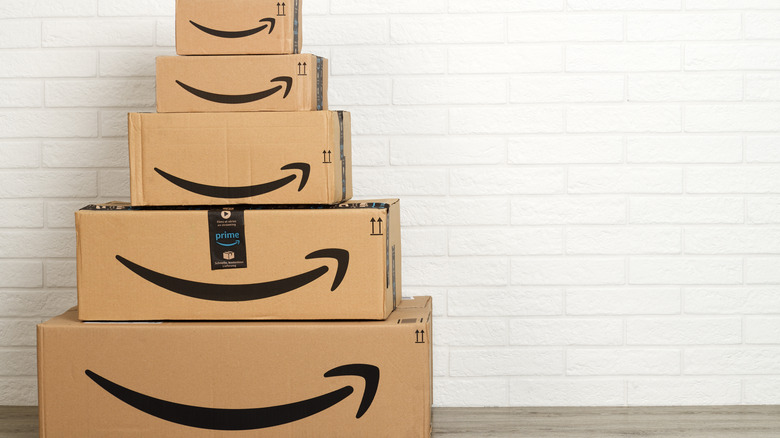 Khomulo Anna/Shutterstock
You may not have known, but Amazon has a feature similar to that of Stitch Fix and Trunk Club. This feature offers style boxes curated for Amazon Prime members. For only $5 a session, you can have a stylist pick out clothes catered to your needs. Sessions repeat monthly, bi-monthly, or quarterly, allowing you to try new clothes as often as you want.
Advertisement
To begin the styling process, you will be asked to take a style quiz. According to Amazon, curated items are selected using the power of both AI and real stylists, and the actual pieces you receive are then chosen based on fit, season, color, and current trends. You can even provide links to your social media accounts so stylists can take a deep dive into your personal brand. Boxes include up to eight items picked from thousands of brands, and you have a seven-day try-on period to decide if the pieces are for you.
After completing the style quiz, you'll receive a list of up to 16 picks of clothing, shoes, and accessories from Amazon. The picks are often grouped into sections that show full, assembled outfits and descriptions of how to wear the looks (via The Everygirl). Upon seeing these chosen items, you'll choose up to eight items to be shipped directly to your home in four to six business days. After trying on the eight picks, you simply then decide which items to keep based on what fits, suits your style needs, and accomplishes your desired look. You will be charged for those items and return the rest. 
Advertisement
What people are saying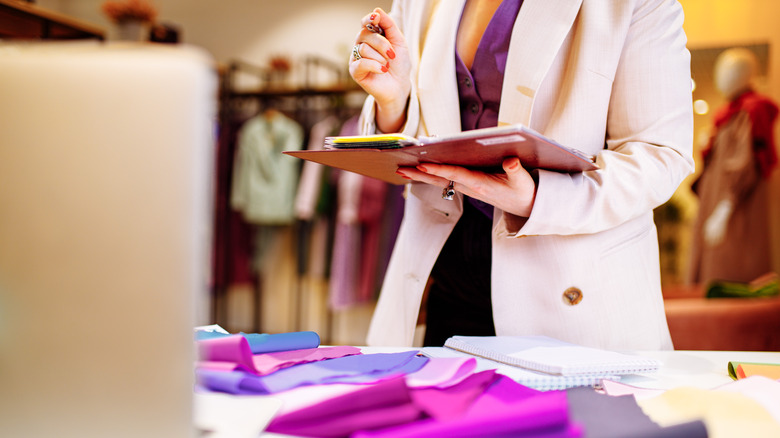 yurakrasil/Shutterstock
When Amazon's styling service launched, some, like Vogue, doubted whether people would actually care about this service. Now, however, it seems like the service is being used plenty. There are hundreds of reviews scattered across the internet for the service. No matter if the reviewer loved or hated it, the service is getting plenty of attention. 
Advertisement
A majority of the reviews are overwhelmingly positive. In 2021, Elle reviewed the service and described the Amazon stylist's recommendations as "spot-on." Matera also mentioned in her review that she did not feel that the element of discovering new pieces was taken from her, as it was still fun to open the box and explore the stylist's picks.
Most negative reviews of the service still ended in the customer loving and purchasing several of the stylist's picks. The negative aspects of the process involved technical glitches, such as stylist questions seeming repetitive, shipping costs, and poor shipping materials (via Business Insider). 
Overall, most customer reviews are positive in that the actual clothing picks are incredible. If you are looking to solve your fashion fiascos and add spice back to your wardrobe from the comfort of your own home, an Amazon personal shopper may be the way to go!
Advertisement