How To Keep Your Skin Matte On Even The Hottest Summer Days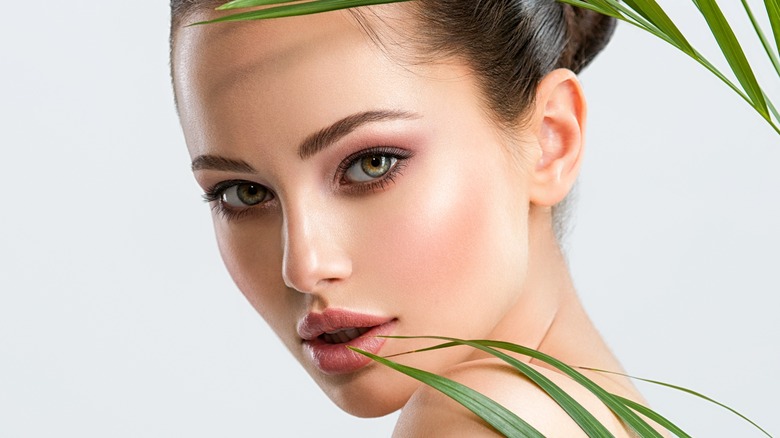 VALUA VITALY/Shutterstock
We may receive a commission on purchases made from links.
For many people, summer is the best time of the year. The sun's out, the school year is over, and there are lots of fun activities to do outside. It's also a great time to get together with friends and wear all of the cool clothing you want before winter comes. However, if you have oily skin or you just love to do your makeup, the season can prove quite bothersome. 
Summer's heat makes your oil glands produce more sebum, as popular New York City-based dermatologist Dennis Gross, M.D., tells Glamour. With more sebum comes a lot of sweating and grime, both of which can be disastrous for your makeup. Your skin can become greasy, have some more shine than usual, or even have all of your makeup slip right off of your face. This can make makeup and skincare pretty exhausting in the summertime and create some confusion on how best to manage your skin. Thankfully, here are a few tested and trusted ways to keep your skin oil-free all day long.
Upgrade your skincare routine to beat the heat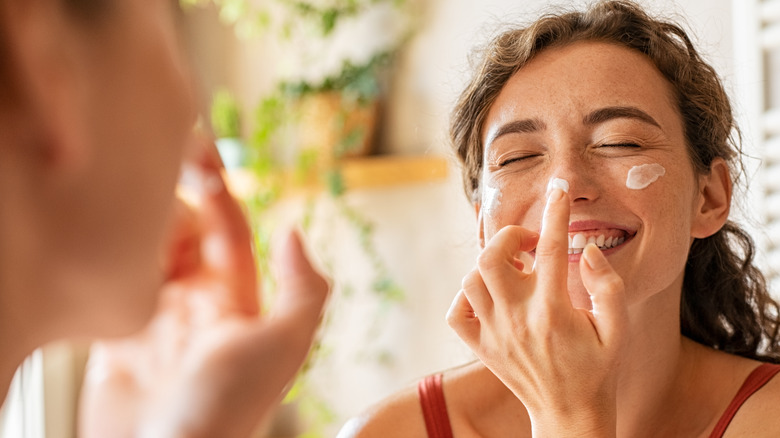 Rido/Shutterstock
Every change in season also brings changes in our usual skincare routines as our skin's needs are no longer the same. With summer, it's the need for regular cleansing and making sure not to skip moisturizer. Because summer causes heat, sweat and sebum can clog our pores, causing us to be more acne-prone and greasy. A great way to ensure your skin stays matte is by using cleansers and toners that contain ingredients like salicylic acid. Salicylic acid helps moderate oil production, which ensures your skin stays matte all summer long (via Kate Somerville). However, it's important you do not go overboard with the ingredient as it exfoliates deeply and can cause adverse effects if used too frequently.
Contrary to the popular yet thoroughly debunked myth that oily skin does not need moisturizer, leaving your skin without hydration can lead to even more oil production (via Verywell Health). All skin types need hydration, oily skin inclusive. Lack of hydration leads to overproduction of sebum, which equals excess shine and greasy, non-matte skin. To help keep your skin oil-free all day long, moisturizer is still essential and the weather is no excuse to skip the step. For oilier and acne-prone skin types, gel moisturizers are most recommended as they do not contain oil and feel light on the skin (via Everyday Health).
Go for oil-free, mattifying makeup products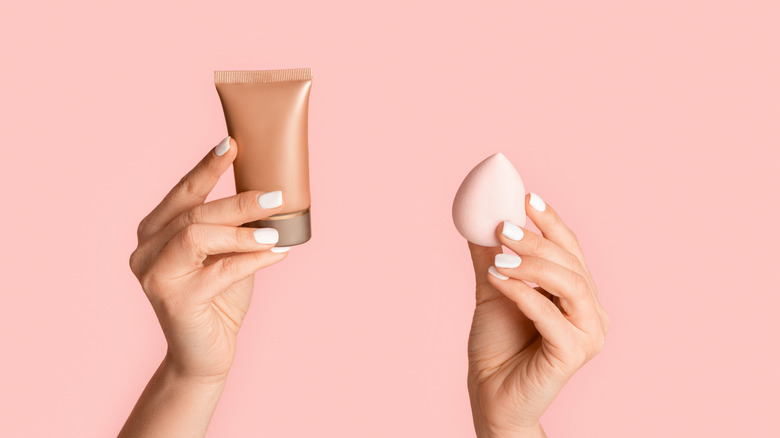 Prostock-studio/Shutterstock
When doing your makeup, your base is just as important as the products you apply to it. A good primer helps you create the perfect base for your makeup to sit on your skin, and this becomes more important in the summer. Mattifying primers not only help your makeup last longer but also prevent your makeup from sliding off. The best ones reduce fine lines and improve the finish of your makeup, leading to longer-lasting, matte looks (via Sephora).
Keeping your makeup matte and intact may seem daunting, especially when using complexion products. This makes light foundations or tinted moisturizers the best options. To find the best foundations for oily skin, makeup artist May Quynh says to look out for words like "oil-free and mattifying" (via Allure). She also adds that avoiding foundations that contain oils as ingredients is a good step as they tend to make skin shiny. Finishing up with mattifying setting spray/powder locks in your makeup, leaving a smooth finish. A combination of mattifying primer, foundation that feels light on your skin, and a setting spray will help your skin stay matte throughout the day.
And to maintain your matte look all day long, blotting paper is a hassle-free way to do that. The amazing thing about them is that they do not move or ruin your makeup! Take a quick dab around your face to soak up the oil and you're good to go.