Here's The Truth About Trendy Walnut Scrubs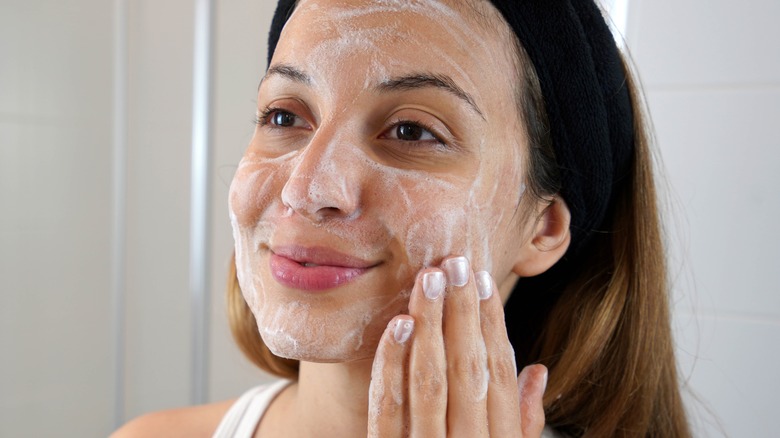 Zigres/Shutterstock
If you're a "skintellectual" shopper always on the hunt for the latest beauty trends and skincare products, you've probably heard of the Kylie Skin Walnut Face Scrub. From the eponymous skincare line Kylie Skin, launched by Kylie Jenner, her Walnut Face Scrub is formulated with walnut powder that claims to gently exfoliate dead skin cells from your skin's surface. "It's gentle enough to use every day," Jenner said in a YouTube video introducing the product.
And while the scrub boasts over 1,600 five-star reviews on kyliecosmetics.com, some consumers are skeptical about the safety of using walnuts to exfoliate the skin at all. In fact, in 2016, two women filed a $5 million lawsuit against Unilever, St. Ives' parent company, for formulating its apricot face scrub with crushed walnut shells, as reported by Today. The plaintiffs claimed that the remnants of walnut shells in the scrub damages skin. The case was dismissed in 2018 after a judge concluded that the plaintiffs hadn't provided enough evidence to support their claims (via Lexology.com).
Let's find out more about walnut scrubs and whether they are potentially damaging to your skin. 
Walnut scrubs can be abrasive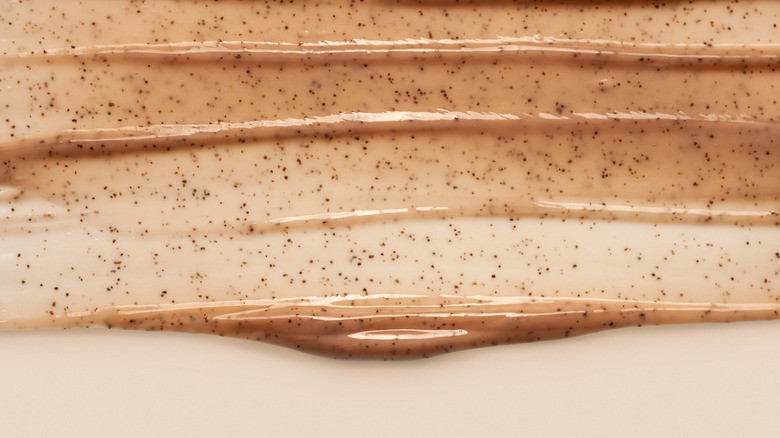 Fotaro1965/Shutterstock
Exfoliating ingredients may slough off dead skin cells and boost blood circulation, but they also scratch off the skin's outermost protective layer and can "create micro-tears ... that can lead to irritation, inflammation, and possibly even infection," according to New York-based dermatologist Hadley King (via Refinery29). Walnut scrubs in particular might be especially abrasive to those with sensitive skin due to the "sharp edges of the walnut powder," dermatologist Joshua Zeichner told Refinery29. Dermatologist Marisa Garshick agreed, telling Insider that this damage is more likely to occur especially when scrubs are overused.
The key to reaping full benefits from manual exfoliation is to find a product with super fine ingredients. "Not all physical scrubs are bad, just look for something less aggressive," Ryan Christopher, global director of education for Cosmedix, told Bustle. Chemical exfoliators or gentle cleansers are a safer choice because they are less harsh on your skin. But even chemical exfoliation should be used in moderation. Depending on your skin type, it is recommended to use facial scrubs no more than two to three times per week.
How to reap benefits from facial scrubs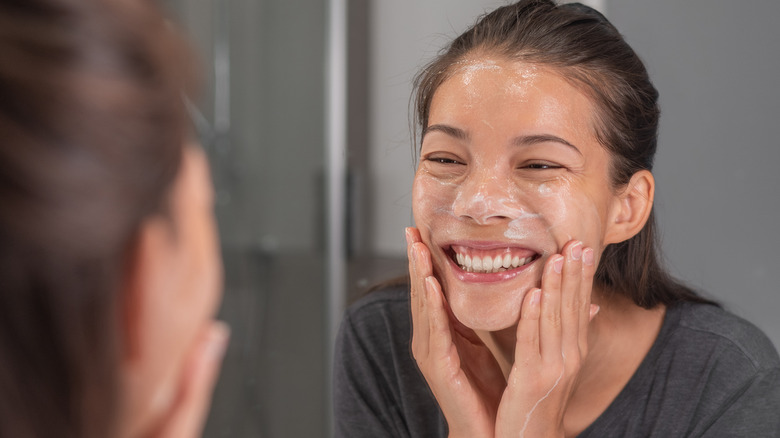 Maridav/Shutterstock
According to Eight Saints Skincare, some gentle and non-abrasive ingredients you should look for in facial scrubs are jojoba beads, bamboo powder, and sugar granules. Those with dry skin might reap benefits from scrubs that have a creamy texture and moisturizing properties, and if you have oily skin, look for rice bran and oat flour. Exfoliating products with hydrating ingredients such as hyaluronic acid and niacinamide also make a great addition to your skincare routine, board-certified dermatologist Dr. Tiffany Clay told CeraVe.
Whichever scrub you use, it's better to apply a small amount on your hand to test your skin's reaction first before using it on a larger area. And keep in mind that if you're receiving treatment for dermatitis, speak with a dermatologist before using any scrubs.
With the ability to banish deep-set debris from your skin's surface, facial scrubs can rejuvenate your skin and give you a glowing complexion. However, everyone's skin condition differs and it's crucial that you find a scrub that doesn't break down the protective barrier of your skin.