15 Under-Eye Brightening Powders That Make Dark Circles Disappear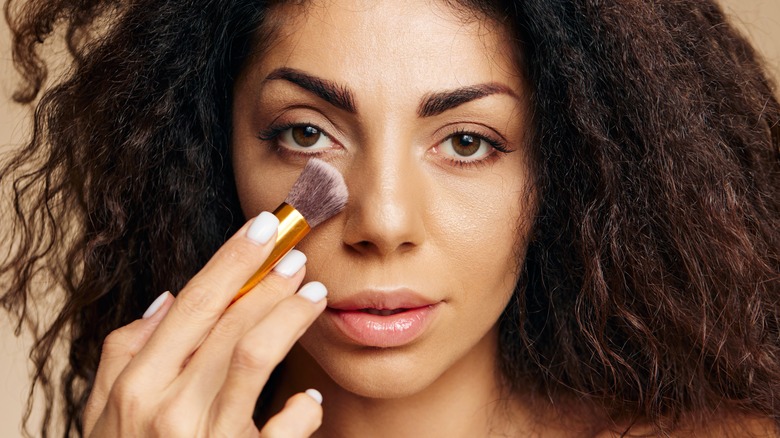 ShotPrime Studio/Shutterstock
Dark circles are one of the many beauty struggles that feel like part of a pyramid scheme. You generally get dark circles due to a lack of sleep or stress, per Healthline — something you can't really control. Of course, the more annoyed and stressed about the dark circles you are, the less sleep you get and the more stressed out you feel. So, it feels like a losing battle. Well, not if you have the right makeup products in your arsenal.
Advertisement
Don't get us wrong: the first step to tackling dark circles comes from within. Paying closer attention to your nutrition and sleep schedule is going to do a world of difference for your under eyes. But, for the time being, instead of stressing you out any further, we'll hook you up with the correct tools to temporarily bandage the issue.
Everyone's number one solution to dark circles is concealer. It makes sense: you need to conceal the darkness, after all. But what can really help is using the right setting powder. Your concealer is only as good as what you set it with. The right brightening undereye powder can not only keep your concealer in place all day but can also add some extra light to your under eyes. Of course, the makeup market can be pretty overwhelming, so we've rounded up the top 15 brightening undereye powders for each and every need.
Advertisement
How we selected the undereye brightening powders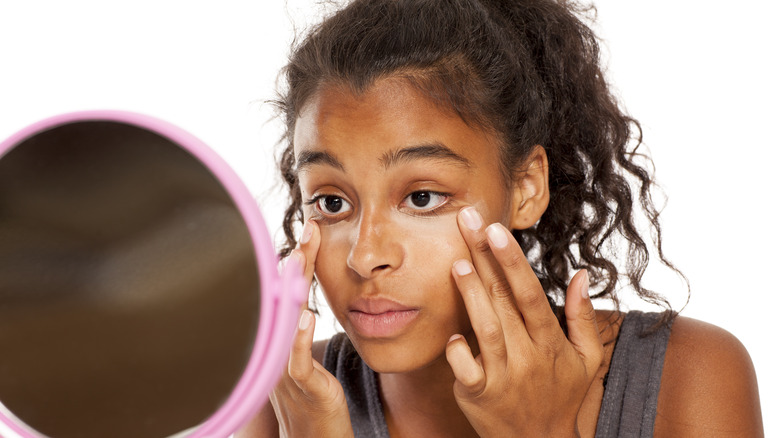 Vladimir Gjorgiev/Shutterstock
Choosing a brightening undereye powder is a little more complex than just selecting any old setting powder, and there's definitely no shortage of options out there for setting powders. However, when it comes to tackling dark circles you have a few extra qualifications you're going to need your powder to have. Being long-lasting and setting your concealer in place is absolutely a must with any undereye powder, but you also need a little extra brightening.
Advertisement
When selecting the undereye brightening powders for this list, we looked into finding setting powders that were formulated with light-reflecting properties that could help brighten your under eyes. Another quality to look for in your brightening undereye powder is color-correcting, so a few of the powders here come in color-correcting shades that can help counteract your dark circles. 
Of course, as with any makeup product, there seem to be hundreds of options to sift through. This is why we've made sure to select products based on their fan bases. In fact, each of these products is deemed to be a holy grail by its fans, and not a single one falls below a 4.2-star rating. You might have even already heard of a few of them from TikTok!
Advertisement
Best overall brightening powder
Laura Mercier has always reigned supreme when it comes to setting powders, so it's only right that the brand would top this list as well. Laura Mercier's Translucent Setting Powder has been a holy grail for many for well over a decade now. That not-so-little pot has saved many an oily-skinned damsel in distress. The formula is simply iconic, and Laura Mercier took things one step further by formulating a powder designed specifically for brightening under eyes. 
Advertisement
While Laura Mercier's original setting powder excelled at setting your base to last all day, the Secret Brightening Setting Powder does that and so much more. The similar formula also grants you mattifying longevity, with the added bonus of instantly brightening your under eyes to completely conceal those dark circles. It also happens to use micronized pigments that help smooth any fine lines or creasing making it ideal for under eyes where that is always a concern, per Laura Mercier. 
As one super fan put it, "This product is life-changing for women with dark circles under the eyes. Don't know how many concealers I tried. All powders put on the concealer let it look Grey and dark again. But not this one! Almost don't Need any concealer anymore." 
Advertisement
Purchase the Laura Mercier Secret Brightening Powder for Under Eyes at Ulta for $30.   
Best affordable brightening powder
If you're a strictly drugstore-beauty fan, don't worry: your dark circles are safe with this pick. Luckily, we live in an era where drugstore beauty isn't only competing with high-end brands but sometimes excels far beyond them. One specific brand that's always been reliable with its insanely low price points and amazing ability to produce almost-identical dupes for viral luxury beauty products is e.l.f. Cosmetics.
Advertisement
Over the years, e.l.f. has built quite the following, but the brand has especially grown lately with their cult favorite products like the Poreless Putty Primer and Halo Glow Liquid Filter. E.l.f.'s original staple products have still remained iconic though, and one that always delivers is the High Definition Powder. Funnily enough, some actually consider it a dupe for our previous pick.
The High Definition Setting Powder will give you a blurred finish that helps conceal dark circles as well as fine lines. With all of e.l.f.'s new releases, the highly-rated powder still remains relevant, and one e.l.f. reviewer claimed, "This stuff is magic!"
Purchase e.l.f. High Definition Undereye Concealer Setting Powder at e.l.f. for $6.
Advertisement
Best brightening powder with SPF
When it comes to undereye setting powders, generally their purpose is to amplify the work of your concealer. They set it in place and sometimes offer up a little additional smoothing and blurring effect. But sometimes that just doesn't cut it, and sometimes you need your undereye powder to do some heavy lifting as well. Bare Minerals always deliver amazing powder formulas for just about every makeup routine step, so of course, the brand would have a concealer powder. 
Advertisement
The Bare Minerals Eye Brightener powder can double as both a setting powder and even a stand-alone concealer. The shade Well Rested really says it all in terms of what this can do for your dark circles; the powder is pigmented and offers coverage to help conceal your dark circles as well as brighten and minimize the appearance of puffiness. The added bonus of this powder, aside from coverage, is the fact that it also contains SPF. The sun is hyperpigmentation's worst nightmare, so keeping your under eyes protected from the sun is necessary to keep your dark circles from getting any darker. As with most Bare Minerals products, this 4.7-star rated powder is also vegan and dermatologist-tested, per Amazon.
Advertisement
Purchase Bare Minerals Eye Brightener Powder at Ulta for $25.
Best brightening powder for color correcting
For anyone looking to brighten any type of hyperpigmentation with makeup, color correcting is the first step. For every different type of discoloration exists a different color-correction shade that can counteract it. While color correcting is typically reserved for concealers and cream products, this next pick exists to give you a little extra color correction help when it comes to your setting powder step. 
Advertisement
Jaclyn Hill taught many makeup lovers how to contour and highlight, so it's somewhat of a full circle moment to see her own brand Jaclyn Cosmetics provides the tools to do it today. As the number one supporter of undereye baking for brightening the area, Hill definitely delivered with her Undereye Baking Powder, and especially the shade Lilac. 
You may be a little hesitant to apply a lilac-colored powder to your face as opposed to your eyes, but this subtly lilac-tinted undereye powder has the power to counteract your dark circles and neutralize them for people with yellow undertones, per Jaclyn Cosmetics. Infused with shea butter and banana flower this powder works to completely smooth out your under eyes and blur them while keeping them hydrated to avoid that dreaded cakey creasing. One user was especially impressed by how it helped her fake a good night's sleep, saying, "As a new mom, I'm sleep deprived and this makes me look like I haven't missed a full night's sleep like ever. Definitely, new mom approved!!" 
Advertisement
Purchase Jaclyn Cosmetics' Undereye Baking Powder in Lilac at Jaclyn Cosmetics for $29.
Best brightening powder for longevity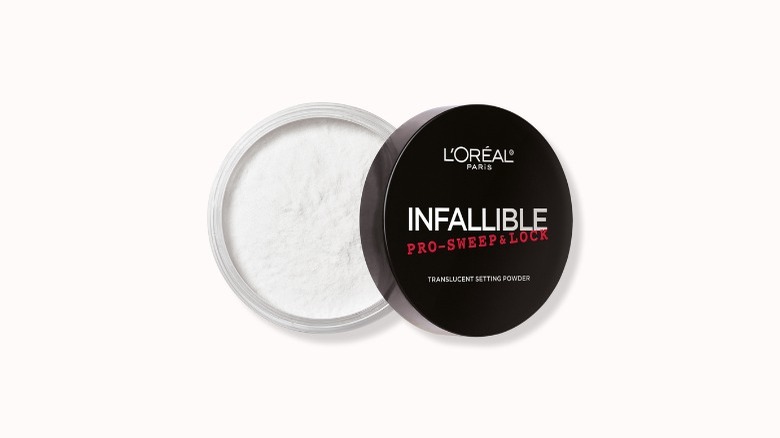 Ulta
Brightening your dark circles can only do so much, but it's all a little pointless if you still end up with a cakey, creased, and oily mess after a few hours. Longevity is the key to locking in all the hard work you've put in with your undereye makeup to make sure those dark circles are undetectable. With this next pick, your undereye makeup isn't budging until you're good and ready for it to. 
Advertisement
L'Oréal's Infallible range is entirely dedicated to delivering incredible long-lasting makeup that can face off against the oiliest of skin types, and the Pro Sweep & Lock Loose Powder is no exception. The micro-fine powder offers a soft focus blurring effect, and, while translucent, it does have a brightening effect that's perfect for concealing dark circles. But, of course, the most impressive quality is how it genuinely locks in your undereye makeup and mattifies it all day long. 
The powder bought one user some compliments alongside long-lasting undereye makeup, saying, "I got so many compliments from everyone that I was "glowing" and even was ID'd in a store. As the hours went on, it looked even better than right after I applied it. My skin never looked oily at all," per Ulta. 
Advertisement
Purchase the L'Oréal Infallible Pro Sweep & Lock Loose Powder at Ulta for $9.99.
Best brightening powder for blurring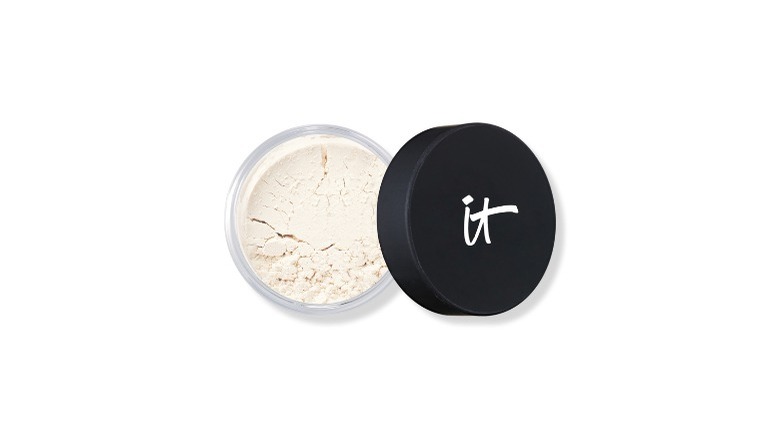 Ulta
Dark circles are exhausting — literally — but it's not only the darkness that can be the battle. With dark circles come texture, creasing, and, of course, discoloration. So, when selecting an undereye setting powder you kind of need it to tackle all of the above. It should be brightening, of course, but it should also stay in place all day like the previous pick, and it should also smooth out your under eyes like this one. 
Advertisement
It Cosmetics has always been a brand about so much more than makeup. Formulated by plastic surgeons and approved by dermatologists, It Cosmetics products always do so much more than what they promise. The Bye Bye Pores range is the brand's most popular collection, and the Bye Bye Pores Translucent Loose Setting Powder is a dark circles-must have. 
The finely milled loose powder applies like butter, and it leaves your under eyes looking just as smooth as it feels going on. The best-selling 4.2-star rated powder is a fan favorite and immediately minimizes the appearance of pores and texture to give you a smooth and airbrushed finish. 
Purchase It Cosmetics' Bye Bye Pores Translucent Loose Setting Powder at Ulta for $30.
Advertisement
Best banana powder
This one might sound like a throwback, but there's no denying that the number one undereye brightening hack is using banana powder. Banana powders are setting powders that come in a very yellow, banana-esque shade meant to brighten your under eyes while the yellow tone works to color correct dark circles. Of course, banana powders aren't for everyone, but they work wonders on darker skin tones.
Advertisement
Beauty Bakerie is a brand that definitely won fans over with its adorable bakery-inspired packaging, but it is the Face Flour Baking Powder that earned the cult following that catapulted the brand to grander heights. The powder comes in a range of shades, but the shade Cassava is the perfect banana powder to brighten your under eyes. The formula isn't too pigmented, so you don't have to worry about that dreaded bright yellow flashback; it's just the right amount of subtle yellow undertones to correct your dark circles.
The Face Flour Baking Powder is obviously ideal for baking as the name suggests, with the blurring formula also using an HD feature that leaves your skin looking airbrushed and camera-ready. The 4.5-star rated powder is even a makeup artist staple, as one Ulta reviewer shared, "I'm a makeup artist & have used all the powders you can think of from high end to drugstore, this powder has been my go-to on clients! It has the best smoothing finish & keeps makeup looking good ALL day!!" 
Advertisement
Purchase Beauty Bakerie's Face Flour Baking Powder at Ulta for $30.
Best fan-favorite brightening powder
Viral beauty favorites come and go, but this pick has definitely stood the test of time. Coty's Airspun Loose Powder is such a vintage throwback that no one would suspect would remain relevant in this day and age. Dating back to the '30s, this powder has always delivered, and fans of the 4.5-star rated powder continue to repurchase it without being swayed by newer, shinier powders. The finely milled powder is even still made using its original formula despite the renovated packaging. 
Advertisement
What makes it so unique is its exclusive microspun formula which literally means the powder was repeatedly spun to ensure optimal cloud-like softness, per Amazon. The powder applies smoothly and its slightly pink tint helps counteract dark circles, but the best part is the value for money. This huge jar is under $6 and guaranteed to last you for ages, the same way your undereye makeup will. 
Purchase Coty's Airspun Loose Powder on Amazon for $5.43.
Best brightening powder for baking
At this point, it's clear that baking is a key makeup trick to brighten your under eyes and keep your concealer in place all day. Now, you can certainly bake with any loose powder, but there are a few that are formulated with the very purpose of baking in mind. A loose powder that is created for baking is going to help you avoid some of the classical baking mishaps like accidentally lifting and shifting your makeup or looking cakey. 
Advertisement
Huda Beauty's makeup collection all caters to a heavy-duty full beat type of makeup, and when the brand dipped its toes into the baking pool, it didn't fall short. Huda Beauty's Easy Bake Loose Baking & Setting Powder comes in a selection of shades that all offer the perfect balance between a matte finish while also giving a bit of luminosity to brighten up your under eyes. The 4.8-star rated powder has hundreds of amazing reviews, with one Huda Beauty reviewer raving, "One of the best baking powders I have ever bought. Silky smooth, finely milled, your face looks airbrushed."
The powder comes in a super-fine formula that melts seamlessly into your skin when pressed in. But the best thing you can do for your dark circles is pick up the latest Cherry Blossom edition of the powder. Aside from how luxuriously floral the powder smells, the light pink undertone is great for color correcting. 
Advertisement
Purchase Huda Beauty's Easy Bake Loose Baking & Setting Powder at Huda Beauty for $35.
Best brightening powder for dry under eyes
Setting powders are all about mattifying and making sure your concealer doesn't budge, but what if your skin can't handle all of that? It's rare to find a powder that's suitable for dry skin, after all, powders are meant to be drying by default. But if you struggle with dark circles and dry under eyes, you may feel stuck. Luckily, a miracle product that can both hydrate and mattify your under eyes exists. 
Advertisement
By Terry is an award-winning luxury beauty brand that has always delivered high-quality makeup, but nothing compares to the brand's completely unique take on setting powder. For a setting powder's name to contain the words "hyaluronic acid" is immediately surprising, but that's why By Terry's Hyaluronic Hydra Powder stands out from the rest. This powder is actually formulated with just two ingredients: hyaluronic acid and pure silica spheres. 
The extremely fine silky powder somehow manages to set your makeup in place and lock it in for long-lasting wear while also keeping your skin hydrated and fresh. Your skin will be left feeling soothed and you'll also visibly see a bit of glowy hydration. 
Advertisement
Purchase By Terry's Hyaluronic Hydra Powder at By Terry Paris for $54.
Best lightweight brightening powder
In addition to not wanting your setting powder to dry out your under eyes, you may also find yourself against the heavy feel of a baked-on loose powder. That's not your only option, though, as there are plenty of lightweight setting powders you can lightly brush on to secure your undereye makeup. If that's what you're in the market for, then celebrity makeup artist Pat McGrath has you covered.
Advertisement
Pat McGrath Labs' entire Skin Fetish line went viral on TikTok after countless people couldn't get enough of how hydrating and lightweight the base range was, all while providing coverage but keeping your skin glowy and fresh. Luckily, the range includes the Sublime Perfection Blurring Undereye Powder. Designed specifically for under eyes, this pressed powder is super lightweight and breathable while blurring out your under eyes. Where it comes in handy for dark circles, is that it actually contains light-reflecting properties that give your under eyes some brightening luminosity.
Purchase Pat McGrath Labs' Skin Fetish: Sublime Perfection Blurring Undereye Powder at Pat McGrath Labs for $32.
Best brightening powder for mature skin
Setting powder can be a nightmare if you have mature skin. No matter what you do, it somehow always ends up creasing and sitting in lines or drying out your under eyes and leaving them looking lifeless. Figuring out the right setting powder for mature skin is all about tapping into the perfect balance of hydration and lightweight formulas that are going to sit seamlessly on your under eyes and not migrate or crease. 
Advertisement
W3LL PEOPLE's Loose Superpowder Brightening Powder isn't only ideal for mature skin, but it's an all-around great setting powder for under eyes. The vegan, plant-powered formula is super-fine and barely detectable. It sits invisibly on the skin while still giving you the mattifying and setting powers of a typical powder. The powder is available in one universal translucent shade that doesn't oxidize or shift the color of your concealer. Instead, it adds a bit of brightness in the form of a light, reflective glow. 
Purchase W3LL PEOPLE's Loose Superpowder Brightening Powder on The Detox Market for $20.
Best brightening powder for lifting
Nikita Dragun has certainly had a bumpy journey in the public eye, but one thing you can't fault her for is creating Dragun Beauty. Dragun's makeup brand is dedicated entirely to the trans community and to helping provide the makeup products they want and need, which is ultimately lacking in the greater beauty market. From color correcting to contouring, the brand has it all, but the TRANSformation Face Powder palette is especially perfect for some extra heavy lifting.
Advertisement
After all, dark circles aren't just about brightening; they also need to be lifted and this powder is perfect for that. The palette comes with two shades that each brightens and blurs. Pink Opal provides light-reflecting pigments that avoid flashbacks and give you that "snatched" look, per Dragun Beauty, while Yellow Topaz contains cocoa butter to give your skin an extra smooth and blurred finish. The palette is complete with a guide showing you exactly where to apply each powder to achieve that sculpted, lifted look. 
Purchase the Dragun Beauty TRANSformation Face Powder at Dragun Beauty for $35.
Best mattifying brightening powder
Rihanna's Fenty Beauty has been such a huge success that it was bound to also produce a great undereye powder fit for this list. The Invisimatte Instant Setting+Blotting Powder isn't necessarily designed for under eyes, but the formula works so well as a lightweight mattifying setting powder that it's the perfect pick if you need your undereye powder to be especially mattifying. When people talk about oiliness, it's all about the T-zone, but oiliness can sometimes impact your under eyes and lead to settling in creases and shifting your concealer.
Advertisement
The Invisimatte Instant Setting+Blotting Powder is like watching a magician at work. The second you press this into your under eyes you'll watch the shine completely disappear. The best part is that while insanely mattifying, this setting powder is still very lightweight and doesn't feel too heavy on the skin. Pop this in your handbag to carry around with you for some extra brightening and mattifying top-ups throughout the day. The 4.3-star rated powder has been a game-changer for many, with one Sephora reviewer even claiming, "Literally life changing!! I am the oiliest person ever and it sucks it right up."
Purchase Fenty Beauty's Invisimatte Instant Setting+Blotting Powder at Fenty Beauty for $34.
Advertisement
Best brightening powder for avoiding flashback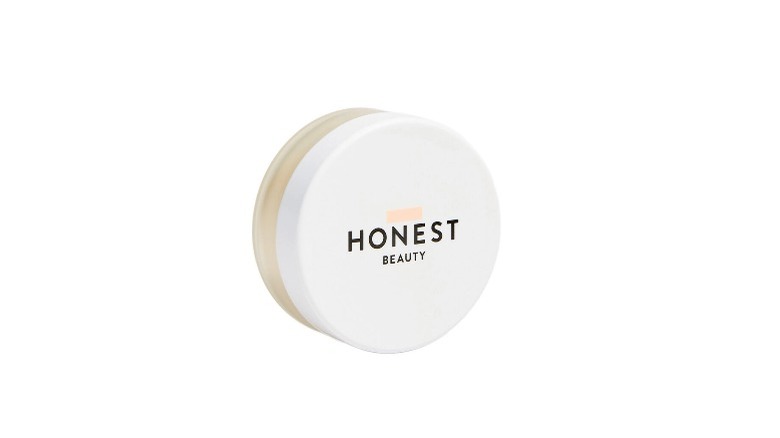 Honest Beauty
Ah, the dreaded drawback of setting powders: flashback. This is a battle that's especially tricky when it comes to selecting brightening undereye powders, which is why this list wouldn't be complete without providing the perfect setting powder to help you avoid any and all flashback.
Advertisement
Jessica Alba's Honest Beauty is one of the many brands under her Honest Company umbrella that is committed to providing clean and simple products that work. The Honest Beauty Translucent Setting Powder is a lightweight loose powder that lightly mattifies shine and blurs imperfections. 
A huge pro of the powder is that it is talc-free, making it perfect for sensitive skin. The formula is so finely milled that it's almost impossible for this stuff to end up looking cakey. In fact, it's so weightless that it fails to get clocked by that pesky flash of a camera. One Honest Beauty reviewer is definitely sold on this powder, writing, "Absolutely the most undetectable, blurring setting powder EVER! I have tried them ALL...Hands down this is the absolute best!" 
Advertisement
Purchase Honest Beauty's Translucent Setting Powder at Honest Beauty for $22.99.