Why Forever 21 Is Having A Hard Time Bouncing Back From COVID-19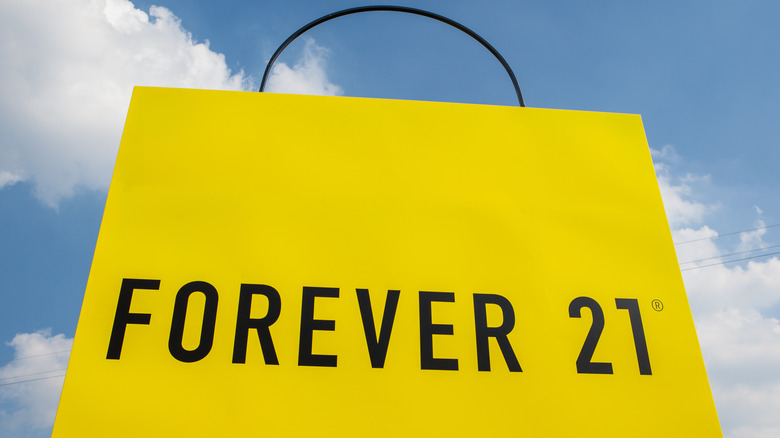 Grzegorz Czapski/Shutterstock
We love shopping at Forever 21 for trendy clothes at low prices. Between cute crop tops, stylish jeans, and a plethora of dresses, the retailer has plenty of fashionable items for a wide range of styles. Forever 21 also has more than 14 million followers on Instagram and over 91,000 followers on TikTok. From having lots of trendy clothing to an impressive social media following to low prices that help fashion enthusiasts avoid breaking the bank during high inflation, it seems like Forever 21 is doing everything right — or does it?
Forever 21's foot traffic scores in the U.S. aren't as successful as they once were. According to data collected by SafeGraph, the company hit a high of 19,072 in-person visits during a single day in mid-December 2019, before the COVID-19 pandemic. Then, it suffered an understandable hit during the start of the pandemic in early April 2020, only earning 292 visits one day. Since then, its numbers have remained low and inconsistent, indicating that the retailer hasn't been rebounding too well. But why?
People prefer sustainable and online shopping
Fast forward to recent times after the lockdown-related low foot traffic report, and Forever 21 only received 4,821 in-store visits one day in July 2022, which is significantly less than half of the pre-COVID high foot traffic score. And it's not only Forever 21 that's struggling with this predicament. Plenty of Zara's in-store shoppers haven't returned after COVID-19 lockdowns, and some once-iconic department stores are finding it impossible to reach pre-COVID highs in foot traffic. So, what's stopping shoppers from visiting some once-popular clothing stores?
During COVID lockdowns, looking stylish became less of a priority for many people as we faced this public health crisis, and a lot of us focused more on physical and mental health. Therefore, shoppers had the time to think more about how fast fashion companies treat employees. According to Good on You, a website that rates how ethical and sustainable clothing companies are, Forever 21 is "very poor" in the areas of environmental impact and labor conditions. Although the retailer received a promising rating of "it's a start" regarding animal well-being, Good on You recommends avoiding Forever 21 if you want to shop sustainably and ethically.
Moreover, online shopping has become a popular alternative to in-store shopping, as clothes are items people opt to buy online more often than other products (via Statista). Thus, COVID-19 and monkeypox are resulting in more online shopping, which is just another contributor to Forever 21's low foot traffic scores. This, combined with heightened consumer awareness regarding ethically-sourced clothing, means fewer people are visiting Forever 21 in person. We may have TikTok to thank for that, at least in part, due to the platform being used to spread information, in this case about clothing ethics, quickly.