Why You Should Explore The Benefits Of A Waterless Manicure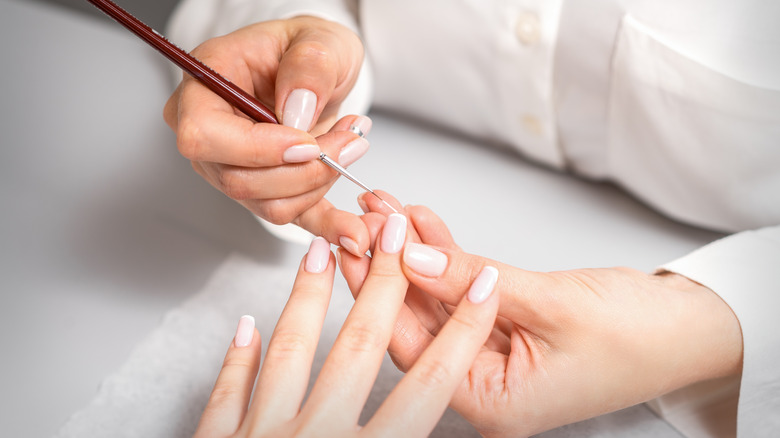 MorphoBio/Shutterstock
The beautician dips your hands into warm water to soften dead skin cells. Next, your nails are gently trimmed and filed to your preferred shape, followed by an indulgent hand massage with a soothing oil treatment. Then comes the most-anticipated part: the application of nail polish. That's what a basic manicure treatment at a nail salon looks like. It's relaxing and wholesome. In fact, getting a manicure in the pleasant serenity of a salon is arguably one of the most productive things you can do while being completely at rest. 
According to Glo Skin & Medspa, regular manicures can increase nail health, promote blood circulation, and stave off infections. And the latest nail therapy technique, called the "waterless manicure," might just be the end of the traditional manicure.
Essentially, waterless means soakless. During a waterless manicure, your nail tech will apply heat treatments and luxurious creams to your hands, rather than soak your fingers in a bowl of water (via Beyond Beaute Wellness Spa). Now, let's wise up to the benefits of a waterless manicure before you call your favorite nail salon to book your regular mani-pedi appointment.
Waterless manicures are more hygienic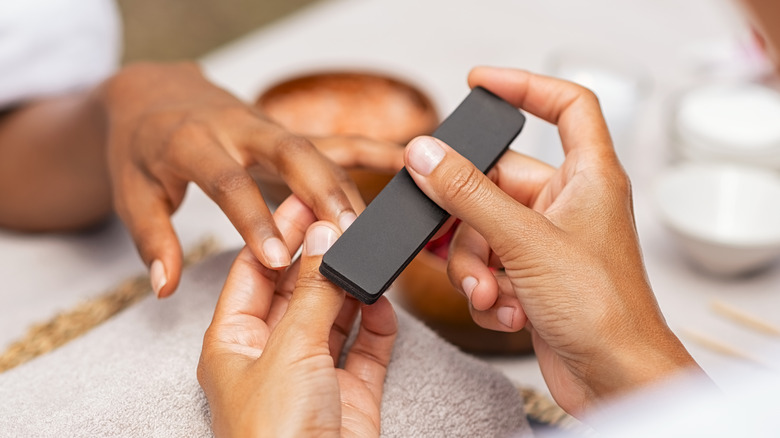 Rido/Shutterstock
Not only does a waterless manicure make your nail polish last longer and give you softer skin, but it's also a more sanitary, eco-friendly alternative to a typical manicure. Traditionally, during a mani-pedi, your hands and feet are soaked in a questionable bowl or tub of water. "Water is a breeding ground for germs, and bacteria can remain in the bowl even after the water is drained," Rachel Apfel Glass, founder of Glosslab, told InStyle. Even worse is if the water is mixed with soap, which can be very drying and destructive to your nails.
The purpose of soaking hands and feet in water is to soften dead skin cells and make it easier for nail technicians to push back your cuticles. However, this step is not necessary if the salon uses the right products and techniques. Celebrity manicurist Deborah Lippmann told Makeup.com that a cuticle prep routine will produce similar results to soaking. "You should first apply [cuticle remover], softly push back the skin and wipe the nail clean ... Once dead skin is removed, follow up with a cuticle oil," she said.
Waterless manicures make polish last longer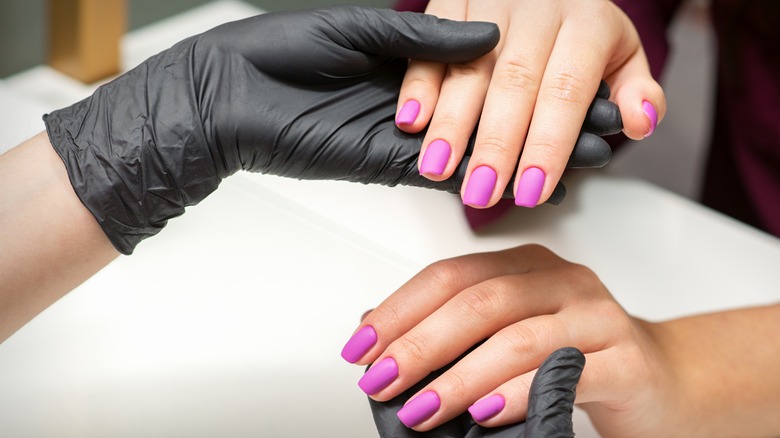 Michelle Aleksa/Shutterstock
A waterless manicure also allows your nail polish to last longer when compared to a traditional manicure where your nails are soaked beforehand. "Your nails are like a sponge — they absorb water and become porous, preventing the manicure from lasting," celebrity manicurist Julie Kandalec told BestLife. If your nails are still holding onto moisture when they are painted, the polish is quicker to chip. According to Kandalec, this is because as your nails dry, they shrink, but the polish doesn't shrink with them.
Skipping the dunking ritual also helps save the environment. "You use approximately 15 gallons [of water] for every manicure and pedicure combined," Carolann Shapiro, owner of Can Can Parleur nail salon, told Well+Good. Water is the most precious resource on Earth and an indispensable part of agriculture; forgoing it whenever we are able to will ultimately help the environment. 
From amping up the look of your hands to promoting much-needed blood circulation, manicures have plenty of benefits. Going the waterless route keeps your nails clean, prolongs the life of your polish, and helps save the Earth.