How Long Does A Wax Typically Last?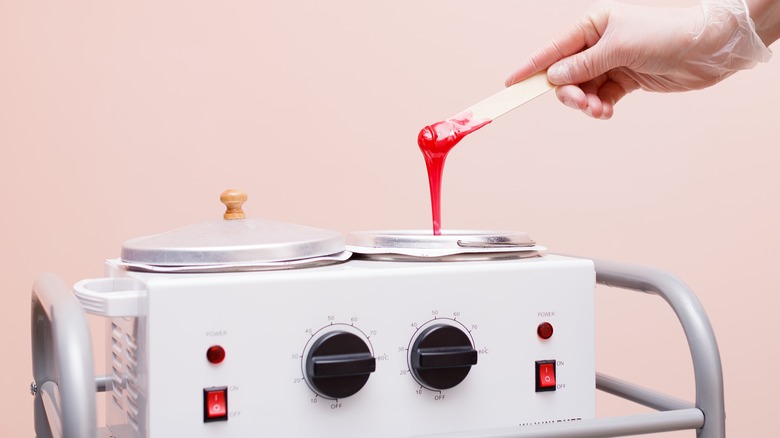 Anna Shiman/Shutterstock
While we have come a long way with body hair positivity, many still prefer a good shave, and that is okay! If you prefer to be hairless, waxing may be a better choice for you than shaving. Waxing is a common alternative to shaving for both men and women because it provides complete hair removal often not seen with traditional shaving.
There are several different types of waxing that you can get, including hot waxing, cold waxing, and strip waxing (via Secret Spa), but the method of wax is up to you and what fits your personal needs best. While these all have different application processes, they can all achieve similar results when done correctly.
One of the most common concerns with waxing is upkeep. No matter the type of wax performed, it shouldn't affect regrowth time if completed correctly (via Healthline). When the wax isn't completed fully, it can break off at the surface level causing faster regrowth. We have curated a guide to how long you should expect your wax to last, regrowth, and how to make your wax last.
How long will a wax last?
If your wax is done properly, it will remove the hair directly from the root. When hair is pulled directly out of the root, it can be three to four weeks before you see any regrowth. But, of course, everyone is different. Some report seeing hair again after two weeks, while others report not seeing any regrowth until six weeks later (via Parissa). Hormone levels, age, season, and more can all affect hair growth times. After each wax, you may notice that your hairs grow back finer and thinner. What's more, dermatologist Ellen Marmur tells Cosmopolitan that "eventually this hair follicle may stop growing hair altogether." Many people begin waxing hoping for this result.
Different parts of the body also experience different regrowth times. You could wax your bikini line and your legs at the same time, but the hair will grow back at very different rates. As a general rule of thumb, the face will need to be waxed every two to three weeks, the underarms every two weeks, and the bikini area and legs every three to four weeks.
How to make your wax last longer
If you are considering getting a wax but are nervous about the upkeep, there are some simple tricks to making your wax last longer. Perhaps a given, you should be exfoliating and moisturizing between waxes. Dry skin can cause more hair to break during waxing, preventing the wax from pulling hair directly from the root (via UptownSpa).
It's also important to prevent ingrown hairs as they can negatively hinder your waxing treatment. Hair has to be outside of the skin's surface to be pulled out and wax can stick better without bumps in the way. Prevent pesky ingrown hairs with salicylic acid treatment.
Finally, make your wax last longer by avoiding the urge to pick, pluck, and shave every little hair that sprouts up after your treatment. Lori Nestore, the founder of Berodin Wax, explained to Byrdie that doing so will cause uneven wax results at your next appointment, therefore causing uneven regrowth. However, as long as you maintain yourself between waxes, you won't find yourself struggling with these issues.