Are Hair Extensions A Good Idea If You Work Out A Lot?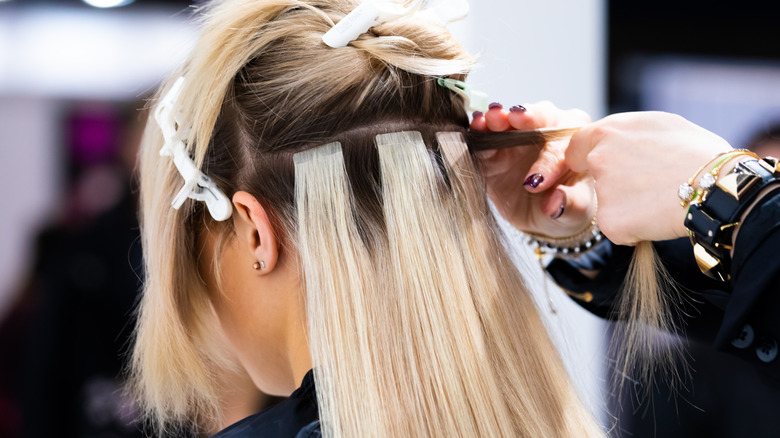 Leszek Glasner/Shutterstock
Hair extensions are the best way to achieve the longer hairstyle you've always lusted after. For those wearing bobs their entire life, extensions are the only way to help you emerge from a hair salon with natural-looking, voluminous beach waves cascading down your back in a matter of hours. Unlike wigs, hair extensions can be incorporated into your natural hair and custom-made to fit your preferences in terms of length and volume almost instantly, saving you months and years of growing and caring for your locks, per Rock n Roller Hair. 
From double buns to Dutch braids, hair extensions open the door to endless possibilities for experimentation with different looks for different occasions. They are also low-maintenance and able to help you hide split ends. As versatile as hair extensions are, some can be sensitive to sweat and moisture, easyhair pro points out. Your sweat, which is salty and acidic, can dry up your heat-sensitive hair extensions. The substance that keeps your extensions in place can also get soft during perspiration and even slip out. For this reason, many gym enthusiasts wonder if hair extensions will require them to sacrifice comfort over looks and affect their athletic performance. 
Here's what you can expect when wearing hair extensions to the gym.
The main categories of hair extensions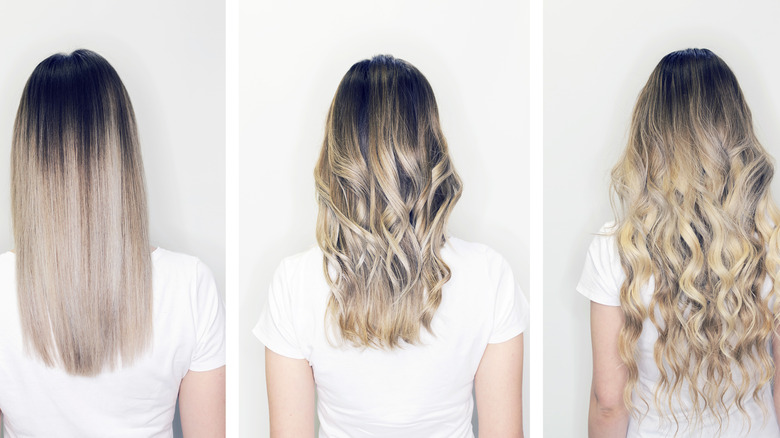 Focus and Blur/Shutterstock
Let's learn the fundamentals of hair extensions before determining if they are a wise option for those who work out regularly. Coming in a variety of colors, textures, application methods, and types of hair used to make them, hair extensions can add more length and volume to your natural hair depending on your needs. They can be made of human or synthetic hair and there are three major methods of application, including temporary, semi-permanent, and permanent, as hairstylist Sarah McKenna explains to Elle.
Temporary methods feature clip-in extensions where wefts of hair can be easily affixed to your natural hair through numerous pressure-sensitive clips. Lacking permanent bonding, clip-in hair extensions are easy to install and remove. If you want more freedom with hair extensions, the clip-in method, which is temporary, might be a great choice for you. Semi-permanent hair extensions, per Cliphair, feature tape-in pieces of wefts made of a medical-grade adhesive that can last from six to 12 weeks. Permanent hair extensions, like a full head of keratin bonded or sewn-in wefts, are those that last for about four months on average.
Can hair extensions be a part of your athletic lifestyle?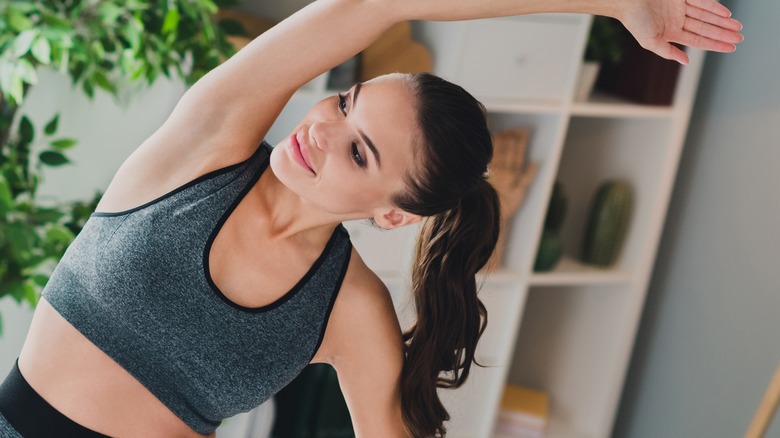 Roman Samborskyi/Shutterstock
Now that you know the most common types of extensions, let's find out which one of them could potentially cramp your style while pumping iron. According to easihair pro, if you wear clip-in hair extensions, you can simply remove them before a workout to avoid messy tangled locks. 
However, taped extensions can't be taken off as conveniently as clip-in extensions, so curtailing your exposure to sweat will prolong their shelf life. One way to do this is to tie your taped wefts into a ponytail or a loose bun to keep them off your sweaty forehead and neck. Also, steer clear of saunas, steam rooms, and direct sunlight, lest the heat and the humidity of the environment melt the adhesive, expose the bonding site, and make the extensions fall out. 
Given the negative impact of heat and humidity on hair extensions, the one that suits regular gym-goers the most, per Hair Extensions of Houston, is permanent loc system extensions which are made of 100% human hair and are installed without the use of heat or adhesives.
Hair extensions, effortlessly luscious as they look, can be a handful for those who exercise and perspire often. After every exercise, be sure to wash your extensions with a gentle, sulfate-free shampoo and conditioner, and have a deep conditioning treatment at a salon to keep your extensions in top condition.