The Fall 2022 Jewelry Trends You Won't Be Able To Avoid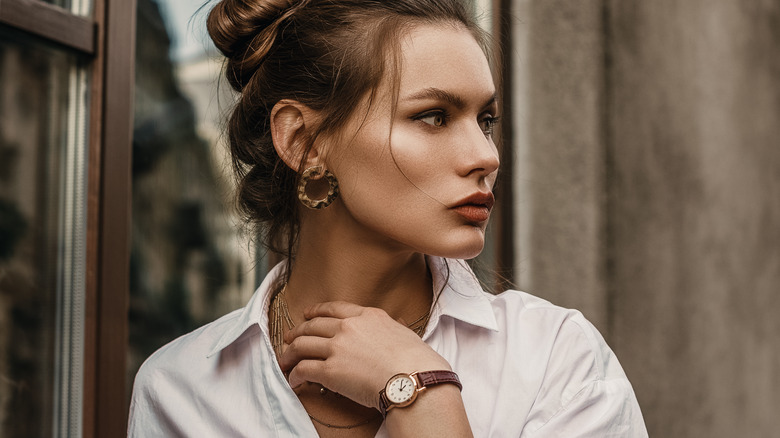 Victoria Chudinova/Shutterstock
Beautiful jewelry is the key to making any outfit complete. Like with any clothing or accessory, jewelry is a way to outwardly reflect your character (via Innovato Store). Yet, jewelry is still drastically different from traditional wardrobe pieces, as it adds a level of sentiment and intimacy. Due to this, it can be hard for brands to successfully bring new trends to the jewelry market. Oftentimes, brands put a twist on traditional jewelry each season to keep items wearable throughout the years, yet trendy for the time.
Jewelry is a very personal art form for many designers, often a reflection of new experiences each season. Fall 2022 is no exception. Designers like Jessie Andrews ensured that they focused on people-watching before creating their FW22 collections to assure that their pieces were functional for everyday wear yet were still trendy (via Harper's Bazaar).
Incorporating personality, functionality, and tradition seemed to be the goal with this fall's hottest jewelry. Here, we've rounded up five jewelry trends that embodied all of these goals and stunned on FW22 runways.
Colorful jewelry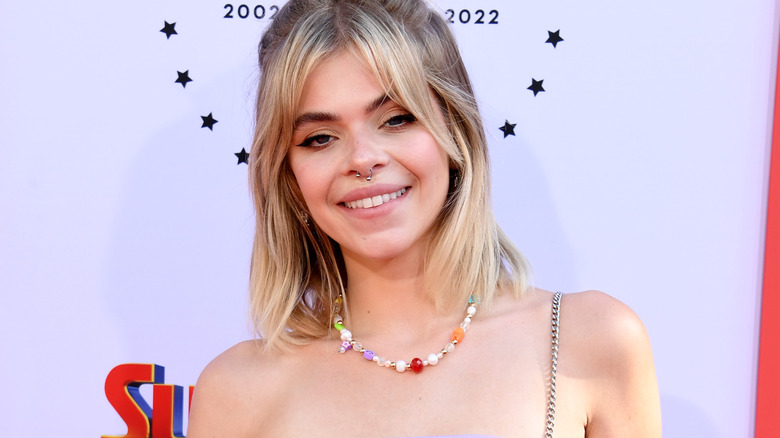 Jon Kopaloff/Getty Images
Who doesn't love to add a pop of color to their basic outfits? The colorful jewelry trend we saw in the spring will continue into this fall. With celebrities like Dua Lipa on the trend, it isn't going away anytime soon (via Instagram).
Colorful acrylic jewelry plays off the Y2K jewelry from many of our childhoods. This trendy jewelry look can come in the form of chunky plastic rings, letter block name necklaces, multi-colored beaded bracelets, acrylic hoops, and more.
Lock and key elements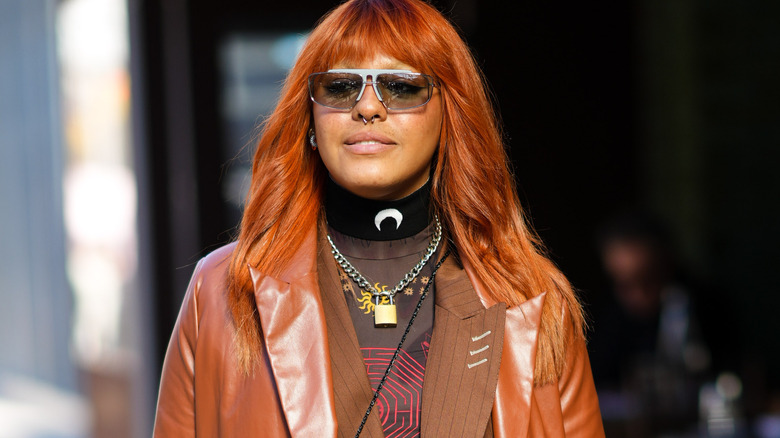 Edward Berthelot/Getty Images
Traditional lockets are taking on a new form this fall with the lock and key trend. Similar to wearing a locket and a key that opens it, trendsetters are now wearing padlocks and keys in the form of necklaces. In some cases, a lock is worn by one person while the key is worn by their friend, family, or significant other. This is no new style, though, as the look has been dated back to the romantic period when it was deemed a symbol of protected love (via Forbes).
Whether you wear the lock and key elements for style or for sentiment, the trend is calling your name. Brands like Balmain, Fendi, and Moschino even featured the jewelry trend on their FW22 runways.
Floral frenzy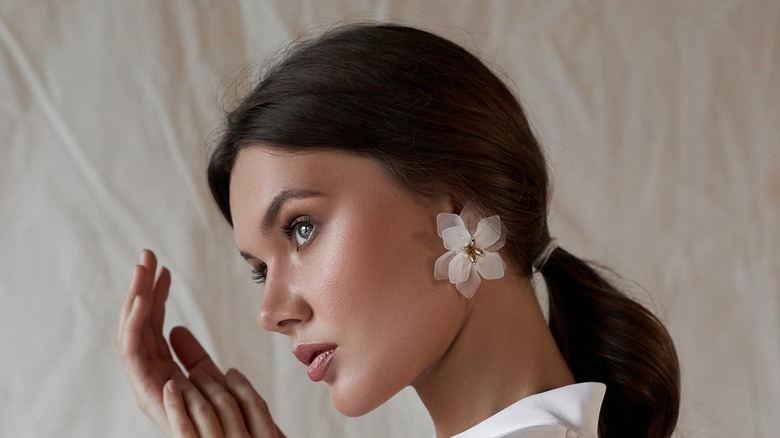 IvaFoto/Shutterstock
Forget florals for spring! It is all about florals for fall in 2022. Whimsical florals were seen on the FW22 runways from all of our favorite designer brands like Loewe, Ulla Johnson, and Miu Miu. This trend also pulls aspects from traditional romantic pieces that have been around for centuries. One can see this in Louis Vuitton's floral shirt as tweeted by Outlander Magazine.  Perhaps after the past couple of years of staying in, we are ready to bloom with bold floral jewels.
XXL pearls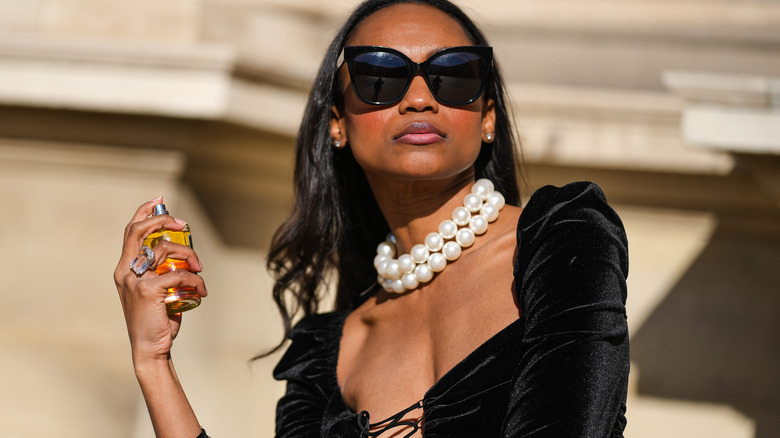 Edward Berthelot/Getty Images
New York-based stylist Taylor Okata tells Harper's Bazaar that he believes we're moving beyond dainty chain links this fall. The XXL pearls trend makes us believe that Okata's statement is 100% accurate. Now, we're all about the bigger, the better when it comes to pearl necklaces this fall.
This trend takes the classic Chanel pearls made popular in the '80s and supersizes them. Giant gobstopper-sized pearls were seen on the runways of Givenchy, Versace, Undercover, and more at their FW22 fashion shows (via Fashion United).
Unique hoops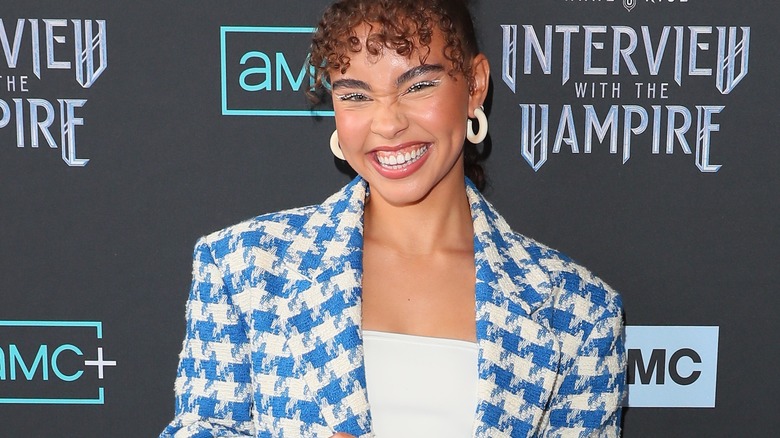 Jean Baptiste Lacroix/Getty Images
Perhaps the most classic jewelry trend for fall 2022 is hoop earrings. The trend is stemming from the element of tradition many designers played into when creating their FW22 collections, including Elisabetta Franchi. While traditional hoops are being worn more than ever, more ornate hoop designs are trending as well. Sparkling, hammered, acrylic, colorful, you name it: the hoop exists. Perhaps the best thing about hoops is that they are such a staple that you can find them at all stores from Target to Chanel.