Why Sally Beauty Supply Is Struggling To Reach Last Year's Foot Traffic Levels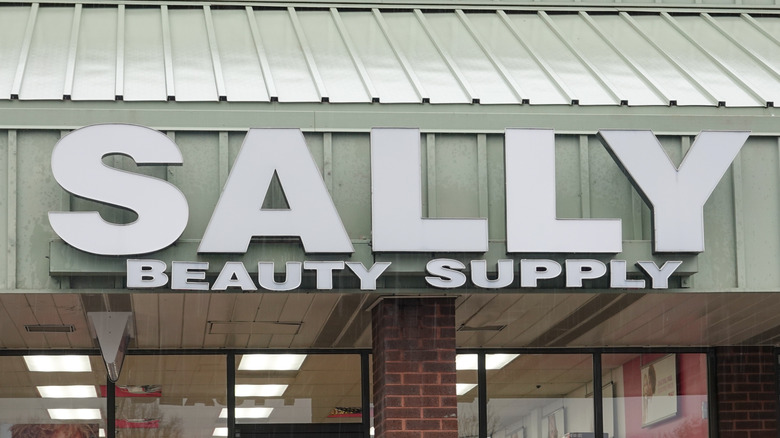 Alan Budman/Shutterstock
For a while, Sally Beauty Supply seemed to dominate the cosmetics industry thanks to its wide variety of products and affordable prices. After all, Sally Beauty Supply rebounded well after COVID-19 lockdowns and even managed to double its competition's foot traffic. So, it seems like the beauty supply retailer was doing everything right, leading to significantly higher foot traffic scores than other companies in the industry.
For instance, one day in mid-August 2021, Sally Beauty Supply pulled in 109,914 in-store shoppers in the U.S., per data collected by SafeGraph. That's a lot of customers considering that the pandemic isn't over yet. And this foot traffic score wasn't just a one-day success. The retailer kept up those six-figure foot traffic reports throughout 2021, earning 105,816 visits during a single day in that same month. Believe it or not, those numbers were even higher during the winter of 2021; one day in mid-December, for example, Sally Beauty Supply had 128,602 in-store visitors. However, summer 2022 hasn't been so lucky for the retailer.
Inflation is lowering the desire to shop for makeup, haircare, and skincare products
One day in May 2022, Sally Beauty Supply's foot traffic score dropped from being in the hundreds of thousands to 98,026. While this initially doesn't sound like a big deal, the retailer hasn't been able to get its numbers back up. Fast forward to the first day of August in 2022 and the cosmetics company only received 89,582 in-store visits, significantly lower than its 2021 numbers.
Although there seems to be a drastic drop in shoppers in Sally Beauty Supply stores, the decrease in foot traffic isn't necessarily the retailer's fault. Inflation has been stressful for many around the world, as the prices of essentials such as groceries and gas have been noticeably high. According to U.S. News & World Report, 81% of people in the United States are changing their shopping habits because of inflation. Therefore, although Sally Beauty Supply's prices are typically reasonable, people are probably still more concerned with putting food on their tables and getting where they need to go by purchasing gas or train and bus tickets than buying beauty products as we head into fall.
This could all change with the passing of the Inflation Reduction Act, but more people turning to online shopping, too, foot traffic numbers look likely to decrease for all retailers with time, even if the act helps people have more spending money.