This Kitchen Staple May Be Your Newest Hair Care Secret Weapon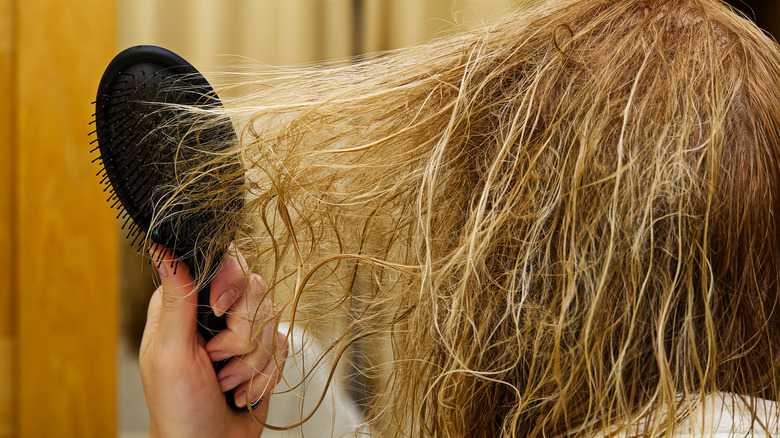 VidEst/Shutterstock
Many of you know the annoyance of dealing with dry, brittle hair all too well: singed, sunburned strands that are hard to detangle, straw-like texture due to over-processing, pesky flyaways, and split ends. You may have read about the many tricks in the book to remedy this — from taking vitamins and coating strands with essential oils to rinsing with cold water (via Healthline). But if you've tried them all with little to no success, the frustrating damage you continue to deal with can force you to want to turn to expensive products in search of a cure. 
Advertisement
If you've struggled for many years, you know how much money you can spend on haircare products, as determining what works for you is trial and error. However, there is a natural remedy for your dry hair woes that is inexpensive and readily available. You may even have it in your kitchen cupboard already.
There are countless advantages to working this kitchen staple into your beauty routine, and you'll be able to reap its benefits while going easy on your pocketbook. A win-win.
Why canola oil works to treat dry, damaged hair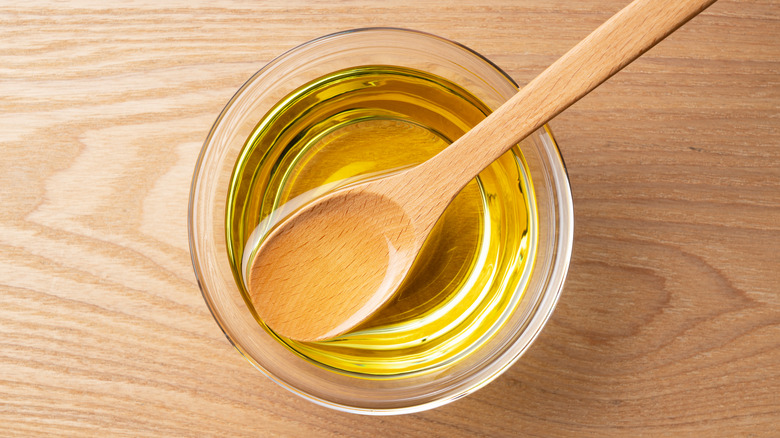 masa44/Shutterstock
Ditch the designer hair masks and hot oil treatments. Although it is most commonly used for cooking, canola oil can help treat your dry and damaged hair. Originally created in Canada through the crossbreeding of the rapeseed plant, canola oil is extracted from canola seed flakes, according to Healthline. It contains healing and moisturizing elements such as fats and vitamin E, making it an all-natural way to nourish not only hair but skin and nails too (via Lifestyle Asia).
Advertisement
After trying this natural remedy you may find that it works just as well as, if not better than, expensive products. In addition to repairing damage caused by dryness, beauty experts tell Curl Centric that canola oil can also treat dandruff, minimize hair loss, reduce frizz, and provide protection from harmful UV rays.
Although its benefits are plentiful, if have a sensitive scalp, you should avoid using canola oil, according to Lifestyle Asia. And as is the case with any new beauty product, it's a good idea to patch test the oil on a part of your skin to see if you react negatively to it before applying it to your whole scalp (via TheKlog).
How to add canola oil to your hair care regimen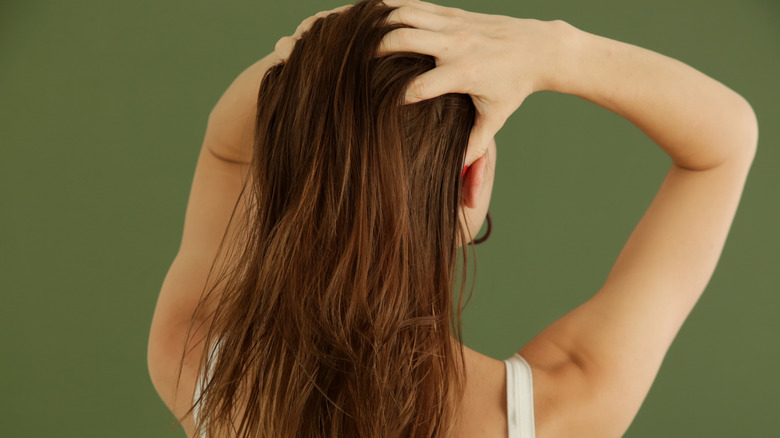 triocean/Shutterstock
Ready to add canola oil to your hair care regimen? For a luxurious spa-like treatment, recommended by StyleCraze, massage a small amount of lightly heated oil to your scalp for 10-15 minutes, then cover your hair with a shower cap or a towel. Let it sit for about half an hour before washing it out in the shower. 
Advertisement
Another option is to try making a hair mask. There are many recipes out there featuring ingredients you probably already have in your kitchen like bananas, mayonnaise, and avocados (via Beautiful Hamesha), or honey, apple cider vinegar, and egg yolks (via Our Everyday Life). Another good way to use it is as a leave-in conditioner.
No matter the type of treatment you prefer, if you are looking for an inexpensive, natural way to care for your hair, look no further than your pantry. Canola oil just might be the solution to your dry hair woes.