Here's How Marshalls And T.J. Maxx Easily Rebounded Their In-Store Foot Traffic From Pandemic Lows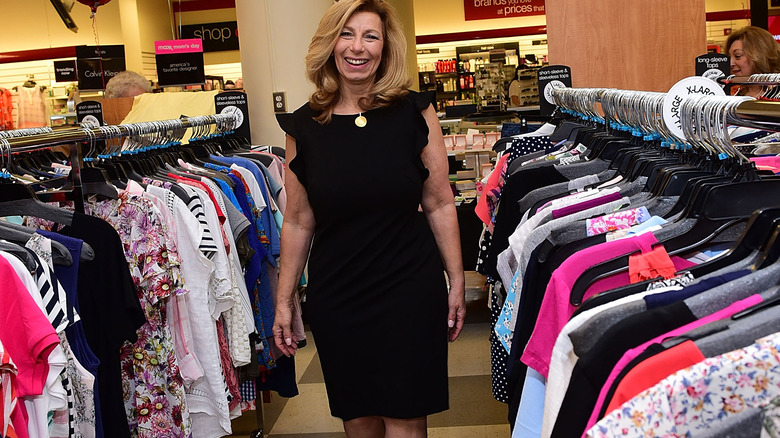 Lisa Lake/Getty Images
The COVID-19 pandemic has significantly affected foot traffic for many stores and brands, particularly in the fashion industry. Forever 21 is having a hard time bouncing back from COVID-19, Target's foot traffic is hitting pandemic lows yet again, and some once-iconic department stores are finding it impossible to reach pre-COVID highs in foot traffic. And the pandemic isn't the only factor contributing to these low foot traffic scores. Inflation has made life harder for many people, forcing them to cut back when spending on clothes. The monkeypox outbreak is another reason people are opting to stay home in hopes of avoiding the virus (via the CDC). Plus, online shopping has become increasingly popular due to its convenience and safety, giving people another reason to stop shopping in person.
Advertisement
But while many fashion businesses have been struggling to pull in visitors during these stressful times, Marshalls and T.J. Maxx haven't experienced such a challenging time. This is also in line with their numbers prior to the pandemic. According to data collected by SafeGraph, Marshalls received 117,636 visits one day in early February 2020, right before the pandemic hit, and T.J. Maxx had even more visits at 308,128. Then, Marshalls and T.J. Maxx suffered an understandable hit in the early days of the pandemic, receiving only 6,443 and 23,861 visits, respectively, one day in early April 2020. However, both retailers have bounced back strongly.
Both retailers have reasonable prices and impressive social media followings
Although Marshalls and T.J. Maxx's foot traffic scores plummeted during initial COVID-19 pandemic lockdowns, the companies were able to get their numbers back up. Fast forwarding to one day in early August 2021, Marshalls was able to pull in 113,413 visitors, while T.J. Maxx pulled in 358,552 shoppers, so it seems like the two retailers picked up right where they left off after the lockdowns. Then, one day in early August 2022, Marshalls had a foot traffic score of 90,606, and T.J. Maxx had 270,650 visits. So, how did the two retailers rebound so well?
Advertisement
A prominent reason why Marshalls and T.J. Maxx have been so successful is their reasonable prices. For instance, the blue Tahari ASL Ruffle Tie Wasit Jumpsuit is available at Marshalls for around $40 but would typically retail for double the price at $80. Meanwhile, the Nicole Miller New York Long Sleeve Mock Neck Cable Knit Dress sells for around $30 at T.J. Maxx but would likely sell for $60 at most other stores.
Furthermore, Marshalls has an impressive Instagram follower count of 1.2 million, and T.J. Maxx has an even higher follower count of 1.5 million. With large followings come many opportunities to promote low prices and new options, which are also important during periods of economic hardship, which many have been experiencing over the last few years. Cheaper finds means more money in one's pocket for food, gas, and bills. So, between the retailers' affordable prices and millions of followers, it's no wonder they've rebounded so well and continue to pull in so many customers.
Advertisement