How To Use Your Fave Lipstick As Matching Blush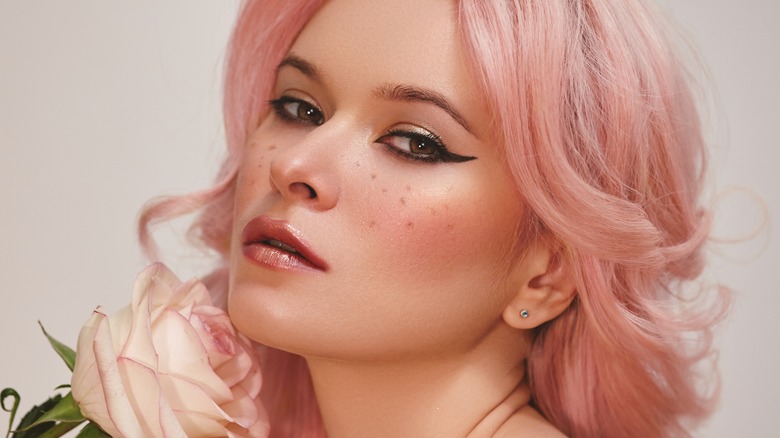 marinafrost/Shutterstock
If makeup is what makes the difference, blush is what makes the difference more natural. This underrated product might be the last and easiest item to put on your cheeks, but it can make a world of difference to your appearance. Blush, either in cream or powder form, is designed to give your skin a natural flush and enhance your features per Claire Talks Beauty. Without it, a foundation-covered face dusted with setting powder might show up flat and lifeless. A dash of blush onto the apples of your cheeks gives your face a shimmering, ruddy look and breathes life into your complexion.
While it's nice to have makeup items designed for every nook and cranny of our face in our little toiletry bag, it's not possible. If you want to tidy up your vanity bag to save room for other items, you should start using one makeup item for more than one area on your face. And when it comes to reddening your cheeks, what better substitute for a blush cream and powder than a matte finish lipstick? Beauty consultant Hannah Murray told Vogue that she often goes with "lipstick as blusher on shoots, or even on myself" because it looks fresh and gives an instant, on-the-go glam. A beauty shortcut, lipstick can double as a lip definer while giving your cheek a wash of pink.
Here's how to use your favorite lipstick as blush, the final touch that gives your makeup a monochromatic polish.
Choose lipsticks that match your skin tone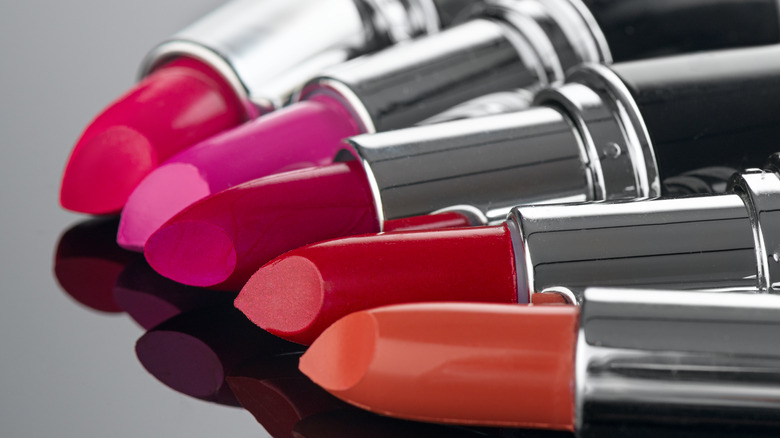 Subbotina Anna/Shutterstock
There are two ways to approach this makeup hack. You can either find a brand new lipstick that matches your skin tone or you can pick out any shade from your current lipstick collection. According to Bright Side, shades like light pink, coral, peach, nude, and dusty red colors work well on those with light skin. Meanwhile, those with medium skin tone will look great wearing rose, berry, cherry red, and mauve hues. Tan skin tones can't go wrong with statement-making colors like coral, deep pink, or bright red. And dark skin tones will flourish with brown and purple shades like plum, caramel, wine, and blue-based reds. Once you've decided on the color, match your lipstick with your cheeks. If you want a cheek full of delicate-looking pink, try peach lipstick. For a look that calls attention, go for coral or ombre lipsticks with more vibrant hues.
According to makeup artist Amy Nadine (via The Beauty Department), any satin or matte finish lipstick will work wonders. Possessing a strong staying power, a lipstick with a matte or semi-matte finish doesn't slip or slide off your face easily and works well on oily skin. Lip stains, lip tints, and lip balm are also long-wearing and can be used as an illuminator for your cheekbones. However, shimmery or metallic lipsticks, which are already difficult to pull off on the lips, might be even more challenging to work with on the cheeks.
How to wear lipstick as blush safely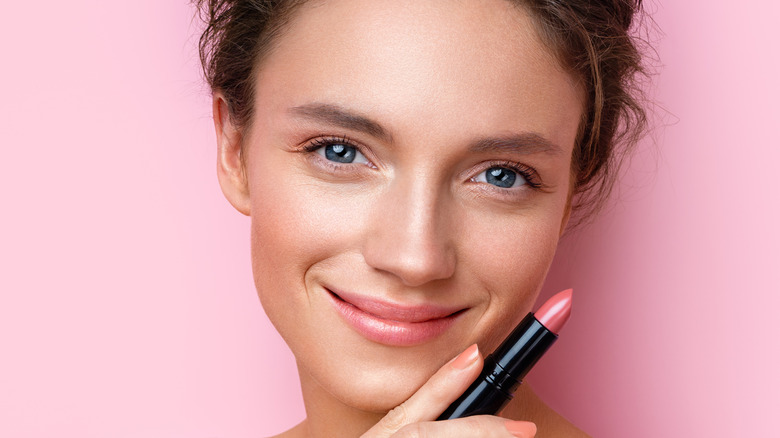 RomarioIen/Shutterstock
You can collect a liberal amount of lipstick by sweeping your finger across it or swiping the lipstick across your cheeks. If a pigmented color is not your cup of tea, mix it with Vaseline, concealer, or foundation. To warm the lipstick up and get it to melt into your skin better, use your fingers instead of a brush to dot it on your cheeks. Then, gently pat across the cheeks to soften the hue. To make your lipstick last longer, you can mix it with a primer, and blend it out with a beauty blender before sealing the look with a sheer powder.
As multifunctional as lipstick is, keep in mind that using it on your face can cause acne, Dr. Melissa Kanchanapoomi Levin tells Skincare. To prevent breakouts, Dr. Levin recommends steering clear of lipsticks with heavy cream bases, highly pigmented formulas, and occlusive ingredients. Another way to curtail acne-causing bacteria is to spray hand sanitizer on top of your lipstick or trim its top layer before using it on your cheeks.
Matching the color of your blush to your lipstick might be a challenge, but it's worth it. Not only does multitasking your lipstick give your makeup a monochromatic touch, but it also helps streamline your beauty routine and lighten the bulk of your pouch. An important thing to bear in mind is to choose a lightweight, not-too-matte consistency that's easy to blend out and safe for your skin.