15 Eyeshadow Sticks Perfect For Makeup Beginners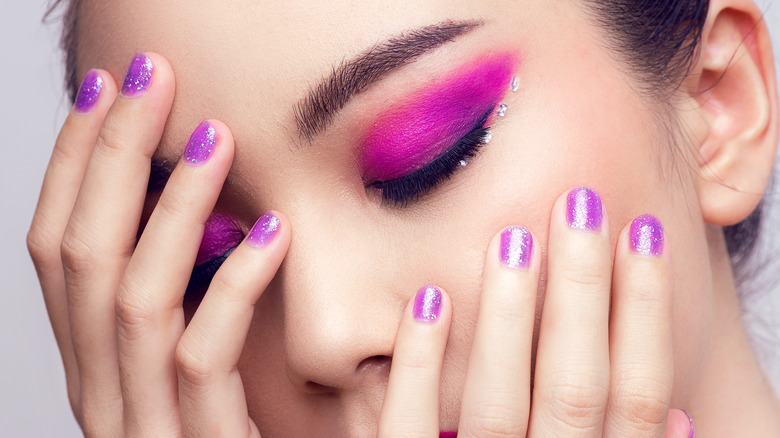 ME Image/Shutterstock
Makeup is truly an art form. It's a way to express yourself, and understanding how to apply your makeup to complement your natural beauty is truly a talent — a talent that gets harder and harder to tap into the more makeup trends continue to progress and spiral into a level that's more and more difficult to achieve. That being said, there are no rules and no set guidelines for makeup. The worst thing you could do is be intimidated and overwhelmed as a beginner and think that means you can't get creative and have your own fun with it. That's where easy-to-use makeup products come into play. 
Sure, attempting to tackle a 40-pan eyeshadow palette and figure out where to begin the crack the code on a cut crease could potentially set you up for failure. But with such a vast makeup market, there are so many fun and exciting makeup products that are specifically designed to give beginners a helping hand. Eyeshadow is one of the most daunting makeup steps, but there's no reason you shouldn't be able to master it with the wave of a wand — or, rather, an eyeshadow stick. 
Eyeshadow sticks are useful for everyone, but especially for beginners. It's a simple tool that allows you to create the most stunning of eye makeup looks with a simple swipe and quick dab of a stick. It really doesn't get any easier, so we've rounded up the best of the best to help you shimmer all day long.
How we selected the eyeshadow sticks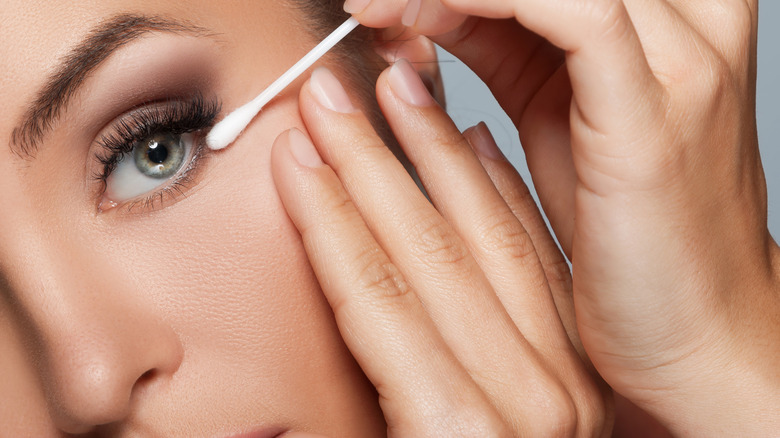 BLACKDAY/Shutterstock
Whenever on the hunt for a new makeup product, it's easy to begin browsing only to immediately give up within a few minutes and witness your brain going through a server crash. The options are endless, which is great, but with great variety comes great responsibility — and the need for a lot of external guidance. 
Selecting the right eyeshadow stick depends on your needs, and when it comes to being a beginner and wanting an easy solution, it's all about ease of use and blend-ability. Using a stubborn eyeshadow stick that drags across your lid and is tricky to blend could be even worse than attempting to dip into an eyeshadow palette. That's why we've selected eyeshadow sticks that are specifically loved for how smooth and blendable they are. 
Some of the picks below may already be vaguely familiar to you, and that speaks to the cult following they've amassed. Each of the eyeshadow sticks mentioned in this list has been selected based on countless rave reviews that specifically praised how easy the eyeshadow sticks were to use. The eyeshadow stick market is vast, but for beginners, you cannot go wrong with any of the ones we've selected as they are each specifically designed to help you effortlessly achieve a professionally blended look. 
Best overall eyeshadow stick
When talking about eyeshadow sticks, you simply must mention Laura Mercier's Caviar Stick Eye Color Eyeshadow Sticks. In fact, the Caviar Stick Eye Colors have the same reputation, having a 4.6-star rating. Plus, its formulas are to die for.
Available in 39 shades under five different formula categories, these eyeshadow sticks are super easy-to-use and creamy. While the eyeshadow sticks are buildable and easy to blend at first, once they are set in place, you don't have to worry about them budging even without an eyeshadow primer. You can easily use these crayons for a defined liner or a smoky eyeshadow look. The stats speak for themselves as Laura Mercier shares that 100% of consumers confirmed how smoothly the sticks glide on, and 94% of consumers back up its claims of longevity. 
Purchase the Caviar Stick Eye Color at Laura Mercier for $32.
Best easy-to-use eyeshadow stick
An eyeshadow stick by default makes makeup application much easier. Instead of trying to crack the code on just how much product to apply and how to blend it out seamlessly, it takes the guesswork out of things. Thrive Causemetics has just taken things one step further and made your life easier by giving you everything you could need in one stick. 
The Thrive Causemetics Infinity Waterproof Eyeshadow Stick is dual-ended and comes with a built-in blending sponge to help you blend out any harsh edges. While this pick is certainly easy to use, that's not its only selling point. The formula of the eyeshadow stick itself is super creamy and seamless while still packing a punch when it comes to pigmentation. 
As with all Thrive Causemetics products, the eyeshadow sticks are dermatologist tested, and they contain the same benefits as eye creams. The unique Semi-Permanent Micropigments formula makes this eyeshadow especially long-lasting, and one fan can definitely attest to that. They wrote, "It stays on even with the hot muggy weather where I live. No runs or caking. I love it. Love the color as well" (via Thrive Causemetics). 
Purchase the Infinity Waterproof Eyeshadow Stick at Thrive Causemetics for $26.
Best affordable eyeshadow stick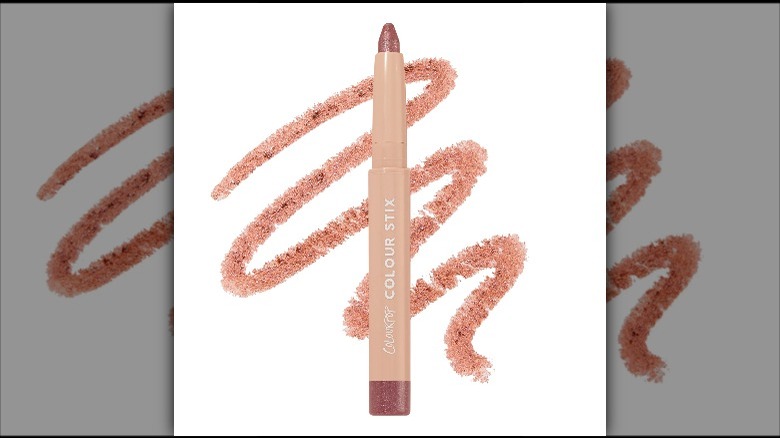 Colourpop
If there's one brand you can always rely on to come through with affordable dupes for viral makeup products, it is Colourpop. The brand always provides vast shade ranges and exciting color options, and it definitely excelled when it came to the Colour Stix. 
Available in 21 shades varying from shimmers to glitters to matte, the Colour Stix are a slimmer variation of eyeshadow stick. The crayon comes to a point, making it ideal for precision if you're looking to use your eyeshadow stick for a graphic liner or cut crease look. The formula is 100% vegan and cruelty-free, and each eyeshadow stick can apply super pigmented but also easily blends out to a more subtle hint of color depending on what you prefer. 
What's especially handy about this one is that it comes with a built-in sharpener to keep that tip precise if you'd prefer. And in true Colourpop style, the new collection drops continue coming, each including its own new additions of shades to the Colour Stix range so there will always be something for everyone. 
Purchase the Colour Stix at Colourpop for $7.
Best white eyeshadow stick
Arguably the most iconic eyeshadow stick of them all, this list would simply not be complete without including NYX Cosmetics' Jumbo Eye Pencils. If you've been a member of the beauty community for some time, you're more than familiar with the chokehold that NYX's Jumbo Eye Pencil in Milk has had. Whether it be the must-have tool for any and all Halloween makeup looks or when it was everyone's go-to eyeshadow base of choice, it's a staple in every makeup collection. 
White can be a tricky color to get right with eyeshadow sticks. It can easily not pack enough pigment or end up applying patchy as you blend it out. NYX maintains the monopoly on the category as Milk remains the most pigmented and easy-to-use white eyeshadow stick on the market. The cult favorite eyeshadow stick's formula is super creamy and blendable, but once it is, it's on for good. Milk may be the fan favorite, but the eyeshadow stick actually comes in 16 shades all of which are just as pigmented. There are even a few shimmer options. One thing to be careful about is to not sharpen this pencil; it actually operates on a twist-up basis, and sharpening will damage the pencil. 
Purchase the Jumbo Eye Pencil at NYX Cosmetics  for $5.50.
Best tug-free eyeshadow stick
Developed by plastic surgeons, It Cosmetics has always excelled at producing makeup products that also provide some extra TLC for our skin and help improve each area over time with use. The Superhero No-Tug Waterproof Eyeshadow Stick is hands down the smoothest, easiest-to-glide eyeshadow stick you'll find. The super blendable stick features It Cosmetics' exclusive No-Tug Technology that ensures the stick will be gentle on your eyes and not pull too hard while still providing even pigmentation across your eyelid. 
The best part is that you don't have to worry about the gentle formula, meaning it's too creamy to last. The formula is also entirely crease-proof and will wear all day once it is set in place. One Ulta user confirmed this stuff is not moving until you're ready for it to, saying, "Love the colors available. Stays on all day and doesn't budge but came off easily with cleanser."
Purchase the It Cosmetics Superhero No-Tug Waterproof Eyeshadow Stick at Ulta for $24.
Best multi-use eyeshadow stick
Live Tinted Huestick is a multi-stick that's perfect for eyes, lips, and cheeks and takes things even further by working as a color-corrector for dark circles and dark spots. The buildable weightless formula somehow manages to deliver in each of those categories, and it is also packed with hyaluronic acid, squalane, and vitamins C and E, so it's doing your skin good while making it look good. Live Tinted's formulas are all vegan, non-comedogenic, hypoallergenic, opthalmologist tested, and certified cruelty-free.
The 4.5-star rated Huestick is a holy grail for many, with one fan raving, "One of my best purchases this year as it's an all-in-one makeup treat for anyone. The ease to use it as a color corrector, blush, lipstick, [and] an eyeshadow makes it my perfect companion everywhere I go." 
Purchase the Live Tinted Huestick at Live Tinted for $24.
Best eyeshadow stick for unique colors
When Halsey launched About Face, it could have easily fallen under the radar and been lumped in with every other celebrity beauty brand, but About Face has managed to keep things exciting and launch some very unique products. One of the brand's fan-favorite products is the Shadowstick. About Face's Shadowstick comes in seven matte shades and nine pearly shades, and if you're looking to step outside of your comfort zone and try a bold new color then this is the one for you. From a neon shimmery lime to matte mustard, the Shadowsticks come in some pretty unique vibrant shades. The magic could easily be let down by the formula, but these eyeshadow sticks are so powerfully pigmented with just a single swipe that you're guaranteed to make a statement. 
The 4.8-star rated eyeshadow stick is an adventurous pick, but even if you stick with the more classical shades you're guaranteed a long-wearing experience. As one fan shares, "I have three of these and am still shocked at how long wearing they are. They legit do not budge after you put them on and they look great." 
Purchase the About Face Shadowstick at About Face for $14.
Best eyeshadow stick for a complete look
Mirenesse's Eye Art Two Tone Eyeshadow Stick is a very unique take on an eyeshadow stick that is dual-colored, and there are so many ways you could have fun with it. The eyeshadow stick is split down the middle into two varying eyeshadow shades, one darker than the other. All you have to do is swipe this on and lightly dab away the harsh line in the middle of your eyelid to achieve a seamlessly blended gradient eyeshadow effect. You could even use this to achieve a unique double-liner look by simply drawing it on without blending out the lines.
This eyeshadow stick is actually going to benefit your eyelids while you have it on as it contains shea butter, hyaluronate, and castor seed oil to aid eyelash growth. 
Purchase the Eye Art Two Tone Eyeshadow Stick at Mirenesse for $39.
Best glitter eyeshadow stick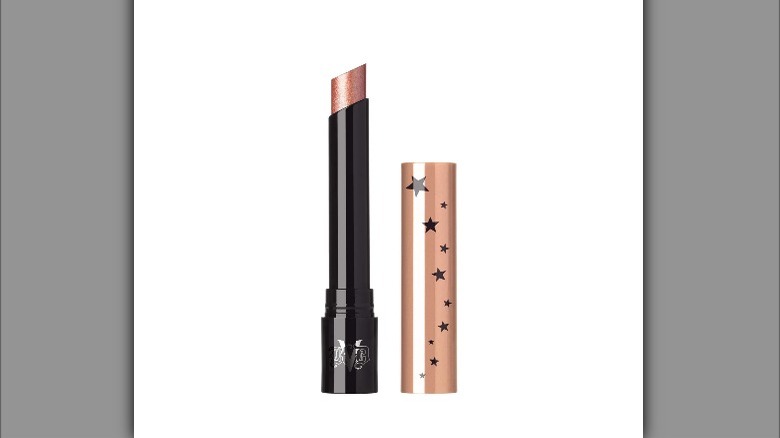 KVD Beauty
Beginner or not, sometimes an eyeshadow stick doesn't serve the sole purpose of creating an entire eyeshadow look. Sometimes, eyeshadow sticks are an ingenious way to add a little pop or a little extra something to an already complete look. What adds a pop when it comes to makeup more than glitter? Adding a little sparkle can immediately elevate any and all looks; it's never the wrong call, especially when reaching for this KVD Beauty Dazzle Long-Wear Vegan Eyeshadow Stick. 
KVD Beauty has always been a professionally loved makeup brand, but these uniquely formulated eyeshadow sticks are the perfect fix to transform any makeup look. Available in five metallic shades, this cult-favorite long-wear eyeshadow stick is packed with uniquely duo-chromed flecks that create an entirely unique prismatic effect. This is not your typical glitter; this is a chrome glitter and sheen that will catch every light in the room. 
With a 36% water base, even the feel of this eyeshadow stick is like no other as it cools your lids when applied wet and dries down to lock in place for all-day wear. Superfans cannot get enough of this stuff, like one KVD Beauty reviewer that wants to bathe in it. They wrote, "Colour is just gorgeous, there are so many different shades of sparkles inside every time I apply it I'm speechless. Extremely easy to apply and blend, and it stays there ALL DAY. I want to get all the other shades and cover my whole body in it."
Purchase the Dazzle Long-Wear Vegan Eyeshadow Stick at KVD Beauty for $24.
Best shimmer eyeshadow stick:
The truth is that there's a huge difference between glitter and shimmer. While glitters distribute random flecks of glitter across your eyelid, a shimmer eyeshadow stick serves the purpose of giving an even shimmery sheen, which can be even trickier to perfect. Well, as with most categories into which she dips her toes, Charlotte Tilbury has nailed the perfect shimmer eyeshadow stick with her Colour Chameleon Eyeshadow Sticks. 
The Colour Chameleon Eyeshadow Sticks come in nine shades all designed to complement different eye colors. They are a holy grail for many due to how easy they are to work with. The super creamy eyeshadow sticks give you the perfect shimmer whether you choose to pack it on or blend it out. You never have to worry about that dreaded chunky patchy shimmer shadow look; you're guaranteed an even sheen. 
The Colour Chameleons last for up to 10 hours, a claim that one Sephora reviewer definitely backs up. "This eye pencil does not budge at all!! ... You need to smudge it as soon as you apply cause it will dry very quickly. With makeup remover this product. Comes off nicely," they wrote.
Purchase the Charlotte Tilbury Colour Chameleon Eyeshadow Stick at Sephora for $29.
Most long-lasting eyeshadow stick
If you need industrial strength longevity, then you should definitely stick to Bobbi Brown's Long-Wear Cream Shadow Stick. Available in a range of matte and shimmer neutral shades, the Long-Wear Cream Shadow Stick is so long-lasting that the only concern you'll really have is learning to work with it quickly because once she sets she is not budging. The eyeshadow sticks promise 24 hours of wear, and the slim shape is perfect for either a smoky eye or a subtle liner look. 
The 4.6-star-rated Long-Wear Cream Shadow Stick easily wins the category of most long-lasting eyeshadow stick and countless fans praise it for just that. In fact, one Bobbi Brown Cosmetics reviewer shared, "Record heat and rain put this eye shadow stick to the test! It passed. I have several colors and love creating a smoky look that doesn't cause raccoon eyes."
Purchase the Long-Wear Cream Shadow Stick at Bobbi Brown Cosmetics for $32.
Best double-sided eyeshadow stick
Eyeko has always nailed it with eye makeup products. From brows to liners, the brand has secured a few holy grail spots over the years. The Double Act Shadow Stick is especially a gem and a must-have eyeshadow stick for any makeup beginner. Each of the five eyeshadow sticks comes dual-ended with two complementary shades. The versatile eyeshadow sticks can either be used together to create a full eyeshadow look, or you can simply opt for a different side each day. Eyeko even suggests holding onto the eyeshadow stick and using the second shade to take your look from day to night and add extra depth. 
The Double Act Shadow Stick is unique from the others on this list because it comes in a pencil shape. While you can flatten it out with use over time, you can easily sharpen it to get that sharp tip again, which is perfect for graphic liner or precision work. 
Purchase the Double Act Shadow Stick at Eyeko for $25.
Best eyeshadow stick for graphic eye art
Most eyeshadow sticks come in a thicker crayon form, so they aren't exactly built for the detailed precision required for graphic eye art. Well, iconic Japanese beauty brand Shiseido is giving you the best of both worlds with this Kajal InkArtist liner.
The Kajal InkArtist is specially designed for graphic eye art. The 4-in-1 eyeshadow stick works as a liner, kajal, eyeshadow, and even brow product. Available in 10 shades, the matte eyeshadow stick comes to a precise point that you can even use to line your waterline, while the formula is creamy enough that you could smudge it out for a full-blown eyeshadow look. Each eyeshadow stick comes with a built-in sharpener as well as a built-in sponge to help to blend. 
The Kajal InkArtist has been dermatologist and opthalmologist tested, and while it is gentle on your eyes, it is also waterproof and specifically "tear-proof." One Shiseido reviewer was in awe of how beautifully this eyeshadow stick applied, saying, "I just received this lovely liner, and can I say WOW. It applied with a deep, fully saturated color no pulling or snagging, just smooth as silk. I'm coming back for another color. Cheers to Shiseido for bringing this us."
Purchase the Kajal InkArtist at Shiseido for $25.
Best luxury eyeshadow stick
It is a common misconception that the more expensive and luxurious a brand is the more advanced and reserved for professionals it is. That's not the case at all. In fact, most luxury beauty brands provide some of the simplest and easiest-to-use makeup products. So, regardless of whether you're a beginner or not, if you're looking to treat yourself to a luxury eyeshadow stick, then you absolutely should — and we know the exact one you should go for.
Lancôme's eye makeup products are pretty iconic. From their mascaras to eyeshadows, the brand never disappoints, and it definitely isn't starting with the Ombre Hypnôse Stylo Shadow Stick. The creamy eyeshadow sticks wear for up to 24 hours and come with a self-sharpener included. The range's six colors offer enough variety with neutral mattes, shimmers, and even a pop of electric blue. 
The Ombre Hypnôse Stylo Shadow Stick is especially easy to blend and use. In fact, one Lancôme reviewer raved, "I've tried all the eye shadow crayons. This won wins first prize! Easy to apply, the color is nice, it stays on until I wash it off, and it doesn't flake the way some others do."
Purchase the Ombre Hypnôse Stylo Shadow Stick at Lancôme for $25.
Best eyeshadow stick for smoky eyes
Last but certainly not least, especially considering that it does the most, comes the perfect pick for one of the most popular uses of eyeshadow sticks: creating smoky eyes. Eyeshadow sticks are undeniably the foolproof way of perfecting a smoky eye. All you need to do is swipe it on and lightly blend the edges, and, just like that, you get all the smoke with a single product. 
Of all the eyeshadow sticks you could use for smoky eyes, Make Up For Ever takes the cake with the Aqua Resist Smoky Shadow Multi-Use Waterproof Color Stick. The 3-in-1 stick works as a shadow, liner, and kohl as it easily glides onto your eyelids and blends into a seamless gradient. But make sure you work pretty quickly when blending this one because it is not messing around when it comes to being long-lasting. The waterproof formula is sweat-proof and transfer-proof and lasts up to 24 hours once it sets in place. You can even safely use this on your waterline as it is opthalmologist-approved for sensitive eyes. One Make Up For Ever reviewer was especially impressed with just how easy to use the eyeshadow sticks are, writing, "Stays on for hours, seconds to use. Looks great with almost no effort. A lifesaver." 
Purchase the Aqua Resist Smoky Shadow Multi-Use Waterproof Color Stick at Make Up For Ever for $25.