The Earthy Nail Color You're Going To See Everywhere This Fall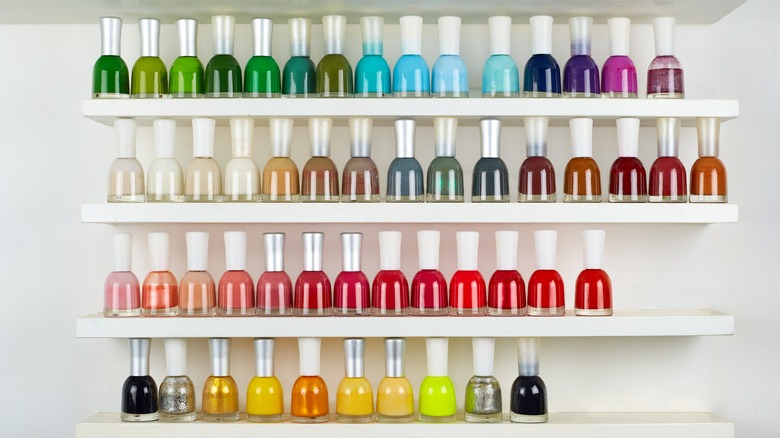 Wallenrock/Shutterstock
We may receive a commission on purchases made from links.
Thanks to Hailey Bieber, one of the biggest skin trends of the summer was glazed donut skin. This delicious-looking trend was all about having glowy, dewy skin without the filtered perfection of K-beauty glass skin. The glistening look then made its way to nails. Case in point: the minimalist manicure Bieber rocked at the 2022 Met Gala, which kicked off a summer of manicurists being asked to recreate the look multiple times a week (via The EveryGirl).
When it comes to nail color trends, bright and bold hues will always look great during warm weather months, white French tips and reds will forever be classics, and as we saw with Bieber, celebrity-inspired styles can make trends go viral.
With the transition to cooler months approaching, it's time to start thinking about matching our nails to pumpkin spice lattes and cozy sweaters, rather than pastries. As we move toward enjoying the crisp vibes of the fall, this earthy color will be all the rage. And we can thank Selena Gomez for making it popular.
Olive this nail color on you
Celebrity manicurist Tom Bachik painted Selena Gomez's nails a perfect shade of olive, which might be your next go-to nail color. Bachik appropriately captioned his Instagram post: "Olive this color on @selenagomez."
A beautiful fusion of green and brown, the nature-inspired color will be everywhere in the fall. Celebrity manicurist Steph Stone told The Zoe Report, "An unexpected hit this year has been dark shades of green, and that's here to stay for fall." 
While deep, dark navy, maroon, and black hues are great colors for the fall, olive green is having a moment in the nail world because it's unexpected without being too shocking. In fact, there was a surge in people searching for "dark green nails" last winter on Pinterest, and this fall, we have olive green taking over. In a way, perhaps because it's the color of money, wearing the green hue on your nails is like having luxury at your fingertips.
Top olive green nail polish picks
Tom Bachik told Allure the exact nail shade he used on Selena Gomez. "The Heart Wants What It Wants" singer is wearing CND Shellac polish in shade Olive Grove. Bachik added that Gomez picked the color herself. If you can't get your hands on Olive Grove, here are more of the best green nail colors for you to rock this fall.
Essie nail polish in shade Exposed is the perfect blend between khaki and sage and will look chic with every outfit. This nail polish has a high shine that might turn others green with envy, and perfectly pairs with the olive in your dirty martini.
KB Shimmer polish in shade #Squadghouls is a deep green color with gold and orange sparkles that can transition your fall nails into winter holiday parties. One reviewer said, "It is so beautiful and unique. I have nothing like this in my collection. The opalescent glitter really works well with this olive color green."
NailsInc London polish in shade Want Not Need is a full coverage, high gloss, and highly pigmented forest green shade. The vegan formula boasts an impressive 4.8 out of 5 stars on the brand's website.