Why Urban Outfitters Lost The Trendsetting Hold It Once Had On Consumers Pre-Pandemic
Because of the economic repercussions of the COVID-19 pandemic and widespread inflation, many individuals are spending less to meet basic needs and cover personal debts. As a result, retail sales in many segments continue to nosedive, and many establishments have permanently closed. Among the hardest hit is the fashion industry when demand for "non-essential" items like clothes, shoes, and fashion accessories worldwide fell headlong, as evidenced by a study in the journal Cleaner and Responsible Consumption. Many fashion brands and clothing retailers, from fast fashion to haute couture, have become casualties of the pandemic.
Advertisement
A case in point is Urban Outfitters, a prominent brand selling apparel and accessories inspired by the alternate scene and displayed in tastefully designed warehouses or old banks. From cut-out tube tops to khaki cargo skirts, Urban Outfitters seems to always be riding on the latest trend. However, even this popular retailer had to close several of its stores to cut financial losses. In January 2021, retail-industry giant URBN, owner of Urban Outfitters, announced that its retail net sales were down by 8% due to a drop in foot traffic after predicting a 60% sales drop owing to nosediving demands. With continuously declining performances, Urban Outfitters is now a shadow of its former self. Here's why Urban Outfitters has lost its pre-pandemic trendsetting hold and how it came about.
Advertisement
Urban Outfitters is not affordable for most young consumers
According to data collected by SafeGraph, Urban Outfitters did impressively in January 2020 with 18,000 visits in one day, shortly before the pandemic hit the U.S. In March, the national emergency was declared, explaining why the visits dropped to roughly 1,000 a day in April. Fast forward to 2022 when life has largely returned to normal and Urban Outfitters's retail traffic has begun regaining steam, registering roughly 12,000 unique visits during one day in January. Foot traffic at the retailer continued to fall from April to July. In July 2022, the retailer's foot traffic was one-third that of pre-pandemic 2020 and half that of 2021, when several restriction orders were still in effect. So, how is this even possible?
Advertisement
Urban Outfitters has a reputation for aiming to be a brand for young adults with its unique collection of quality garments made by lesser-known designers. However, if you look at the labels of most attires here, you'll wonder how many youngsters can afford them. For instance, cargo pants at Urban Outfitters are priced from $59 to $99. From only $34, however, you can find equally punk cargo pants at Forever 21, and at H&M, they're $39.99. While Urban Outfitters is still a sought-out place for cool pieces of clothes, its pricing is not competitive enough to draw the price-conscious crowd who can get relatively similar-looking stuff from other retailers that offer more affordable prices. 
However, 2.1 million Facebook followers and 9.2 million Instagram followers, Urban Outfitters has the advantage of a solid online presence, which helps the retailer stay connected with the fans and elevate consumers' shopping experience even when in-person foot traffic is low.
Advertisement
Big is the enemy of cool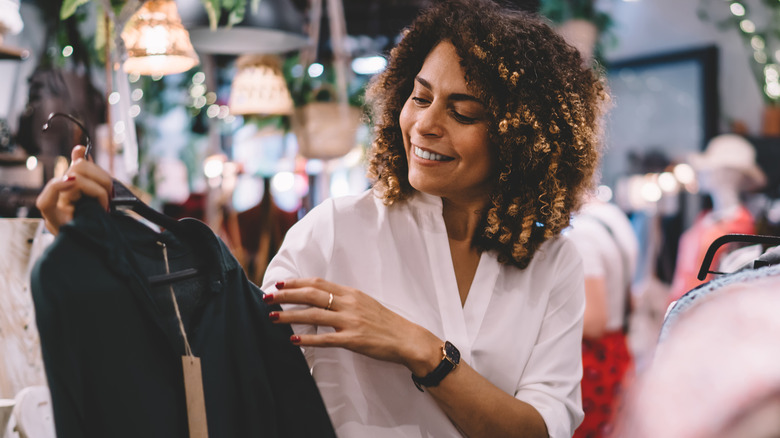 GaudiLab/Shutterstock
Urban Outfitters is still known as the treasure trove of kitschy and iconic items, but its embroilment in numerous controversies over the years has affected its reputation. For instance, the retailer experienced a trademark dispute with the Navajo Nation in 2016 (via The Guardian). Back in 2011, the retailer was also accused of copying the necklace design of jewelry designer Stevie Koerner, sparking widespread outrage, per The Washington Post.
Advertisement
As Urban Outfitters CEO Glen Senk once put it, "Big is the enemy of cool" (via Fortune). This can't be any truer for Urban Outfitters in this case. A factor that noticeably dilutes Urban Outfitters' edginess is its expansion into numerous locations. It's hard to remain hip when it gets sucked into the mainstream and becomes a competitor with mass retailers in the likes of H&M, Forever 21, and PacSun. It's true that Urban Outfitters remains a magnet to those on the hunt for limited-edition items; however, the vast availability of outlet stores makes its limited collections seem the opposite of being limited.
What's more, Urban Outfitters may be less desirable to environmentally-conscious shoppers because it's considered "all talk and no action" when it comes to transparency, per Good On You. While the retailer claims it uses eco-friendly materials for its products, there's no proof that it takes action to minimize textile waste or eliminate hazardous chemicals. Information regarding who its suppliers are and where they're located are also kept mum by the retailer. Eco-Stylist, a source for reviews of sustainable fashion brands, even claims that Urban Outfitters is among the lowest scoring brands it's ever reviewed, citing a lack of transparency shown by the brand's senior leadership and their willingness to disclose demanded information.
Advertisement