How To Pick The Right Journaling Style For You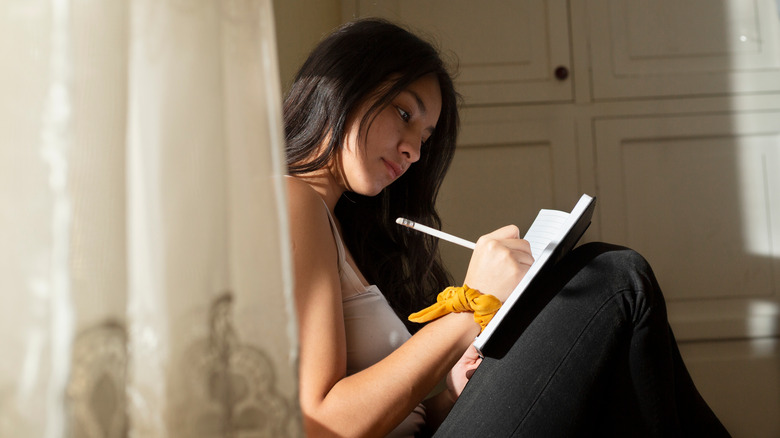 Fernanda_Reyes/Shutterstock
In times of uncertainty and stress, many people find themselves in constant search of inner peace. While therapy can help, not everyone has as easy access to it as others. And since lives are becoming overscheduled again post-COVID, according to Shondaland, finding or making time to meditate can be difficult. Journaling may be the answer for those facing these predicaments. Starting a journal is a great way to relieve stress and it provides a safe space for self-discovery, according to Oprah Daily.
If you are a bit reluctant to start this practice because filling pages of notebooks can be daunting, don't be. There are many different journaling styles to fit a variety of personalities and needs (via Oprah Daily). If you are looking for a new way to relieve stress and get to know yourself on a deeper level, try working one of these types of journaling into your daily routine.
Journaling with a focus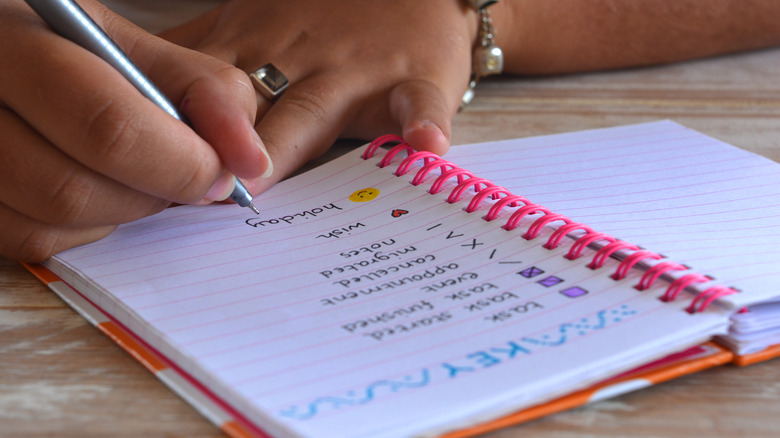 Josie Elias/Shutterstock
If open-ended journaling seems too broad for you, there are many list-focused options to consider. Bullet journals come with a grid layout on their pages. The bullets help you organize your thoughts that would otherwise wander. With bullet journals, you can track anything you'd like, from goals and workouts to sleep and food habits (via The New Yorker). Similarly, productivity journals act as a sort of to-do list. Use them to reign in your thoughts, define your goals, and track your progress, according to Wrike. Anxiety journaling is used to list the things that weigh heavily on your mind. Sometimes unloading them onto paper is all it takes to feel calmer and more at peace (via Oprah Daily).
Another more focused journaling technique is gratitude journaling. Providing peace and happiness to those who try it, gratitude journaling is a way for you to acknowledge the things you are thankful for, leaving less time to think about things that cause you stress (via Greater Good in Action). This is a powerful mindset shift. Proponents of gratitude journaling recommend you stay as specific as you can and focus on the people for whom you are grateful and the things that cause you the most joy.
Open-ended journaling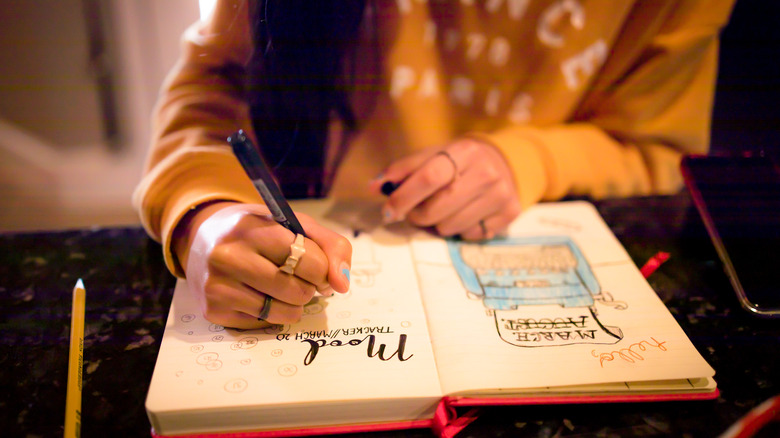 Fellers Photography/Shutterstock
If you're looking for more of a free-form style of journaling, consider creative journaling or dream journaling. Creative journaling allows you to write, draw, doodle, and color all in one spot (via My Inner Creative). It can help those in the creative field bust through mental blocks and can do wonders to calm and soothe the mind of anyone who tries it.
Dream journaling takes place right before getting out of bed in the morning. When you write down everything you can remember from your dreams you may notice the recurring patterns your subconscious is working through while you sleep (via Oprah Daily).
Whether it's to provide structure for a cluttered mind, to work through a creative block, or to let go of stressors, there is a type of journaling out there for everyone. Let the power of pen and paper allow you to live in peaceful abundance each day.