The One Treatment For Your Hair You Probably Haven't Tried Yet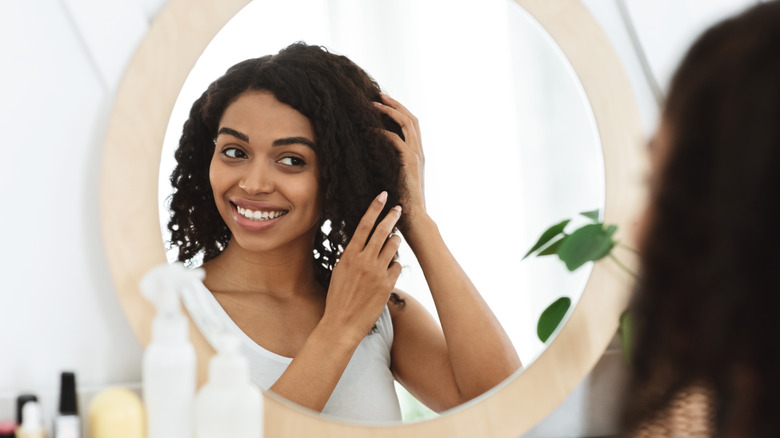 Prostock-studio/Shutterstock
A bad hair day can kill almost anyone's confidence -– imagine having hat hair on a date or tangled tresses during a job interview. That dip in confidence might be why many of us are willing to go to great lengths (no pun intended) to keep our manes looking their best. A survey by beauty retailer LookFantastic (via Daily Mail) found that the average American woman spends a whopping $55,000 on hair products and grooming during her lifetime, not to mention the countless hours spent in salon chairs.
A portion of this financial and time investment goes toward treatments that target specific hair concerns -– including permanent straightening, bond-building solutions, hair oil treatments, and scalp exfoliation, just to name a few. No matter the hair woe, there's a salon service designed to remedy it.
But there's another super simple hair treatment that works for all hair types and can be done in a salon or at home. And chances are, you haven't even tried it yet.
Steam could revitalize tired tresses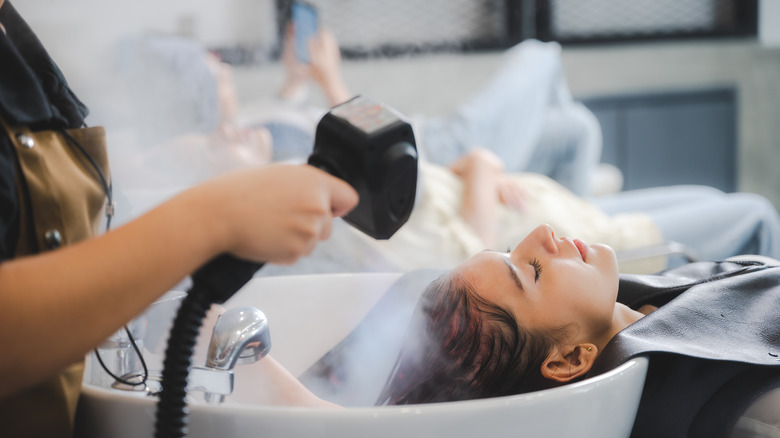 Chokniti-Studio/Shutterstock
If your hair is in need of nourishment, it might be time to get steamy -– with a steam treatment, that is. Steam may seem like an unlikely solution for sad-looking tresses. After all, steam and high humidity can be the very things that cause messy, frizzy hair for some people. But similar to how steam opens the pores of the skin in the shower or during a facial, it also opens the cuticles of the hair. This can offer major benefits to dry and damaged locks. Hair stylist Charlotte Mensah explained the treatment to Glamour UK, saying, "Steaming is the process of using moist heat to help open up the hair follicle, lift the cuticle on the hair shaft and allow conditioner and treatments to penetrate each strand to allow better absorption of moisture." The technique can also make the hair softer and promote new hair growth as the warm steam increases scalp blood flow.
Skin and hair care brand SkinKraft says steam treatments can revitalize any hair type, though hair expert Tiffany Mack told Shape that low-porosity hair reaps the most benefits. But depending on the products used alongside steam, this treatment can be easily customized depending on individual hair needs and preferences.
Here's how to try a steam hair treatment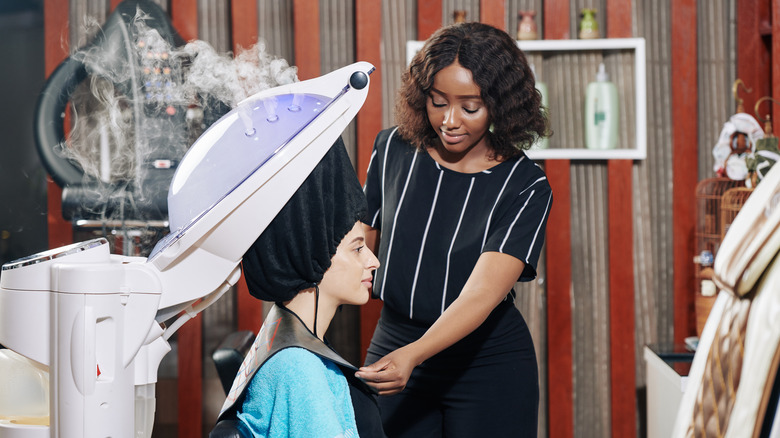 Dragon Images/Shutterstock
If you're ready to steam your way to soft, glossy locks, take your pick between either salon or at-home treatments. Salon versions use moisturizing products with professional steaming equipment, where a steam bowl is placed over the head. Alternatively, some salons add steam to a cap placed directly on the head. Either way, you get to sit back and relax while the pros work their magic.
If you'd prefer to skip the salon, you're in luck. Tiffany Mack told Shape that at-home steam treatments can be just as beneficial as the ones offered in hair salons. All you need are your favorite products –- think hydrating hair oils, deep conditioning treatments, or leave-in conditioners –- and a home steamer. These steamers are miniature versions of the ones found in salons. Hair product brand Carol's Daughter notes that some models are even the size of a hair dryer, making them compact and easy to stow away.
Hair stylist Charlotte Mensah suggests applying the hair product of your choice after shampooing and rinsing, then steaming for 10 to 30 minutes (via Glamour UK). Healthy hair shouldn't be steamed more than once a month, while dry or damaged hair can be steam treated weekly.
No matter which route you take, steam treatments are simple and effective enough to make them worth adding to any haircare arsenal ASAP.